I'm not sure why it's always during winter that I develop new granola recipes but since that seems to be the case, here's another one – Apple Crisp Granola! It tastes very much like the dessert your grandma used to make only it's the best part, the topping.
In a very subtle attempt to get my boys to stop eating prepackaged cereal, I make granola. Lots of it. In fact, it's probably counter-productive to be making so much granola because then everyone just eats it all the time. It's honestly difficult to stop once you start.
This particular flavor is filled with cinnamon and dried apples that crisp up when it's baked in the oven. That was a wonderful little surprise! I love that they get crispy and aren't still chewy. The oats are chewy enough for me.
Feel free to add some more yumminess to this recipe by adding some pecans or walnuts, chia seeds or extra ground flax. It's easily adaptable to your tastes.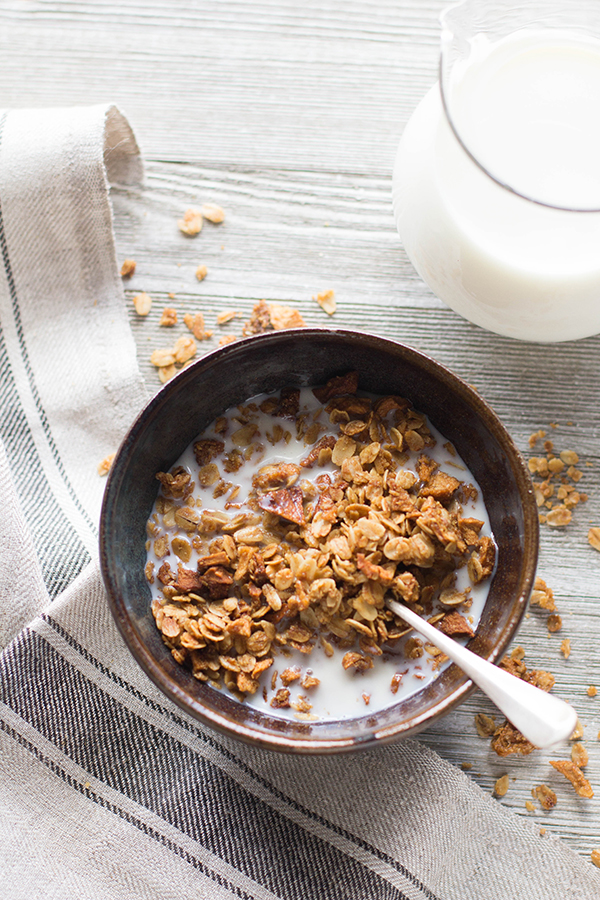 A couple notes:
• If you're gluten-free, obviously get gluten-free oats. I use organic oats exclusively because … well, poisons in the fields if it's not organic.
• The recipe calls for regular sugar and some molasses. I'll be honest. I ran out of brown sugar when I went to make this for the final time so 1) Now you know that a little molasses in white sugar will sub for brown sugar 2) Feel free to use brown sugar and leave out the molasses. Your choice.
• You will need to watch the granola closely at the end of baking. It can brown pretty quickly. So, don't leave the kitchen. lol
• In PA Dutch country, dried apples are sometimes called schnitz. Just in case you're in Amish country and looking for them.
I have another recipe made with schnitz. You can find those Apple Schnitz Handpies here!

Apple Crisp Granola
Author:
www.mrfarmersdaughter.com
Crispy, crunchy granola filled with dried apples and plenty of cinnamon!
Ingredients
2 cups whole oats
1 cup quick cooking oats
1 cup chopped dried apples
2 Tbls ground flax
⅓ cup cane sugar
1 tsp. cinnamon
½ tsp. mineral salt
-
½ cup butter, melted
1 Tbls. Molasses
⅓ cup maple syrup
Instructions
Preheat oven to 375˚.
Combine all the dry ingredients.
Combine the liquid ingredients and mix well.
Pour liquids over the dry ingredients and stir well to completely coat all the pieces.
Spread granola out onto an ungreased baking sheet in an even layer.
Bake for 15 minutes.
Stir, then bake for another 5 minutes.
Stir, then bake for another 5 minutes.
At this point, the oats should be starting to brown. When it's golden browned evenly, remove from oven and allow to cool completely before storing.
Store in an air-tight container at room temperature for up to 2 weeks.