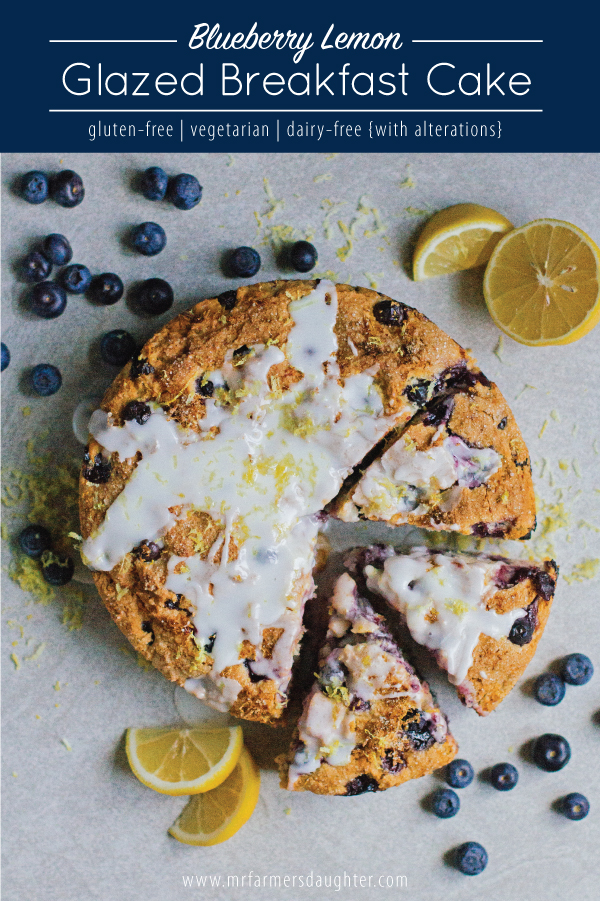 Deep in our family cookbook was this long-forgotten recipe. The original recipe came from a magazine long ago and of course, I couldn't let it alone so I tweaked a bunch of things primarily to make it gluten-free and boost the lemon flavor. How it got neglected is beyond me because I had forgotten how good this cake is. Seriously, friends, if you love lemon … and if you love lemon AND blueberries, this is the cake for you. I'm pretty sure I could live on it and might have the last couple days.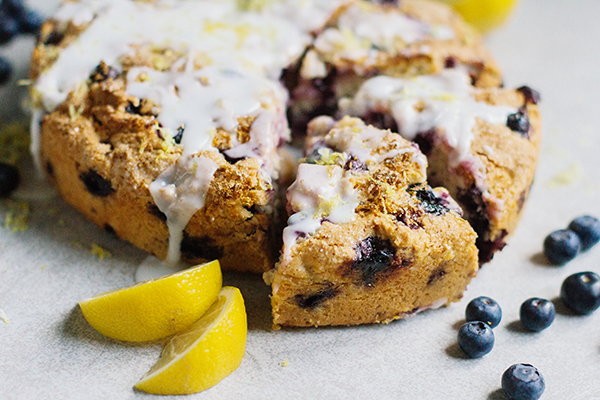 It's so tender it almost seems as if it'll break apart when you lift the piece out but it won't. It practically melts in your mouth and the little bursts of blueberries contrast wonderfully with the cake. I'm posting this in December and I wanted a few things that are completely decadent so I sprinkled the top of the cake with raw cane sugar and lemon zest before baking. Then, to completely put the lemon flavor over the top I added a thin, lemon glaze over the whole thing.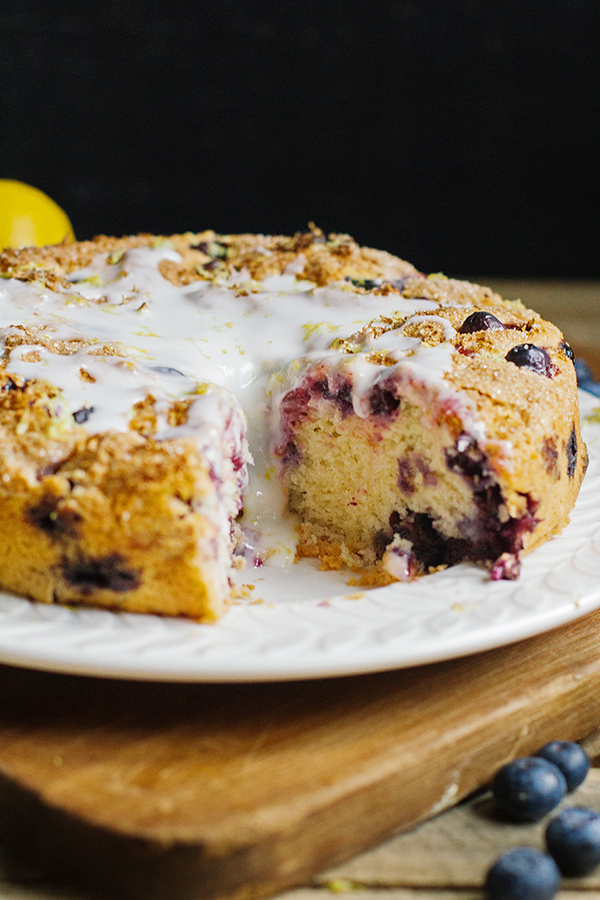 I made this in a springform plan the first time and it made removing the cake so much easier. But, I've also made it in a Bundt pan and although it was prettier, it didn't allow me to sprinkle with sugar and lemon zest. You can choose which pan you make it in. Personally, I'd indulge in all the lemon I could get!
A few notes:
• I used King Arthur Measure for Measure flour mix. I've found it is the most reliable and best tasting – even the batter.
• If you're dairy-free I've noted some substitutions you can make to keep it safe for you.
• Fresh lemon juice makes a difference just in case you were considering using the green bottle kind.
• Try not to eat it all at one time. Consider this your warning. 😉

Blueberry Lemon Breakfast Cake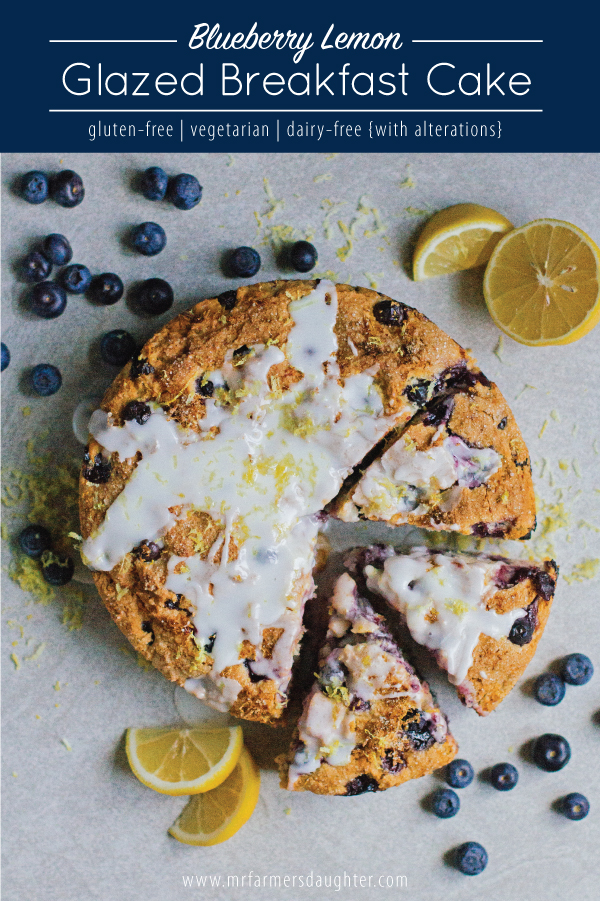 Author:
www.mrfarmersdaughter.com
Delightfully tender breakfast cake with pops of blueberries and tart lemon glaze.
Ingredients
FOR THE CAKE:
½ cup butter, softened (Coconut oil for dairy-free)
3 tsp. lemon zest
¾ cup cane sugar + more to sprinkle
1 egg
1 Tbls. fresh lemon juice
2 cups gluten-free flour mix (King Arthur Measure for Measure)
2 tsp. baking powder
1 tsp. mineral salt
½ cup buttermilk or soured milk (1/2 cup dairy alternative + 2 tsp. lemon juice)
2 cups blueberries, fresh or frozen
FOR THE GLAZE:
1 cup 10x sugar
1 Tbls. fresh lemon juice (+ enough water to thin, if necessary)
pinch of mineral salt
Instructions
TO MAKE CAKE:
Heat oven to 350˚.
Prepare an 8" or 9" round cake pan by lining the bottom with parchment and coating the sides with cooking spray (avocado oil or olive oil).
In a mixer combine butter, lemon zest and sugar. Mix well.
Combine flour, baking powder and salt. Set aside.
Add egg and lemon juice to mixer and mix well.
Add flour mixture alternately with buttermilk, ending with flour mixture.
Stir in blueberries with a spoon.
Spread into pan and flatten top.
Sprinkle with 1 Tbls. sugar and a little lemon zest, if desired.
Bake for about 45 minutes or until toothpick comes out clean.
Allow to cool.
TO MAKE GLAZE:
Combine sugar and lemon juice and stir to combine.
Adjust liquid and sugar depending on how loose you want the glaze.
Drizzle on top of cake before serving.
SaveSave