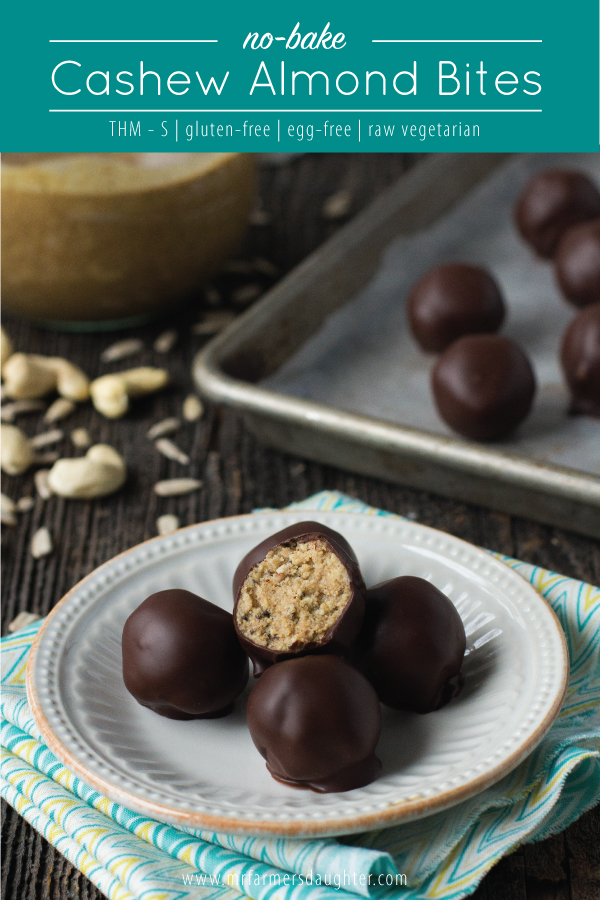 Don't you just love finger food? Especially when it's made up of great ingredients, is satisfying and doesn't spike your blood sugar?
If you do, you'll love this recipe! I've been eating these little delights for the last week. Two each day, after dinner. It's perfect with an evening cup of coffee and just enough to settle my sweet tooth and not so much that I feel like I've overdone dessert.
I've made similar recipes over the last couple years but this is one I'll make again and again. The texture is great and … chocolate. In fact, I'd love to make them today again but I need to go get cashews, darn it. Pretty sure the grocery store will be one of my first stops tomorrow. My refrigerator is empty of these after dinner treats.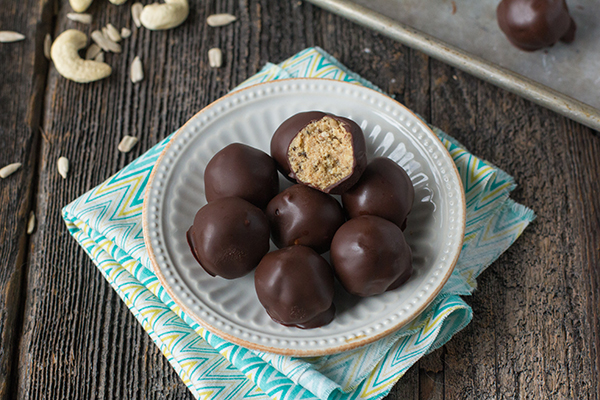 These are super simple with a food processor. All the ingredients are raw and the recipe is written to avoid blood-sugar-spiking sweeteners. Even the chocolate coating is sweetened with stevia and tastes great.
A few notes:
• When you melt the chocolate bar, melt it until there is about 25% of the chocolate chunks left. Remove it from the heat and continue to stir until it's all melted. This is a simple way to temper your chocolate and help it not melt as quickly in your hands.
• You may use your favorite sugar-free sweetener with this. Use enough to equal 1/4 cup of sugar. You can taste the mixture to see if you like it before rolling it into balls.
• These are best kept in the refrigerator to keep them firm.
• Almond butter brands all have varying degrees of thickness and oil. I used a brand for this that was relatively loose, not stiff. Depending on what brand you are using you may have to adjust the recipe to accommodate the difference. If your almond butter is very stiff, you may add up to 1 Tbls. of melted coconut oil to help the ingredients form a ball in the food processor.
• If you want to make these with sugar, I suggest using some honey in the recipe. 1/4 cup should be enough, but you may need to add a bit more almond flour to make it stiff enough to hold into a ball. You can also use whatever chocolate is your favorite, just use about 4 oz. That should be enough to coat all the balls.

Cashew Almond Bites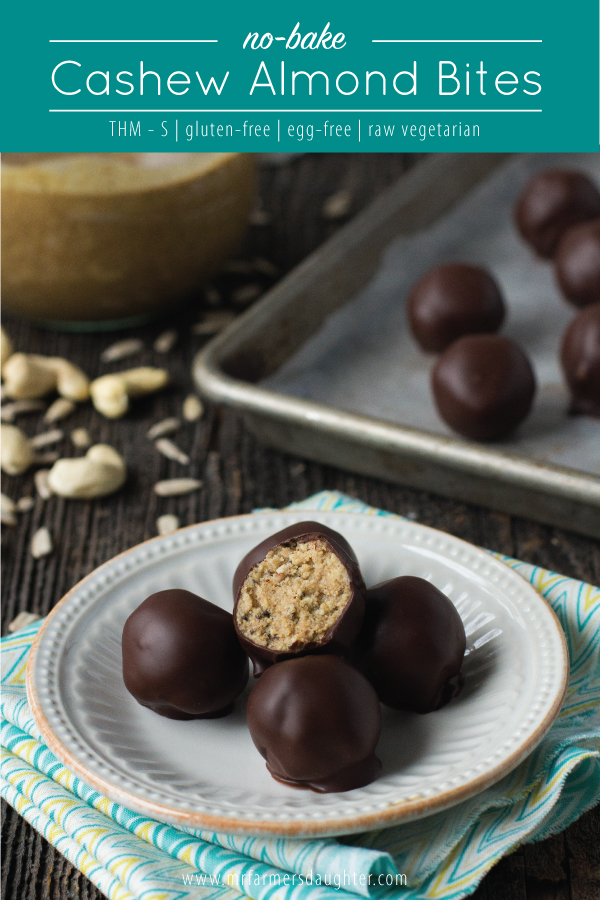 Author:
www.mrfarmersdaughter.com
Ingredients
1 cup Raw cashews
½ cup Almond flour
¼ cup Sunflower seeds
1 Tbls. Chia seeds
¼ cup Sweetener (I used Lakanto. See notes for other options.)
¼ tsp. Salt
Almond butter – enough to make it hold together (about 6 Tbls., if it's very soft and loose, more if it's stiff)
1 Lily's chocolate bar, melted
Instructions
In a food processor, add cashews, sunflower seeds and chia seeds.
Process until fine crumbs.
Add Almond flour, sweetener and salt.
Process until incorporated.
Add almond butter, 2 Tbls. at a time, blending after each addition, until mixture forms a cohesive ball.
Remove from food processor and form into 1" balls.
Freeze for at least 2 hours.
When ready to coat, melt chocolate bar until ¾ of it is smooth and ¼ remains in pieces.
Remove from heat and stir until everything is melted and smooth.
Roll each ball in chocolate and return to the refrigerator.
Store in the refrigerator.