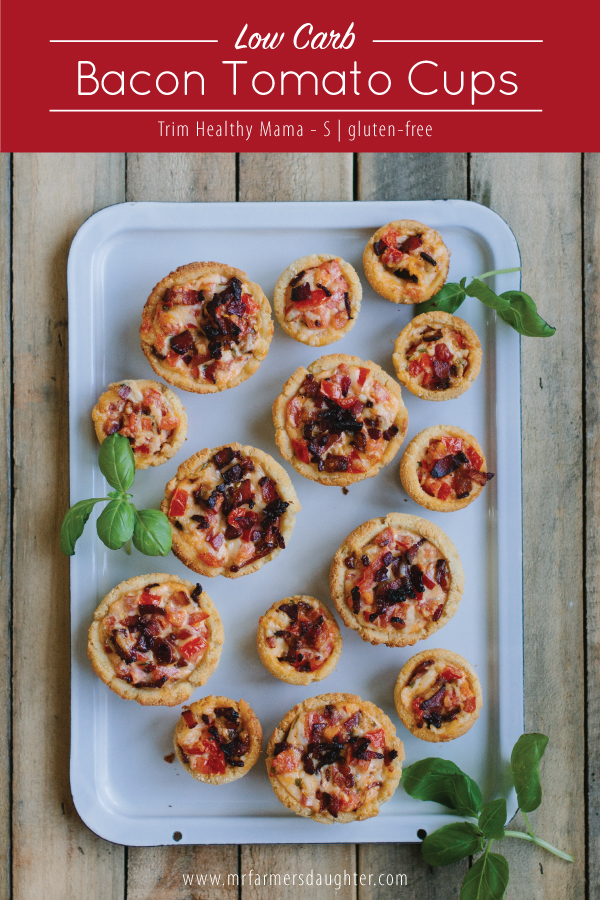 Of all the Trim Healthy Mama recipes I've created, this is BY FAR my favorite! It's probably because I've been making this recipe of sorts for many years. I started out using pre-made biscuit dough (I don't even know that person anymore!) and progressed to homemade biscuit dough and now onto low-carb pizza dough.
The dough is a variation on the Fat Head pizza dough but I like to use the THM Baking Blend instead of all almond flour. There's just something about eating that many almonds that doesn't sit right with me. Also, I feel like the dough is a little lighter with the Baking Blend and a little easier to work with.
If you're not familiar with Trim Healthy Mama, you may follow the link at the bottom of this page to learn more!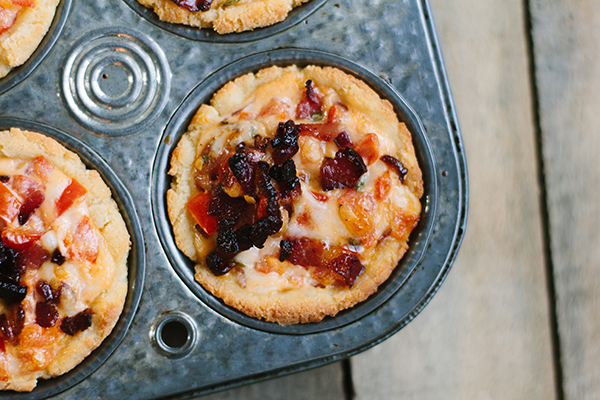 So, let's talk bacon. In my humble opinion, it makes everything better. I sure does make this recipe! If you're going to buy bacon, try to get the uncured kind. It's just so much better for you to not have the extra preservatives in conventional bacon. Less toxins, less guilt.
I try to cook up a pound of bacon each weekend so I have it to use through the week in recipes like these Bacon Tomato Cups, on salads and for breakfast. This recipe is so much quicker if the bacon is already cooked and waiting for you.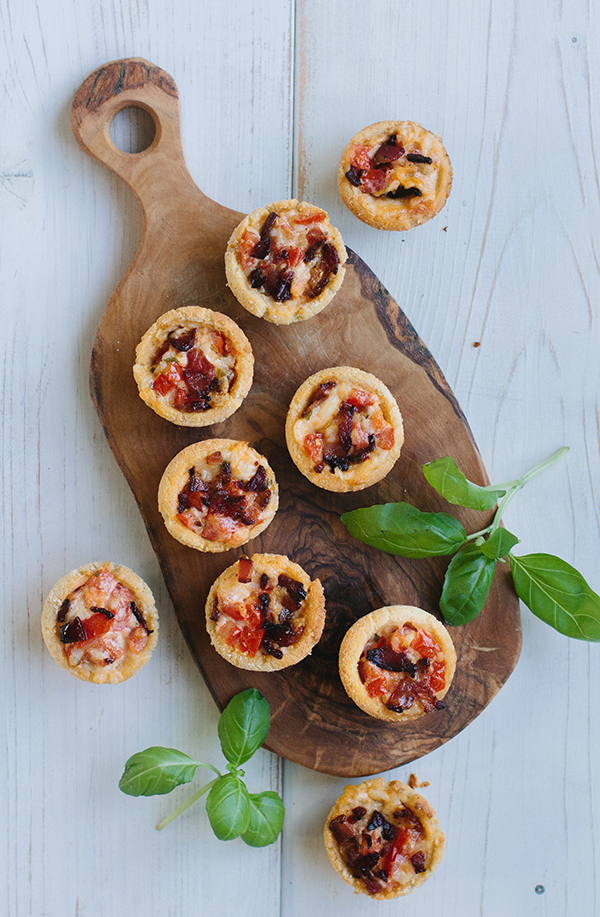 This is one of those recipes you can take to a party and no one will ever guess that these are low carb. I love that! I took this to a wine tasting party over Christmas and they were gobbled up. No one was the wiser. For appetizer-sized cups I used the mini muffin tins but if I'm making them for myself at home, I use the regular sized tins. Two of those make a great meal when you add a good side salad. Very filling!
Below you can see the size difference between appetizer and meal cups. The dough comes out of the cups really nicely if you spray them well. They also reheat great so they're good to take for lunch at work or … I've even eaten them cold.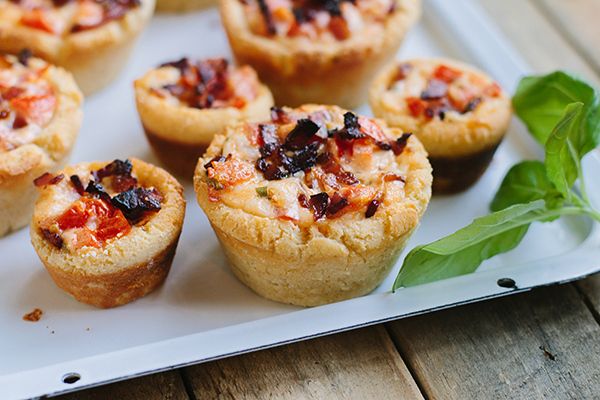 A couple notes:
• This dough can be a little tricky to work with as it's a little sticky. If it's sticking to your hands, just run your hands under water and keep them damp while working with the dough.
• If you're not familiar with the Trim Healthy Mama program, you can read more about it here.
• If you'd like to try the Trim Healthy Mama Baking Blend (low carb), you can buy it either on their store site or on amazon.
• This recipe will keep pretty well in the refrigerator for about 4 days. Just reheat before eating…if you want to.

Cheesy Bacon Tomato Cups - Low Carb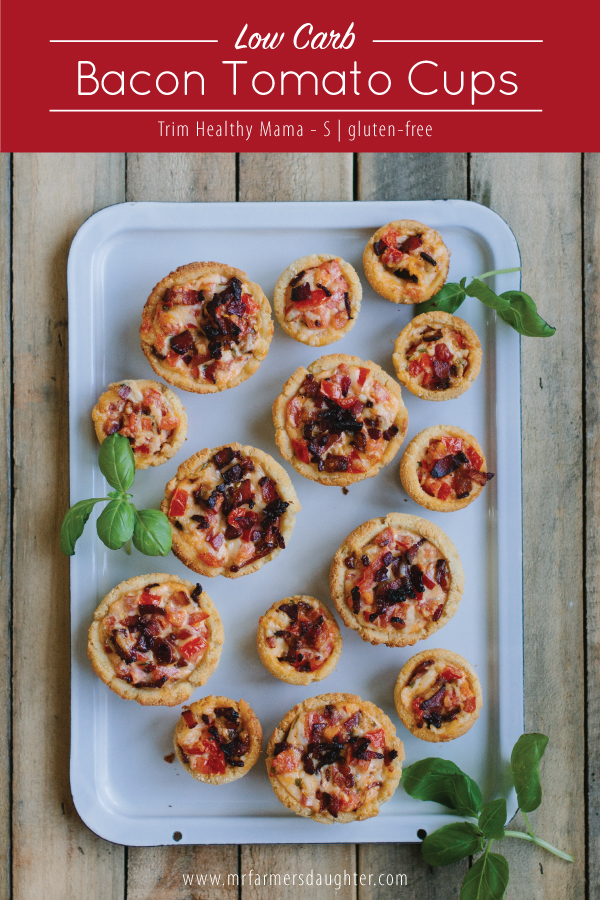 Author:
www.mrfarmersdaughter.com
Great Trim Healthy Mama S recipe that can be either an appetizer to take to parties or lunch to take to work. Add a good salad or some green veggies and it's a complete meal. Beware: These things demand that you keep eating them. They're SO good!
Ingredients
FOR THE DOUGH:
3 cups shredded mozzarella cheese
4 Tbls. cream cheese
2 large eggs, slightly beaten
1 cup THM Baking Blend (or 1 cup almond flour)
½ cup almond flour
FOR THE FILLING:
2 cups diced fresh tomatoes
1 cup mozzarella cheese
¾ cup mayonnaise
½ cup cooked bacon, diced
1 tsp. dried oregano and/or basil
Instructions
Heat oven to 350˚.
Prepare muffin tins (either mini or regular size) by spraying liberally with non-stick spray.
FOR THE DOUGH:
Place mozzarella cheese and cream cheese in microwave safe bowl (or in a double boiler on the stove) and heat until cheese are melted and mix up easily.
In a food processor, combine cheeses and flours and pulse a few times to incorporate.
Add eggs while processor is running and mix until it comes together. If dough is too wet, add just a little flour. If it's too dry, add just a little water.
Set aside while you prepare the filling.
FOR THE FILLING:
Mix all ingredients together.
TO ASSEMBLE:
If you're using a mini muffin tin, scoop dough the size of a ping pong ball and roll into a ball. Place in one of the cups. Continue until all cups are filled.
If you're using a regular muffin time, scoop dough the size of a golf ball and roll into ball. Place in cup. Continue until all cups are filled.
Using the end of a wooden spoons or back of a spoon, press into the center of the dough balls and press into a cup shape. The edges should be the same height as the edge of the muffin cup.
Fill each cup with filling.
Bake for about 20 minutes for minis and 30 minutes for regular muffin tins, or until lightly browned on the edges of the dough.
Allow to cool slightly before serving. They are VERY hot inside!
SaveSave
SaveSaveSaveSave
SaveSave