It's likely you won't find many fish recipes on my blog. Sorry, seafood lovers (and my daughter). I was raised inland, on a farm, with chickens, pigs and cows. I'm a land animal eater.
I have, however, learned to embrace a few fish dishes. Salmon remains one of my favorite foods, ever, despite the fact that I didn't eat it for the first time until I was about 35 years old. A shame, really. I could probably eat it every day now.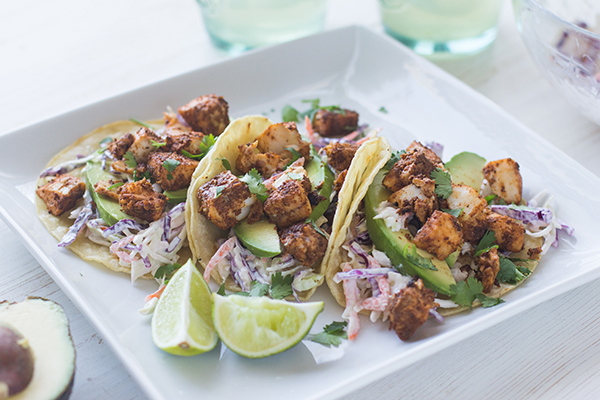 Fish Tacos is yet another fish dish that I didn't know I would love until I was styling for a cookbook a few years back. I mixed up the recipe and when we were done shooting it, gorged myself with taco after taco. A.mazing!
After that, I promptly lost the recipe and didn't try to make it again until just a couple weeks ago. Geesh. I can't get enough of them now! They're SOOO good. Even if you don't love fish, you should give this a try. The bold seasoning on the fish helps to mask some of the fishy flavor that is so prominent when cooked other ways.
For me, it's often a texture thing too. For this recipe I cut the fish into chunks. One, it coats more of each piece that way and two, it helps each little cube to firm up in a way that a large piece of fish wouldn't.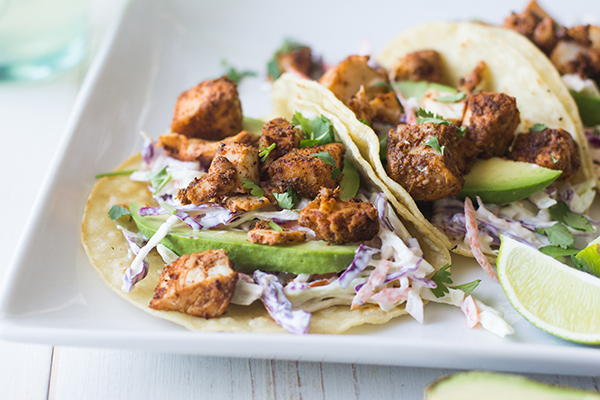 Believe it or not, I also don't love coleslaw. Ha! Not a fan of fish, don't ever eat coleslaw and I can't stand cilantro, except in certain situations. So, basically, if I didn't know better, I would never try this recipe. But, I DO know better! And I think you'll love it!
I love how the cool, crunch of the cabbage goes perfectly with the warm, spicy pieces of fish, the smooth texture of the avocado and the crispy corn tortilla.
I love that the lime juice adds just a little bit of zing.
And, I love that chopped cilantro (remember, one of those herbs that's good for detoxing) tops this dinner off perfectly.
This can be whipped up in just about 30 minutes for a refreshing lunch or a quick dinner.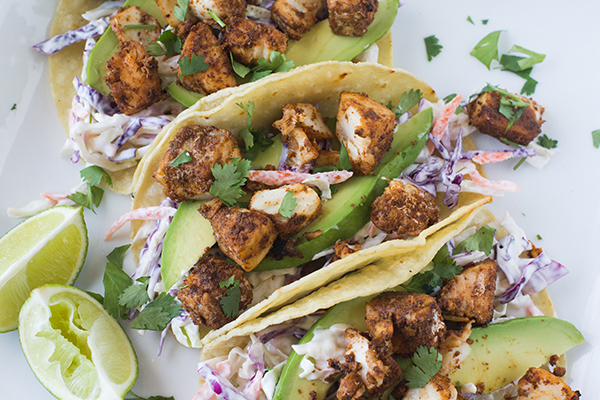 Notes:
Corn tortillas always give me pause. It's impossible to find them in a grocery store with good ingredients in them. Ultimately, we should all be making our own out of organic masa harina, but the reality is that I normally compromise with tortillas. I do the best I can with what's available.
I get the best wild haddock filets I can but they're also available in the frozen seafood department in most grocery stores. Try to get thick pieces so they will cut nicely into cubes. You can use any kind of mild white fish in this recipe, it doesn't have to be haddock.
You will want to mix up the coleslaw portion of this recipe first. This can be done up to a day ahead. Then, mix up the seasonings for the fish and coat it. Fry your tortillas, cover them and keep them warm in the oven while you prepare the fish.
Chipotle Fish Tacos - gluten-free
Author:
www.mrfarmersdaughter.com
Ingredients
1 cup green cabbage, shredded
1 cup red cabbage, shredded
¼ cup carrots, shredded
Dressing:
½ cup yogurt
¼ cup mayo
2 tsp. lime juice
Fish Seasoning:
2 tsp. Chili powder
1 tsp. Cumin
¼ tsp. Chipotle
¼ tsp. Salt
Pepper to taste
12 oz. haddock filets
1 avocado, sliced
6 Corn tortillas, lightly grilled
Cilantro to garnish, chopped
Fresh limes to garnish
Instructions
Combine shredded cabbages and carrots.
Mix up dressing ingredients and pour over cabbage and carrots.
Stir to combine well and set aside. (Refrigerate if using later.)
Combine all Fish Seasoning spices and mix well.
Cut haddock filets into ¾" cubes and coat well with seasonings. (You may use as much as you like, less for less spice, all of it for lots of spice.) Set aside.
One at a time, dry fry corn tortillas in a hot pan.
(This means, heat up your pan then place one tortilla in it (no oil). Wait for it to form some bubbles on top of the tortilla then flip over and fry for another minute or two. They should be nice and toasted with little dark spots. Do not over fry to a total crisp. You need them to stay pliable.)
As tortillas are fried, place on an over-proof plate with a cover and place in a warm oven until ready to use.
Once all the tortillas are fried, fry fish cubes in a little olive oil until firm.
Remove from pan and prepare tacos by placing coleslaw on bottom, followed by a couple pieces of avocado, a few fish cubes and then chopped cilantro.
Feel free to give them each a little squeeze of lime too!