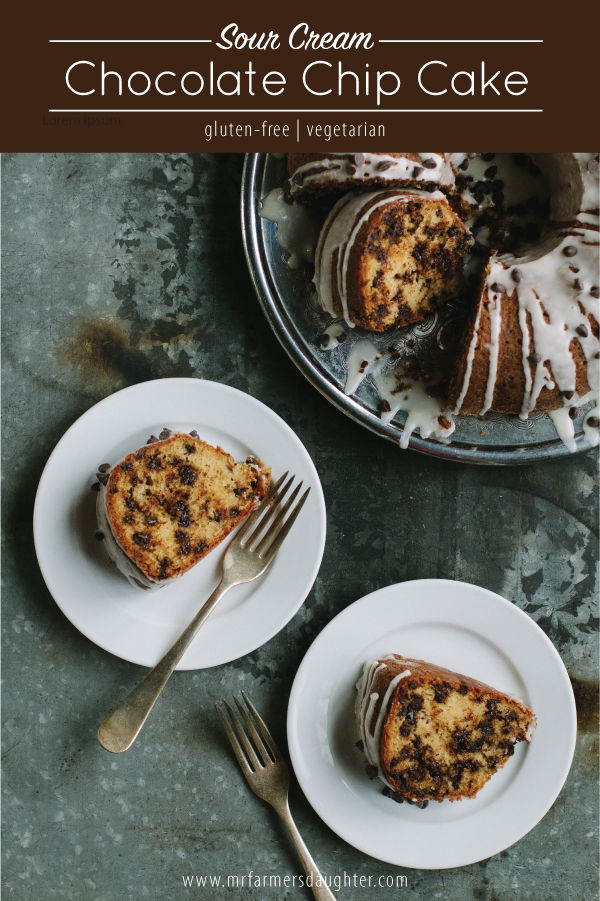 Need something to make your evenings cozy? This Chocolate Chip Cream Cake with a nice cup of strong coffee or tea will do just that. It's the perfect ending to a comfort meal, extending the coziness factor just a little bit longer.
The idea for this recipe came from a wheat cake I had made years ago. I have a thing for saving recipes that I feel like I can convert at some point. I have a whole file folder (or two) filled with recipes that can't be made as is because they're made with flour or some other grain that I can't have. So, I wait until I have some time and then start playing around with the recipe to try to make it gluten-free.
More often than not, because I've been doing this for SO long, the recipe works right out of the gate, but this one didn't.
If you've read my blog for any length of time you know that I prefer the King Arthur Measure for Measure gluten-free flour. It's my favorite flour blend and I've played with and used A LOT of them! It's reliable and dependable. It really does work "measure for measure" most of the time.
But, my local grocery store has decided to not carry that flour anymore so I had to go to King Arthur's all-purpose gluten-free flour. I hate the learning curve that is baking with gluten-free products. One needs to learn how each flour reacts with liquid, whether it needs more or less, or more leavening or less, or some binder, or not. It did not work. So, back to the drawing board.
I will make notes below of the changes I made between the KA Measure for Measure and the KA All-purpose flour in the recipe. If you're using a different gf flour mix, just know that it may not act the same so you might need to adjust some of the ingredients.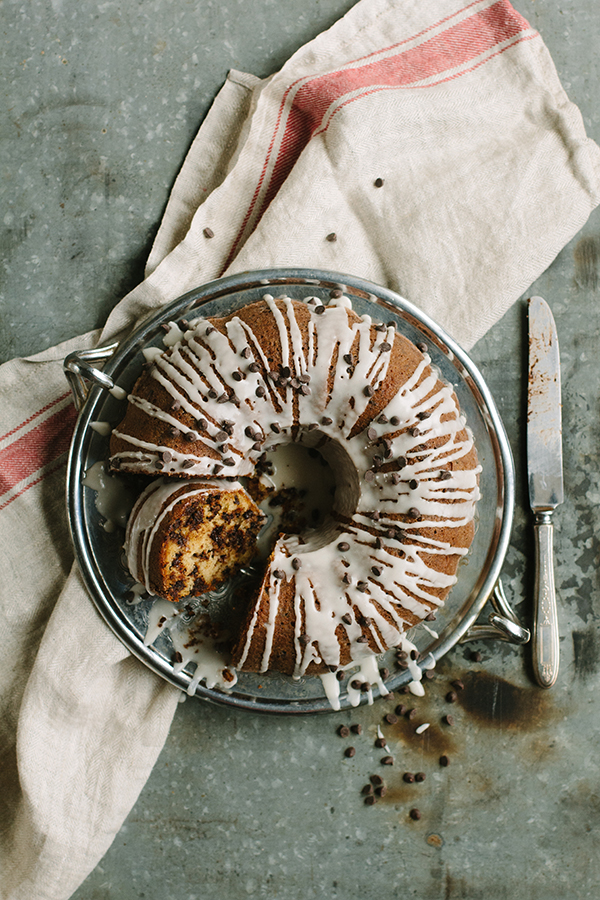 I'll tell ya, this is one of my favorite cakes. It's texture is just lovely and I would challenge anyone to tell me it's gluten-free if they didn't know already. After adding just a little bit of xanthan gum and adjusting the amount of flour, I got it to come out the same way it worked with wheat flour. It also lasted about four days which is a good long time when you're talking gluten-free. Often things get really dry and crumbly by the next day.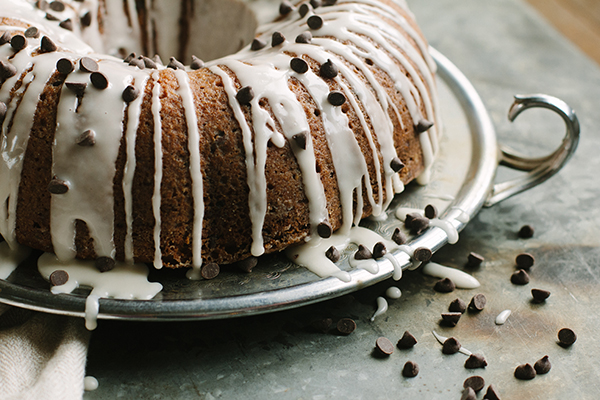 Here are a few notes before you make this amazing cake:
• mise en place. This means measure out all your ingredients first. It make assembling the recipe go so much smoother.
• The recipe calls for either sour cream or full fat Greek yogurt. You can use either, interchangeably. Or, use half of each like I did for this cake!
• As far as the flour goes, the difference between he KA Measure for Measure and the KA All Purpose flour was 1/4 cup less flour and 1/2 tsp. xanthan gum. If you're making it with KA Measure for Measure you may use 2 cups of flour and just omit the xanthan gum. If you're using a different gf flour mix, then you'll need to check to see if there's any xanthan gum in the mix. If there is, you may omit that here. If not, I would suggest using the 1/2 tsp. to ensure it will come out of the cake pan in one piece.
• The best way to incorporate chocolate chips into a cake is to dust them with flour first. I had ignored this little tidbit one of the times I made this cake and guess what. The chocolate chips all sank to the bottom of the cake which in this case was the top once you turned it upside down to serve it. I didn't like having all the chips in one place. I prefer them dispersed evenly so I get chocolate in every.single.bite.
• The icing drizzle is optional here. The cake doesn't need it but I thought for photo purposes it looks really pretty. Also, after I did it, I realized that I do like that little bit of flavor and texture difference as I was eating the cake. So, my advice is to drizzle it with something. You could use a 10x sugar/raspberry jam drizzle. Or a chocolate ganache drizzle if you love chocolate that much. Or, even a caramel drizzle! You could even use my caramel recipe. Because who doesn't love caramel and chocolate?!
• No matter how you make it, be sure to keep it covered once it cools. It will last on the counter in a cool area for up to 4 days.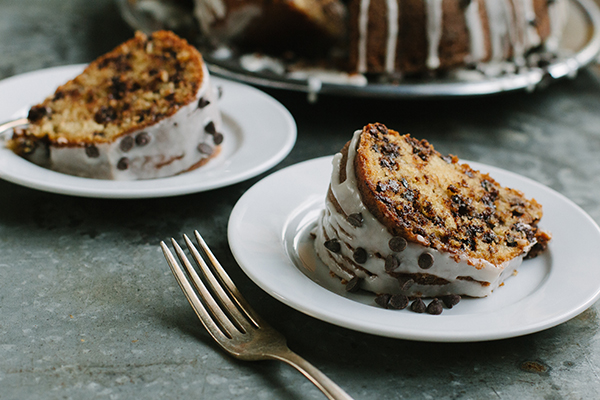 Chocolate Chip Cream Cake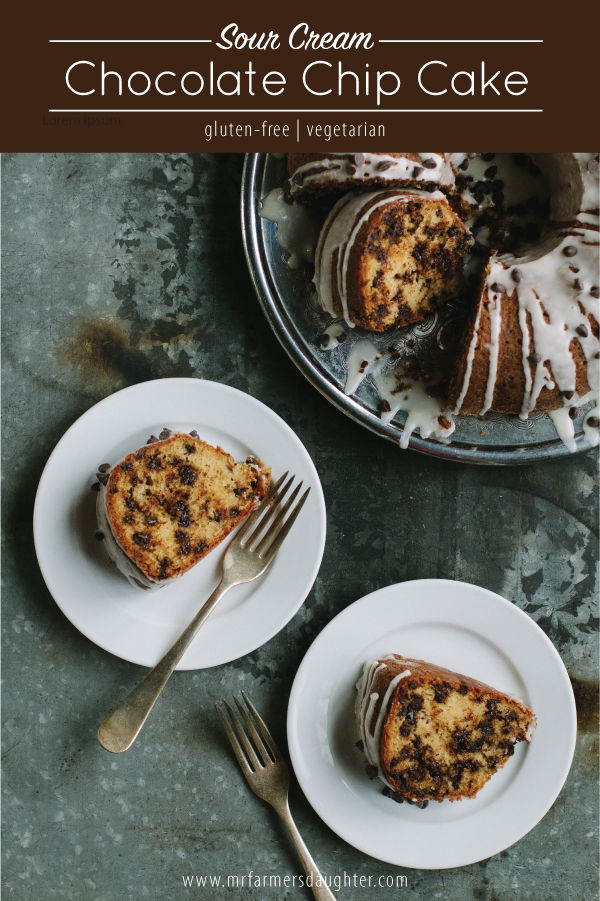 Author:
www.mrfarmersdaughter.com
Tender gluten-free cream cake with chocolate chips and a drizzle of whatever you like on it.
Ingredients
FOR THE CAKE:
1¾ cups gf flour
1 cup cane sugar
¼ cup brown sugar
1 cup full fat Greek yogurt or full fat sour cream
¼ cup butter, softened
¼ cup non-gmo, non-hydrogenated shortening or refined coconut oil
3 eggs
¼ cup milk
1 ½ tsp. baking soda
1 tsp baking powder
½ tsp. mineral salt
1 bag soy-free mini chocolate chips + 1 Tbls. gf flour to dust
FOR THE DRIZZLE:
1 cup 10x sugar
½ tsp. vanilla
1-2 Tbls. water (add just a little at a time)
Instructions
FOR THE CAKE:
Preheat oven to 350˚
In the bowl of an electric mixer, combine sugars and fat and mix until smooth.
Add eggs and mix well.
Combine the remaining dry ingredients and add ⅓ of that to the mixer and mix.
Combine the sour cream (or yogurt) and milk.
Add half that mixture to the batter and mix well.
Add ⅓ of the dry ingredients and mix.
Add the remaining sour cream mixture and mix.
Add the remaining dry ingredients.
Add dusted chocolate chips and mix with a wooden spoon just until incorporated.
Spread in greased and floured Bundt pan.
Bake until toothpick comes out clean. About 45-55 minutes.
Allow to cool completely before turning out onto a serving dish.
FOR THE DRIZZLE:
Combine the ingredients and drizzle on top of cake.
Store in a cool place, covered for up to 4 days.