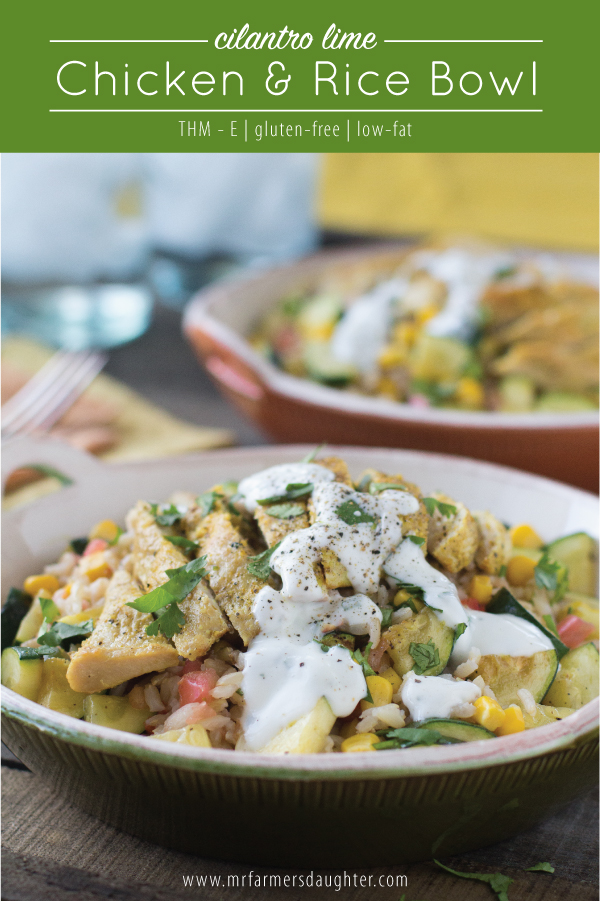 For some reason I'm totally into cilantro and lime these days, hence the reason for this Cilantro Lime Chicken & Rice Bowl! I've been adding these flavors to so many things. I figure it's probably good that I make friends with cilantro because it's such a good detox herb. Although I've never been a huge fan, I do like the potential benefits of eating it.
I'm also always looking for good low-fat recipes that can serve as a Trim Healthy Mama E-meal, meaning the carbs are kept at a reasonable level and the fat really low. (Those E-meals are balanced with S-meals which are unlimited fats and very low carbs.) If you're interested in learning more, you can buy the plan book here. Anyway, this is a great E-meal that I could eat just about every.single.day. It's filling, yet not bloating. It offers sweet flavors along with tart citrus, spicy chicken and the all-important carbi-ness of the rice – something I love.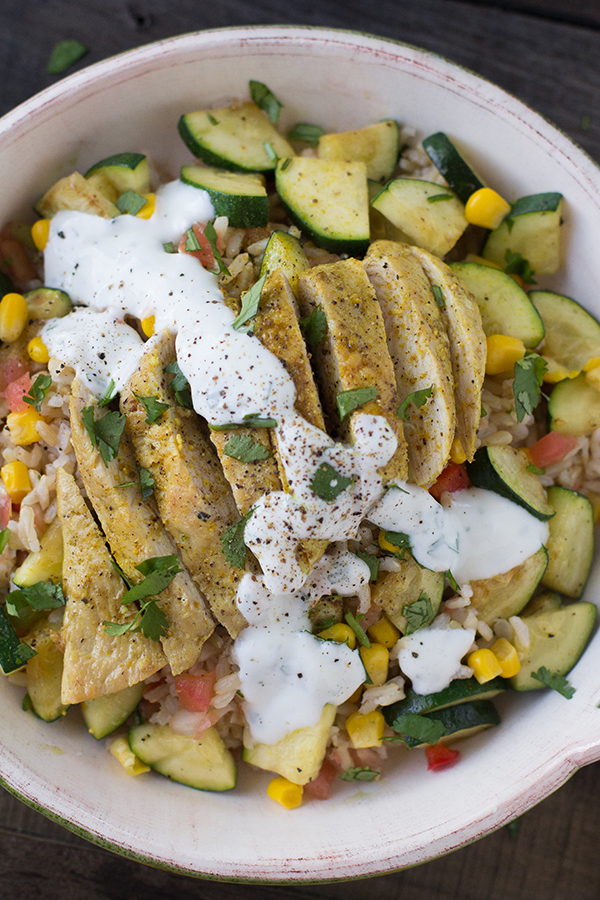 I'm not going to give you an exact recipe here because I want you to mix it up a bit. The list of what I added to my bowl is below. You may add any kind of non-starchy vegetable to make it more substantial if you like.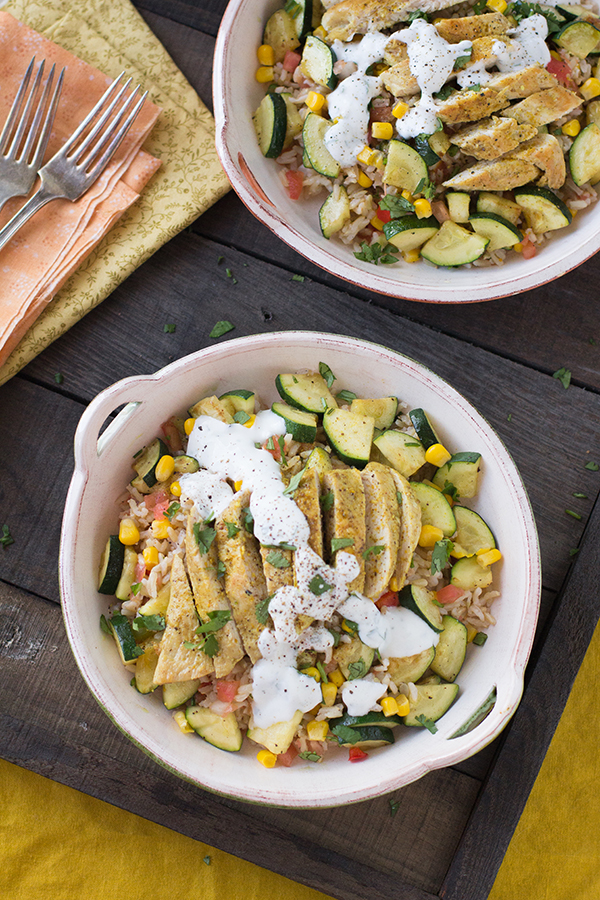 Notes on preparing each ingredient:
• I started by cooking some chicken breasts with some adobo seasonings. I did mine in the oven, but you could do yours in a pan on the stovetop, just watch your fat amount if you're sticking with an E setting.
• Next I cooked up a big pot of brown basmati rice. I'm not a huge fan of brown rice but it is "on plan" whereas white basmati is not. It all has to do with the fiber in it. Brown basmati is a pretty good sub for the white version. I squeezed a little lime juice over the rice as I was building the bowls. Also put some on the chicken. I LOVE lime.
• I sautéed some zucchini in very little oil until it was just beginning to brown and added that to the bowls. I like my zucchini a little firm.
• I also used some canned corn and some fresh salsa (from the produce department at our grocery store), which I added to each bowl separately.
• Then I topped each bowl with some fat-free Greek Yogurt mixed with some salt and lime juice.
• Fresh cilantro leaves topped it all off!
So, here's the order I built each bowl:
Rice with lime juice on the bottom.
Fresh salsa and just a little canned corn next.
Zucchini.
Adobo chicken sliced into thin strips, maybe a little more lime.
Yogurt & lime dressing.
Fresh cilantro leaves for garnish.
Salt and Pepper to taste.
That's it! What I love about this is that each person in the family can assemble their own bowls to their tastes, just like making tacos.