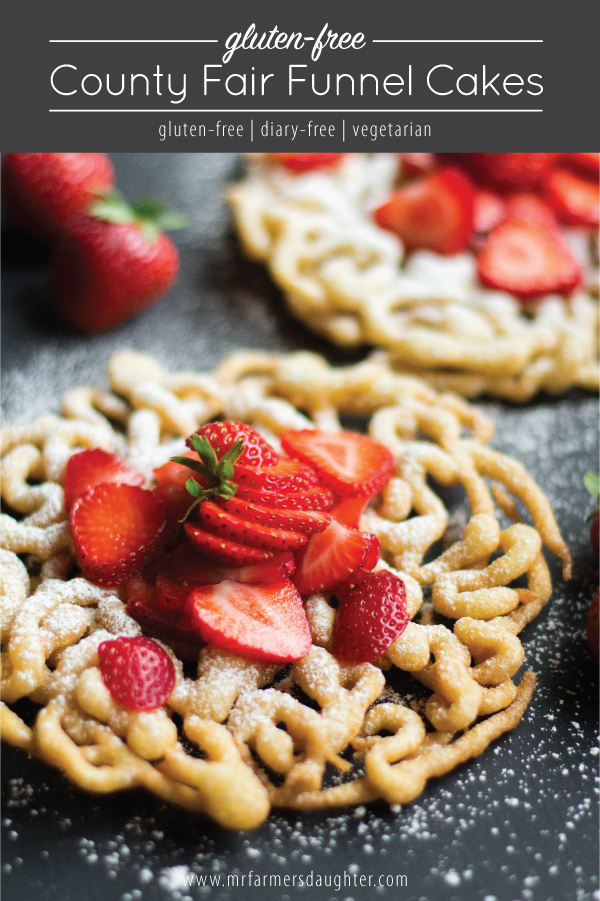 Here in Pennsylvania, August and September is County Fair season. For years I've attended fairs and walked around with my family watching them eat all the things. Sausage sandwiches, ice cream cones, funnel cakes and more. You know what I mean. I'm pretty sure Fairs mean food as much as they mean fun.
But, if you're gluten-free like me, the food is the least fun part of the outing. It's downright frustrating and unless I bring my own food which I've been known to do, it doesn't take me long to get hangry. I mean you can only watch other people enjoy life for so long before you start to feel sorry for yourself. Yes, I admit. That still happens sometimes for me.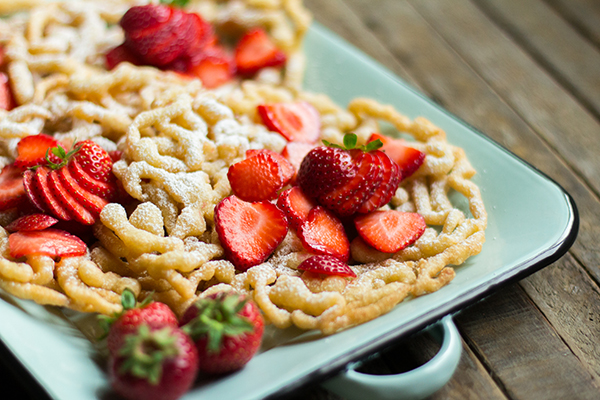 So, this year since we didn't get to any Fairs, I decided to bring the Fair to myself! And bring it I did! I tried out this recipe for the first time with friends and it was a huge hit. I mean HUGE! I'm not sure my 22 year old son had ever had a funnel cake, to be honest. His eyes rolled back in his head when he tried these.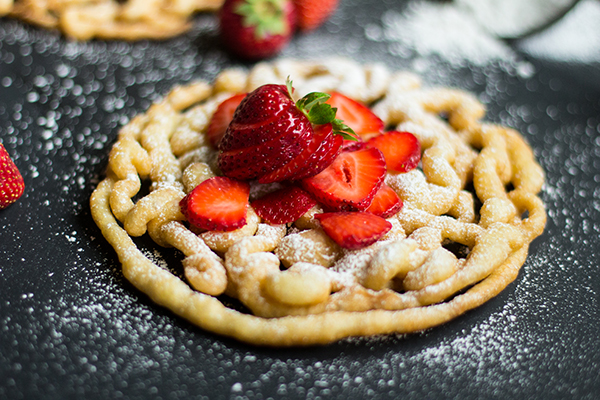 The funnel cakes were pretty simple to make although the technique of forming a well-connected cake was a bit challenging. The first few weren't quite as good and the last ones.
If you have a funnel cake dispenser, that'd make it much easier but I didn't so I used a zip-lock bag. It worked fine. You just have to keep the tip pointed up when you're not dispensing it. I just laid it on the counter with the tip up. The batter naturally spread out and weighted the other end down.
The other thing I didn't realize and this is kinda stupid really, is that strawberries take funnel cakes to a whole new level. I'll be honest and tell you that I only added them here for the photo but my assistant, Sarah, and I chowed down on the when the photos were finished. I highly recommend serving these with strawberries or some kind of fruit. Peaches would be a fantastic choice too!
A few notes:
• I chose to use lard to cook these in because it has a very high smoke point and it's a natural fat. If you're concerned about pork fat but not vegetable oil, read this. Natural fats are SO much better for you than seed oils.
• If I could find a good organic gluten-free flour I would use that but to date, the best I've used is King Arthur measure for measure. It's my favorite, by far.
• I choose to use organic sugars for a couple reasons. 1) I don't want sugar made from GMO beets 2) I don't want sugar cane desiccated with glyphosate before harvest.
• I used a dairy-free option for the milk but you can use dairy if it's tolerable.

County Fair Funnel Cakes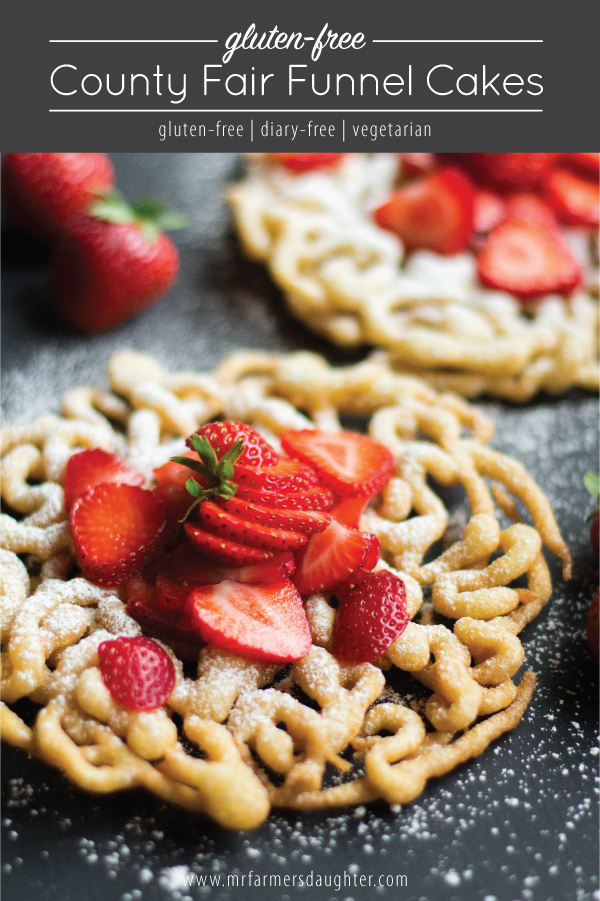 Author:
www.mrfarmersdaughter.com
Melt-in-your-mouth, tender, gluten-free funnel cakes cooked in good fat and dusted with organic powdered sugar.
Ingredients
4 cups lard or avocado oil (to fry in)
-
1½ cup alternative milk such as cashew, hemp or coconut (you can use dairy if tolerated)
1¼ cup gluten-free flour (I use King Arthur's measure for measure)
¾ tsp. baking powder
2 whole eggs (free-range, pastured eggs are best)
3 Tbls. granulated sugar (I use organic)
¼ tsp. mineral salt
-
10x sugar, organic if possible, for dusting
Instructions
In a saucepan about the size you want your funnel cakes, heat the fat. I used a pan about 8" across.
While oil is heating, combine "milk", flour, baking powder, eggs, sugar and salt. Mix well.
When oil reaches approximately 350˚ test it by putting a small spoonful of batter in and frying both sides. The oil should bubble up right away.
Place batter into a gallon zip-lock bag, gently squeeze air out and seal zipper.
With one of the corners pointed towards the ceiling, cut off the tip forming a hole that is about ¼" wide.
Carefully and gently squeeze batter into the oil in a swirling motion, making sure to connect any circles with a cross hatch. This will help to keep the funnel cake together when turning.
Cook on first side until the edges begin to brown. Flip over and cook for half the time of the first side.
Remove to paper towels and immediately dust with 10x sugar.
Repeat until the remaining batter is all used.
Serve immediately.