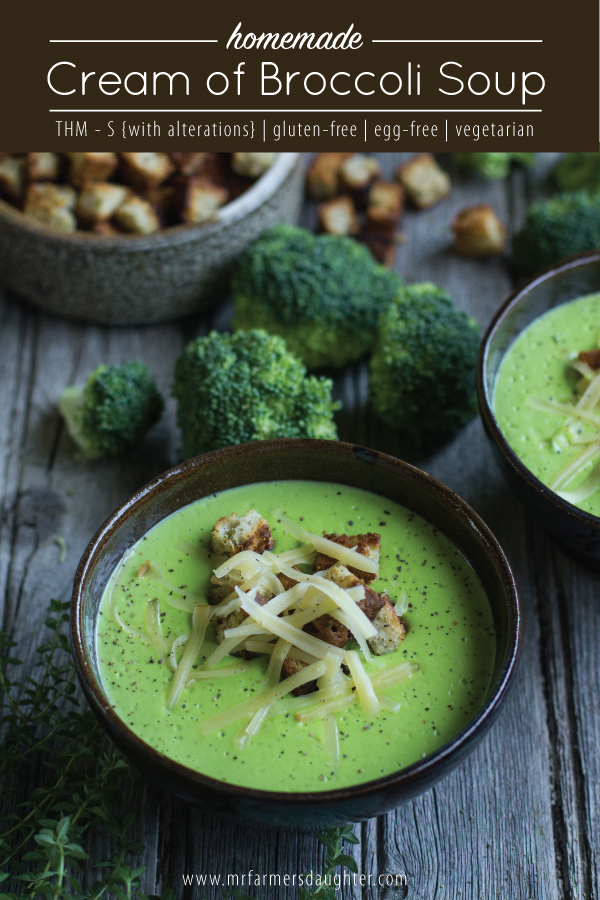 Winter is coming. It may be 85˚ outside right now but next week it'll be in the 60's and it's all downhill from there – temperature wise, that is. So, you can never have too many soups on your menu and this Cream of Broccoli Soup will help round out your soup menu for January (Or September 28th!).
I've made so many versions of cream of broccoli soup over the years I've lost count. I usually just throw it together, mostly with cheese because, well, cheese. But with this one, I wanted something a little brighter and flavorful than what I usually make. And, I have to say, I nailed it on the first try!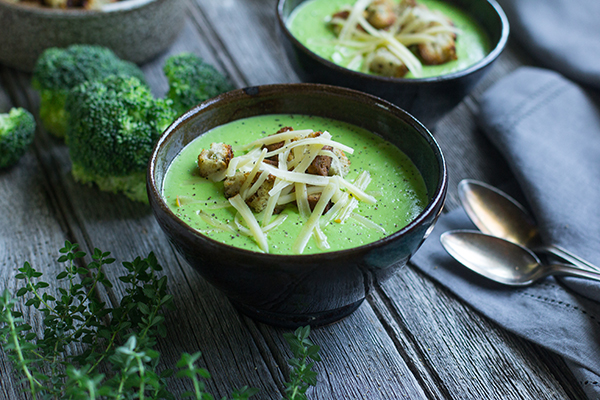 I love when my family eats the things I make but green things tend to be hard for them to handle. Even though my son said this was delicious and it tasted great, he couldn't get past the "green." It took me a while when I was his age too so I understand. The rich flavor of this comes from the double strength broth that's added to the roux. The "milk" and smoked gouda makes it especially creamy and topped with these croutons, you get some crunch.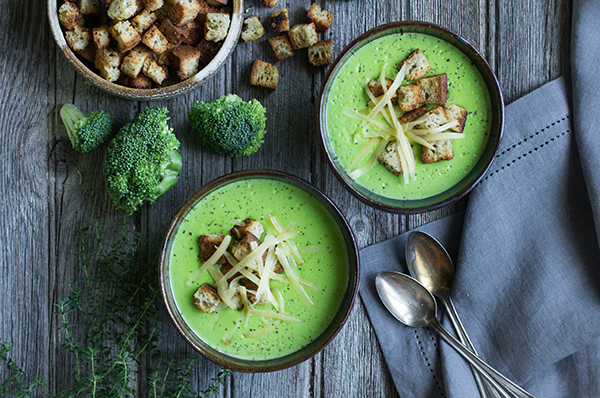 A few notes:
• Making a roux is a good basic skill to learn. The key is to keep stirring while you're pouring. Cooking it for about a minute cooks out the raw flour taste.
• I often keep steamed broccoli in the fridge from my batch cooking. If you don't have this, making this recipe will take just a little longer so you can steam or blanch the broccoli.
• TO MAKE THIS A TRIM HEALTHY MAMA "S": Replace the gluten-free flour with 3 Tbls. THM Baking Blend and use a dairy-free alternative such as coconut milk or hemp milk. Omit the croutons.
• TO MAKE THIS VEGETARIAN: Use vegetable broth.

Cream of Broccoli Soup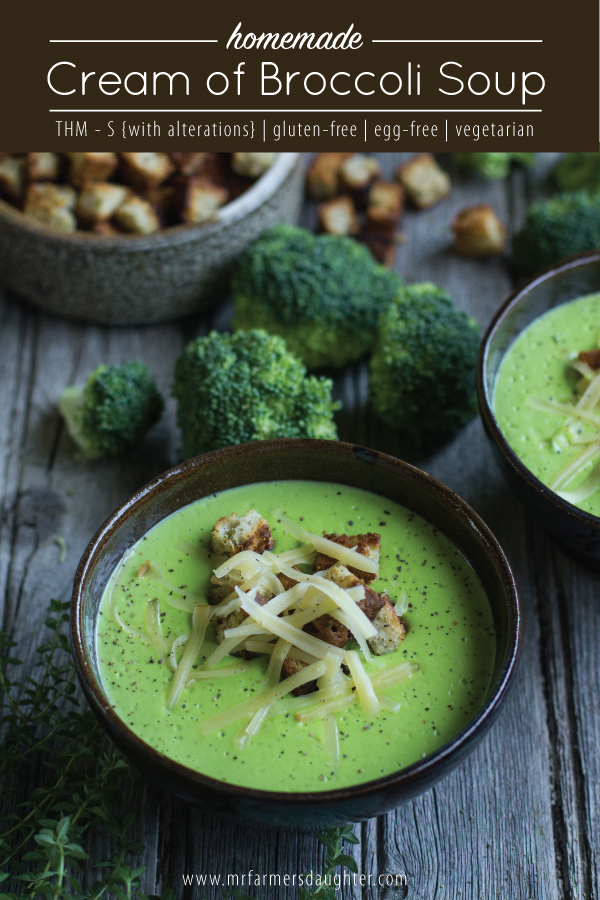 Author:
www.mrfarmersdaughter.com
Rich, creamy broccoli soup made in a high speed blender or on the stovetop.
Ingredients
4 cups broccoli, steamed
1 cup milk or dairy-free alternative
Roux (recipe below)
1 cup shredded smoked gouda
Croutons and extra cheese to top
-
ROUX:
2 Tbls. gluten-free flour (I use King Arthur Measure for Measure)
2 Tbls. butter
1 cup broth, double strength*
Instructions
TO PREPARE ROUX:
Melt butter in a small saucepan.
When the butter is melted, stir in flour to make a paste.
Add broth, stirring constantly, until thick and creamy.
Continue to cook for 1 minute once boiling.
-
TO MAKE SOUP:
Add all ingredients and blend in high-speed blender** on soup mode.
Top with extra shredded gouda and croutons
*You may cook homemade broth down to concentrate it or use twice as much bullion if you're not using homemade broth.
** If you would like to make this on the stove top, heat all ingredients in soup pot until hot and blend thoroughly with immersion blender or carefully blend hot soup in a blender until smooth.