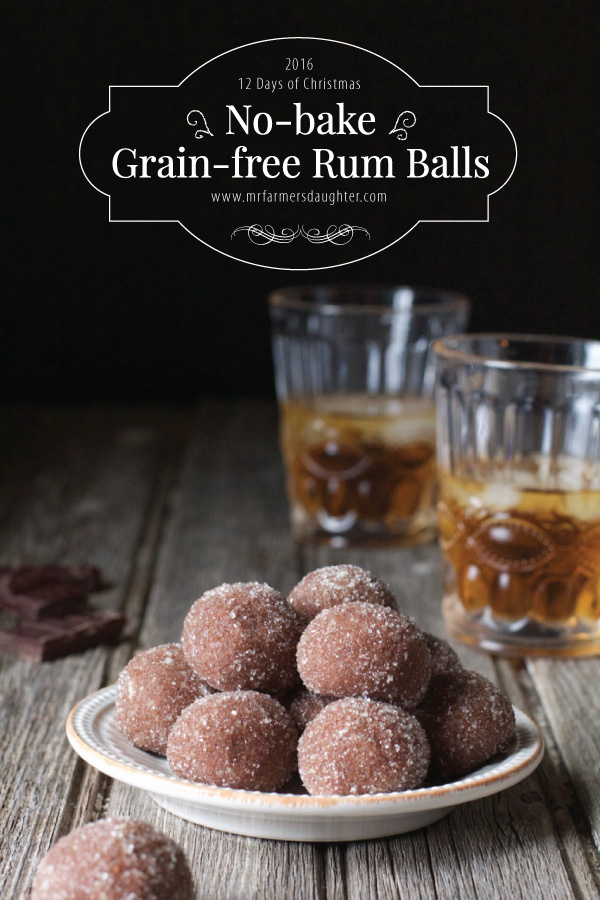 Welcome to Mr. Farmer's Daughter's 12 Days of Cookies!
Many years ago my parents began a 12 Days of Christmas tradition with my sister and me. It began on the 13th of December and ran through Christmas day. It was so great to spread out the love (and gifts) for that period of time. So, I'm passing the tradition on to you in the form of cookie recipes! I'm going to keep the posts short because it's Christmas time and I can't be writing book-long posts for 12 days in a row. I just don't have it in me to put that many words on paper. Suffice it to say, some of the recipes are favorites of ours, some I've adapted to be more allergen friendly and some are just recipes that I've wanted to play around with. All of them will be delicious though. Merry Christmas!!!
Day 3!
No-bake, Grain-free Rum Balls!
Oh.my.word. If you love traditional rum balls like my grandma used to make with vanilla wafers you'll love these! The rum flavor really shines through without the vanilla wafers taking the spotlight.
When my grandma makes these Christmas cookies she uses colored sugar but we're real here. I don't use any artificial food dye and If I had my way it would just cease to exist. Nothing good comes from chemical colors. SO, I rolled them in raw cane sugar and let it at that. If you can find some naturally-colored sugars out there, have at it … but, you might want to keep these cookies away from the kids. The rum, like I said, is the star.
P.S. I love how rum rhymes with yum. So appropriate. 🙂

Grain-free Rum Balls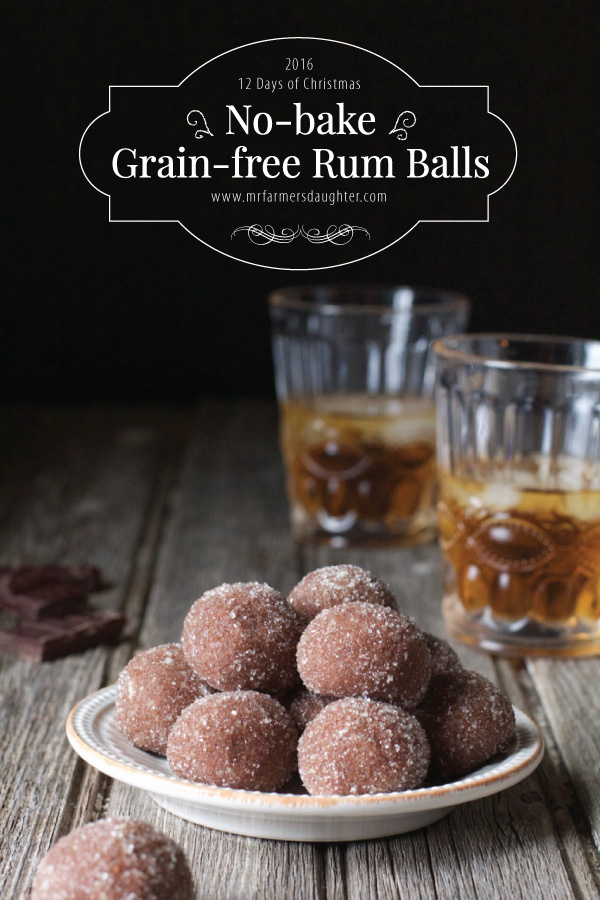 Author:
www.mrfarmersdaughter.com
Ingredients
1 ¼ c. fine almond flour
1 c. 10x sugar
½ c. finely chopped pecans
2 Tbls. cocoa
2 Tbls. rum
2 Tbls. raw honey
Instructions
In a food processor, combine almond flour, sugar, pecans and cocoa.
Combine rum and honey in a small bowl and slowly pour into processor as it's running.
Allow mixture to come together in a ball. (You may need to scrape the sides once.)
Shape into 1-inch balls and roll in sugar.
Refrigerate at least 3 hours before serving.
Serve chilled.