There's one thing about Blueberry Crumb Pie – it doesn't generally photograph very well. (As a food stylist, pies are my nemesis. That point on the end. >:( )I think I've made this pie at least three times over the last two years in hopes of shooting it for this blog. And, every time I realize that blueberries, when not combined with gums, fillers and thickeners are really kinda runny. Delicious, but runny.
Each time we enjoyed the unphotographed pie until every piece was gone. This time I never intended to photograph the darned thing. I was making it for my husband because it's one of his favorites and it just looked so pretty, I took some shots of the prep and I love them.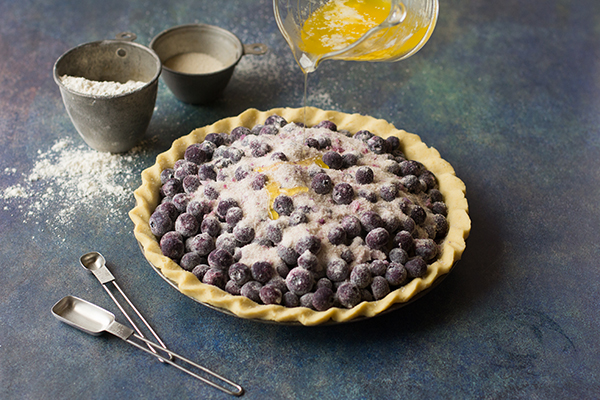 Yes, the pie, after being cut is still runny. In fact, I ended up cleaning up a sticky mess this afternoon because I spilled it while taking it out of the refrigerator. But, it is in fact, still delicious.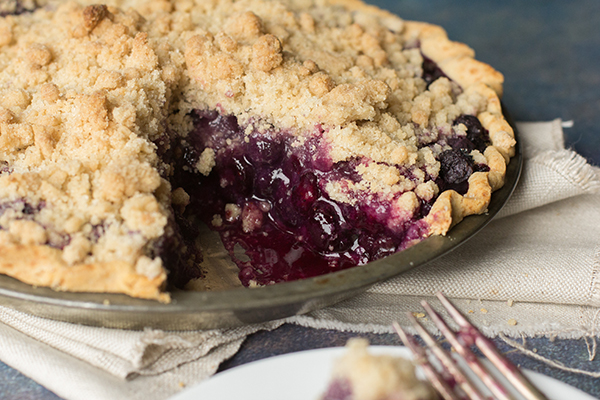 I think you'll appreciate how simple it is to make too. I don't use cornstarch, mainly because my niece is allergic and I avoid it for the most part. Instead, I use some gluten-free flour in the fruit part to help thicken it a little bit. The blueberries stay juicy and soft and they go perfectly with the crunchy crumb topping, also a breeze to throw together.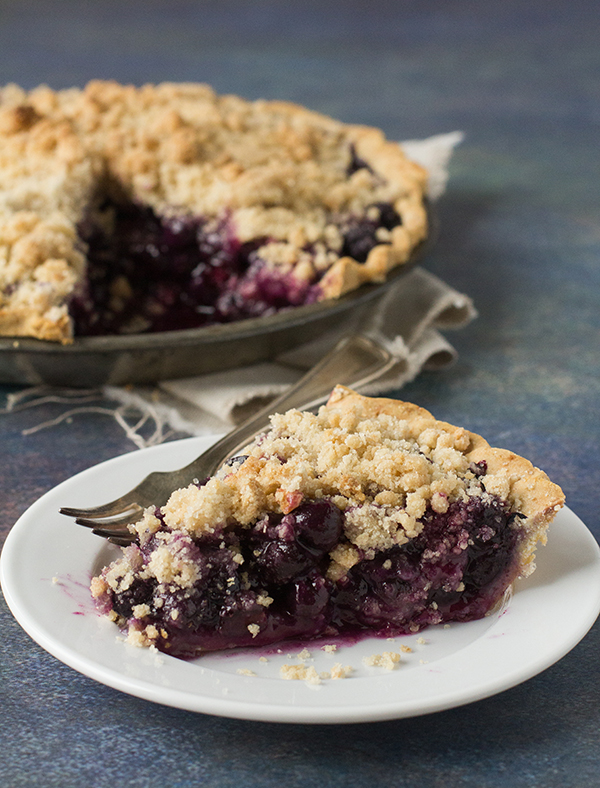 A few notes:
• I use this pie crust. It's my favorite and if you have a food processor, it literally takes 30 seconds to throw together.
• Every year I buy a 20 lb. box of blueberries and freeze them. This is from last year's box. Buying in bulk saves you tons of money. Have you priced blueberries at this time of the year?!
• I've switched from making my own gluten-free flour to using King Arthur's measure for measure flour. I love it. If you'd like to purchase it, you can find it here.
• After cooling, this pie is best stored in the refrigerator where the blueberry filling will firm up a bit.

Gluten-free Blueberry Crumb Pie
Author:
www.mrfarmersdaughter.com
Ingredients
1 8" gluten-free pie crust (see notes)
For the filling:
5 cups frozen blueberries
1 cup cane sugar
¼ cup gluten-free flour mix
2 Tbls. melted butter
For the crumb topping:
¾ cup gluten-free flour
¾ cup cane sugar
3 Tbls. melted butter
1 tsp. cinnamon
Instructions
Preheat oven to 375˚.
Prepare pie crust and set aside.
Combine blueberries, sugar and flour and pour into pie shell.
Drizzle with melted butter.
In a bowl, combine flour, sugar and cinnamon.
Drizzle in melted butter and cut in with a fork or pastry blender until you have small crumbs.
Spinkle on top.
Bake for 1 hour or until blueberries are bubbling around the edges and the top of the pie is toasted brown.
Cool completely before serving.