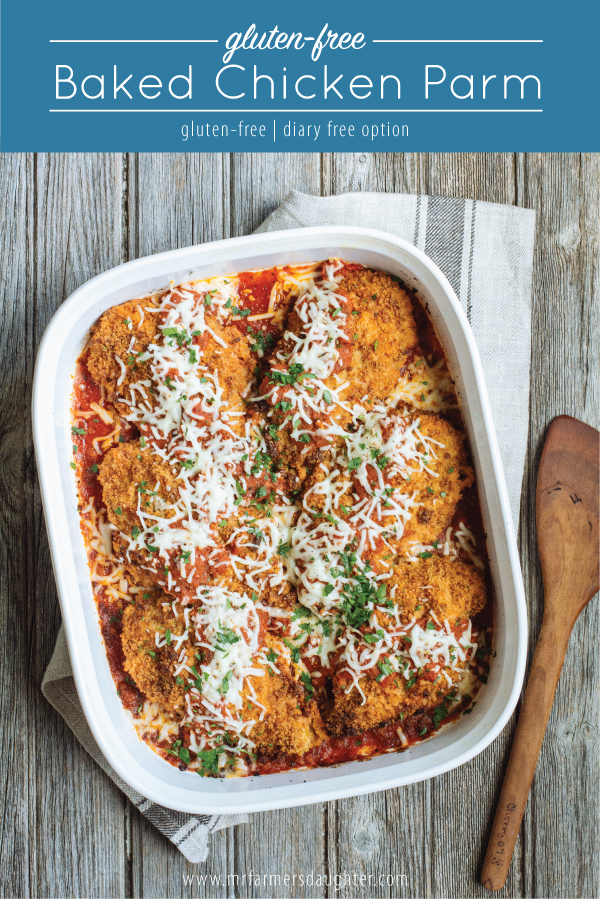 This dish, gluten-free Chicken Parm, is one that I don't make often because, I'll be honest, my family just doesn't like chicken with tomato sauce. I don't get it though. This dish has everything that's delicious. It has tender chicken breasts, crunchy breaded coating, rich tomato sauce and cheese. I mean, if nothing else, I would think the crunch and the cheese would get them but no … I ended up eating this all.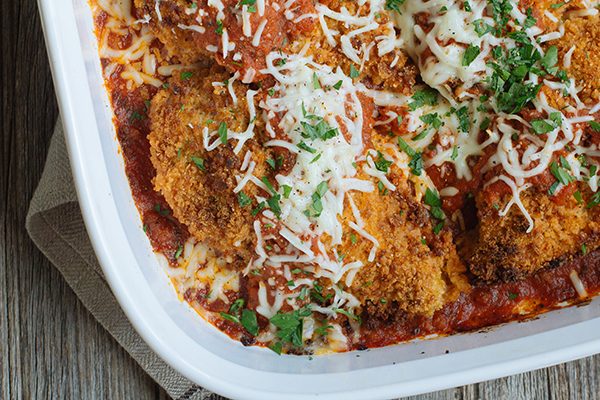 It's so simple to throw together too. In fact, if you'd like to cut down your time, I would make a double or triple batch of the chicken cutlets, bake them before adding the sauce and freeze portions for later. Then, next time you'd like to have a chicken sandwich or make this Chicken Parm again, it's ready to go. Just add sauce and bake!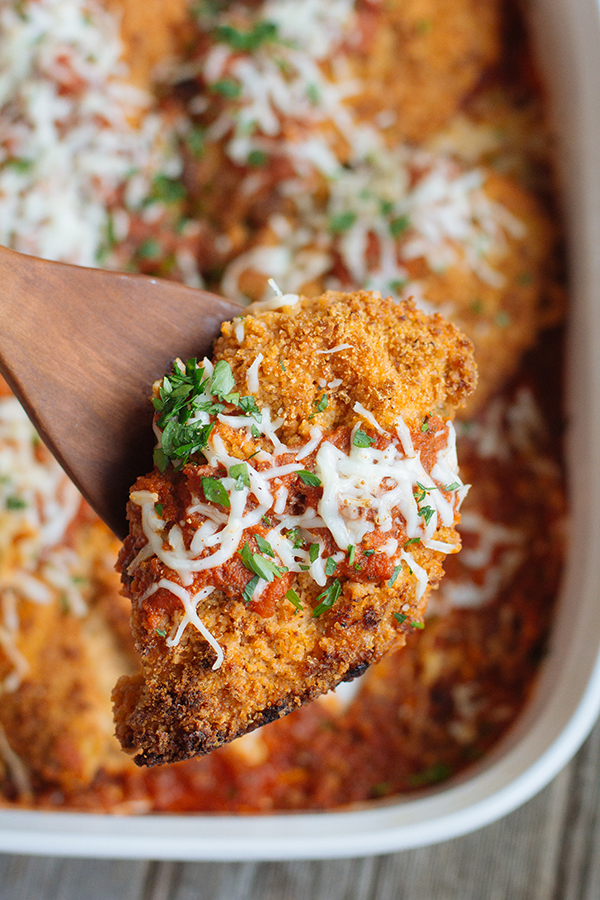 A few notes:
• I use organic chicken. I try to buy pastured chicken but it's not always convenient and we all have time restraints but I always buy organic.
• For this I used Aleia's gluten-free stuffing mix that I crushed in the food processor but you can use whatever is your favorite gluten-free bread crumbs. Crushing my own is more like the Panko that you can get if you're gluten-full. Bigger pieces that stay crunchy.
• I use a no sugar added tomato sauce. Once upon a time I would make my own sauce but that didn't happen this year. #gardengoals for next year though.
• I chose to bake the cutlets first with no sauce because I wanted them to get really crispy. It worked. Adding the sauce last preserved some of the crunch factor even underneath the cutlet.
• Lastly, I'm not sure why I called this Chicken Parm as there's no parmesan in it but it's as close to chicken parm as I make. I find that I don't miss the extra cheese in the coating but you may add some if you feel it's necessary.

Gluten-free Chicken Parm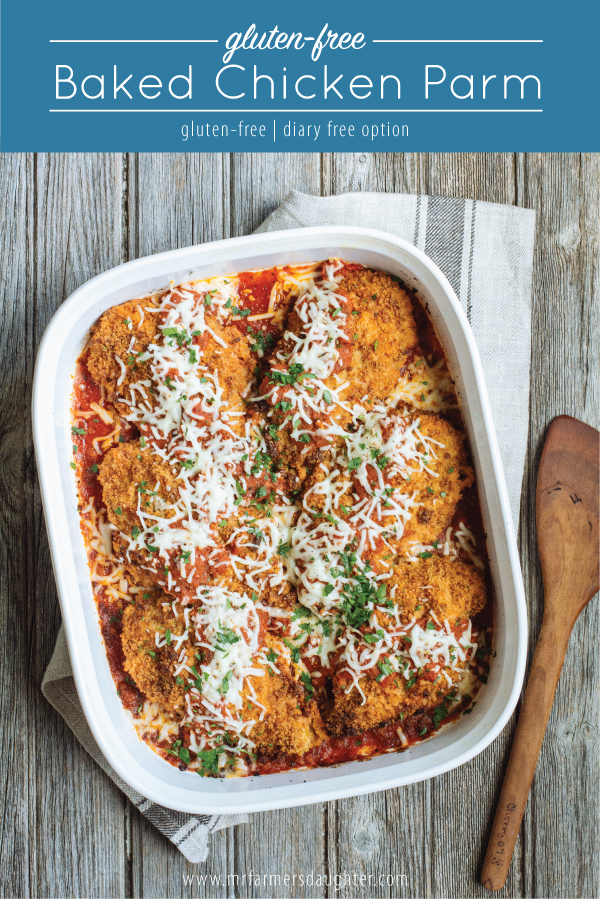 Author:
www.mrfarmersdaughter.com
Tender, baked chicken breasts coated with crunchy "Panko" bread crumbs and baked in flavorful tomato sauce, topped with mozzarella cheese.
Ingredients
3-4 boneless, skinless chicken breasts
4-5 large eggs
3 cups gluten-free bread crumbs or gluten-free stuffing mix, crushed into crumbs
½ tsp. each garlic powder, onion powder & Italian seasoning
1 15 oz. jar spaghetti sauce, commercial or home-canned
Mozzarella cheese and fresh herbs to top
Instructions
Preheat oven to 350˚.
Cut each chicken breasts laterally to make two thinner pieces out of each whole breast.
In a bowl, beat eggs until smooth. Pour into a flat container such as a glass storage container large enough to lay a piece of chicken in flat.
Combine bread crumbs, garlic powder, onion powder and Italian seasoning in a second flat container.
Dip each chicken piece in egg then into the crumbs, making sure to coat them thoroughly each time.
When all the pieces are coated, place them in a large baking dish and bake for 30 minutes.
After 30 minutes, remove from oven. Remove chicken from baking dish to a plate and pour half the spaghetti sauce onto the bottom of the baking dish and spread evenly.
Replace the chicken pieces into the dish and pour the other half of the sauce on top of the chicken making sure to not cover the whole thing. You want some crunchy areas!
Sprinkle with mozzarella cheese.
Bake for an additional 15-20 minutes or until chicken is golden browned and cheese is melted.
Serve immediately.