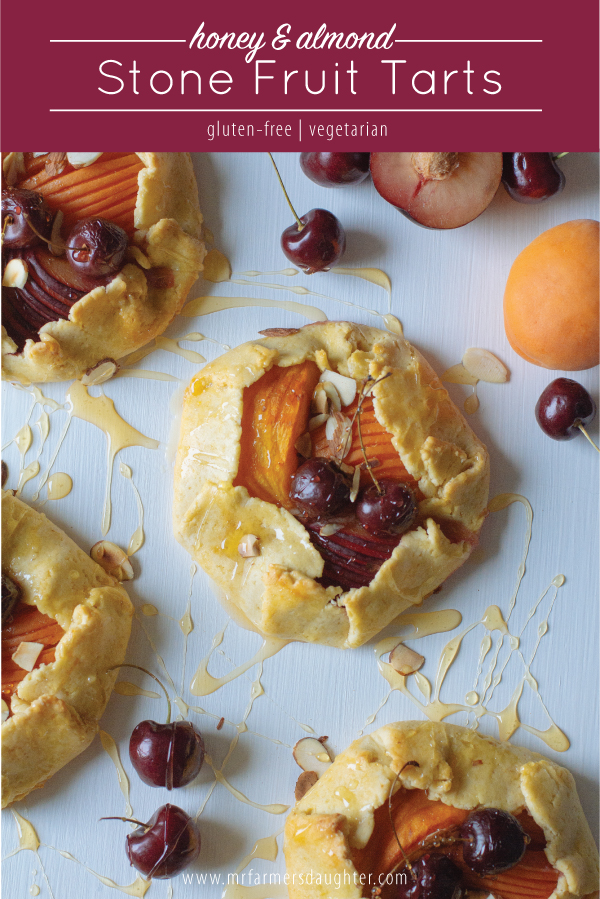 One thing to love about late summer is the abundance of stone fruits. I love peaches to the point of making myself sick on them. Well, that may be an exaggeration but still, you know what I mean. I only eat peaches in season so I try to get in all I can while they last which is never long enough for me!
Nectarines are peach's smooth-skinned cousin and I love them almost the same and don't even get me started on plums. I remember discovering them for the first time on a great aunt's bush in the middle of her yard when I was small. I've dreamed of having my own plum tree ever since.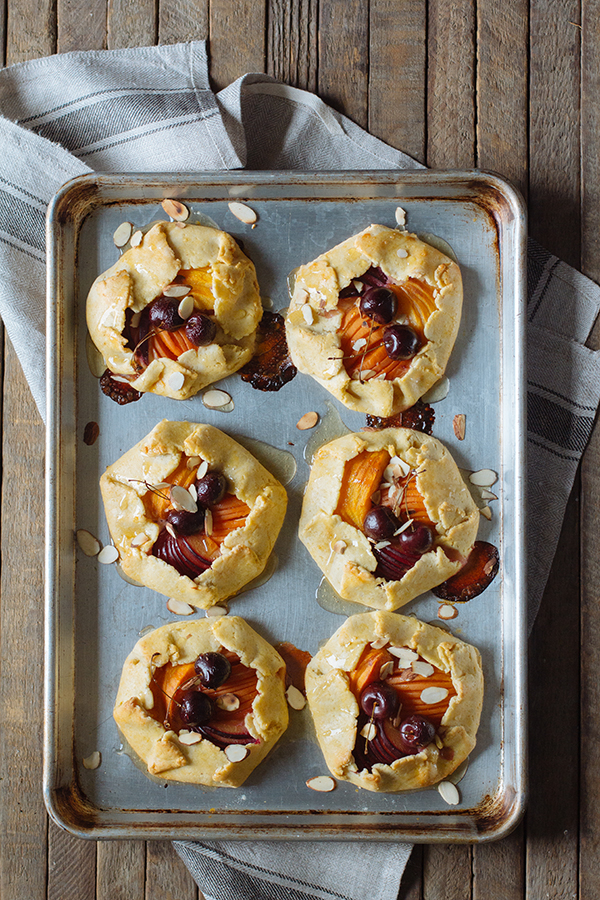 And, does anyone else consider cherries stone fruit? I do! They have little stones smack dab in the middle so I included them in my recipe since they're in abundance now at the farmers' markets.
To me, there's no way to screw up a tart unless you forget an ingredient. Tarts are kind of like pies but simpler in some ways. You're not obligated to make a topping for tarts. Tarts can let the fruit shine on its own. I chose to drizzle mine with raw honey and toasted almonds for some crunch. Even though they are gluten-free this amazing dough is so strong you can pick them up and eat them like a hand pie.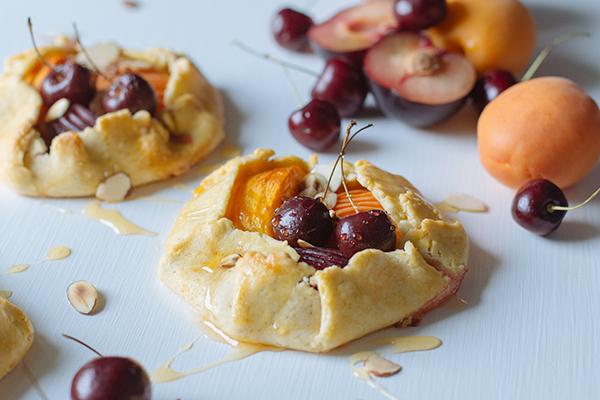 Which I did.
Shamelessly.
Three times.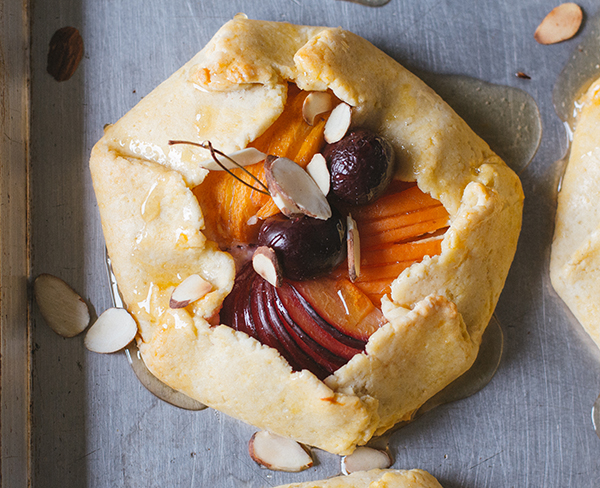 A few notes:
• I altered my gluten-free pie dough by adding just a touch more sugar (3 Tbls. instead of 1 Tbls.) for some sweetness. Stone fruits sweetness scale tends to be a little low plus, adding apricots brings in some tartness that is rebalanced with the addition of a bit of honey. You can find my pie dough here or feel free to use your favorite recipe.
• Choose organic fruits whenever possible. Stone fruits are some of the most pesticide/fungicide laden fruits because of their soft flesh and susceptibility to disease. You can check out the EWG's Dirty Dozen List here.
• I choose raw honey for its medicinal benefits including helping to eliminate seasonal allergies. Raw honey reduced my daughter's seasonal allergies to nothing over a period of 18 months. She hasn't suffered from them at all for the last 8 years. It really does work.
• I use King Arthur's gluten-free flour mix. I've tried SO many, including mixing my own and this is far superior for creating gluten-free baked goods that taste amazing. I only wish it was organic. :/

Gluten-free Stone Fruit Tarts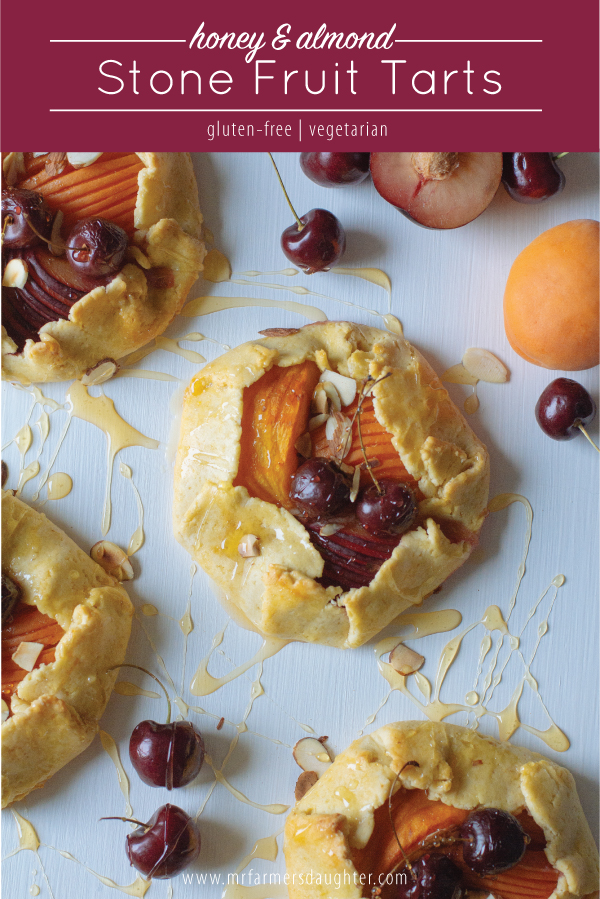 Author:
www.mrfarmersdaughter.com
Sweet & tangy stone fruit tarts with a cream base and gluten-free crust
Ingredients
1 recipe gluten-free pie crust (You can find mine by searching "gluten-free crust" on the blog)
-
Variety of stone fruit that can include plums, nectarines, peaches and cherries – sliced thin to arrange inside the tarts
-
FILLING:
1 egg
1 Tbls. honey
½ cup ricotta cheese
½ tsp. vanilla
-
TOPPING:
½ cup raw sliced almonds
Raw honey to drizzle
Instructions
Preheat oven to 350˚.
Mix up all the filling ingredients and set aside.
Slice up the fruit and set aside. You'll have to use your best judgement on quantity for this as the fruit comes in different sizes and I'm not sure what all you will use.
Prepare dough and roll out into six 8" circles.
On each circle, spread 2 Tbls. of filling.
Arrange fruits on top of filling and carefully pull up sides of tart around the edges like the photo.
Press slightly to help it stick to itself and not collapse during baking.
Bake at 350˚ for about 30 minutes or until pie dough is set and slightly browned.
Remove from oven and allow to cool.
While tarts are cooling, heat a dry skillet on top of the stove over medium heat.
Add ½ cup sliced almonds to the dry pan, stirring constantly until you start to smell them and they are becoming browned around the edges.
Remove and cool.
When you are ready to serve the tarts, drizzle with raw honey and sprinkle with toasted almonds.