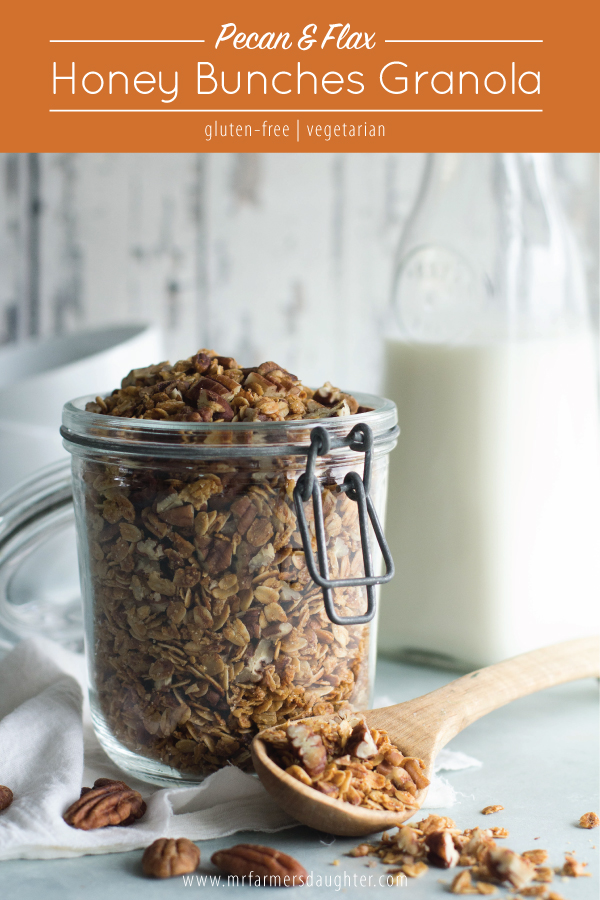 Granola obsessed? Welcome to the club. I'm pretty sure my family would be okay with me only serving different kinds of granola for three meals a day. I know I'd be okay with that! So, here's another recipe we've been regularly chowing down on in our house, Honey Bunches Granola – a play on the Honey Bunches of Oats available in the grocery store cereal aisle.
The cereal aisle is a place I avoid if at all possible. I'll admit I miss Rice Krispies and Cap'n Crunch, and Fruity Pebbles and … well, never mind. You can see how I ate as a child by the cereals I loved. As an adult with a greater appreciation for nutrition, I don't eat those things anymore, even if they are gluten-free.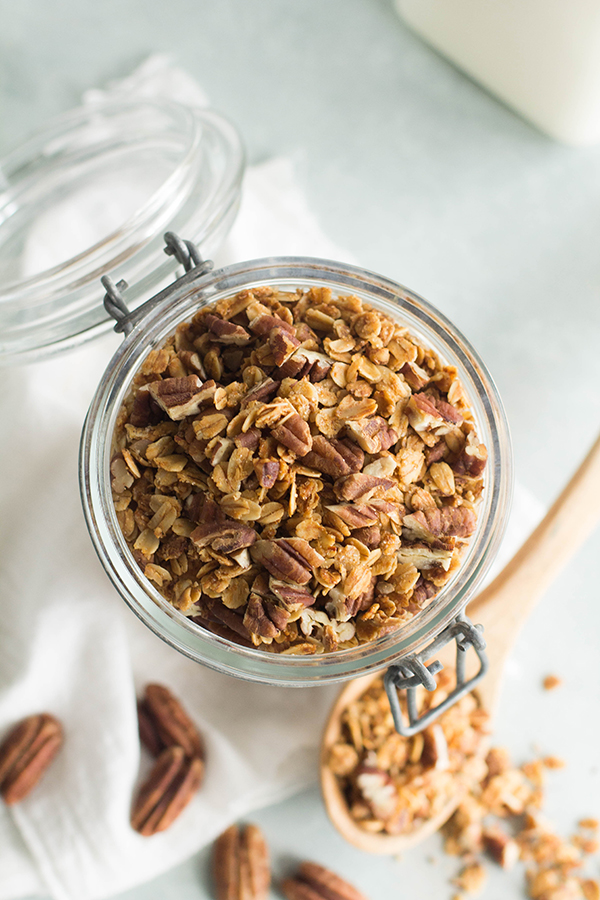 Yes, of course, I realize that granola is loaded with fats and carbs. I'm not kidding myself. But, I also realize that any time you cook something from scratch, at home, you are beating the system. That system that wants to feed you lots of artificial colors and chemicals and charge you outrageous amounts of money for the convenience of preparing it for you. I just don't like to play that game. If I'm going to eat junk food, I'm going to make it myself.
If you'd like to, you could make this recipe with all natural honey and leave out the sugar. You'll have to play with the amounts and the baking time will be different since the honey will take longer to dry out, but I'm sure it will be delicious. You're also welcome to cut down on the amounts of sugars in the recipe if you don't want your granola so sweet. It's a pretty adaptable recipe so have at it.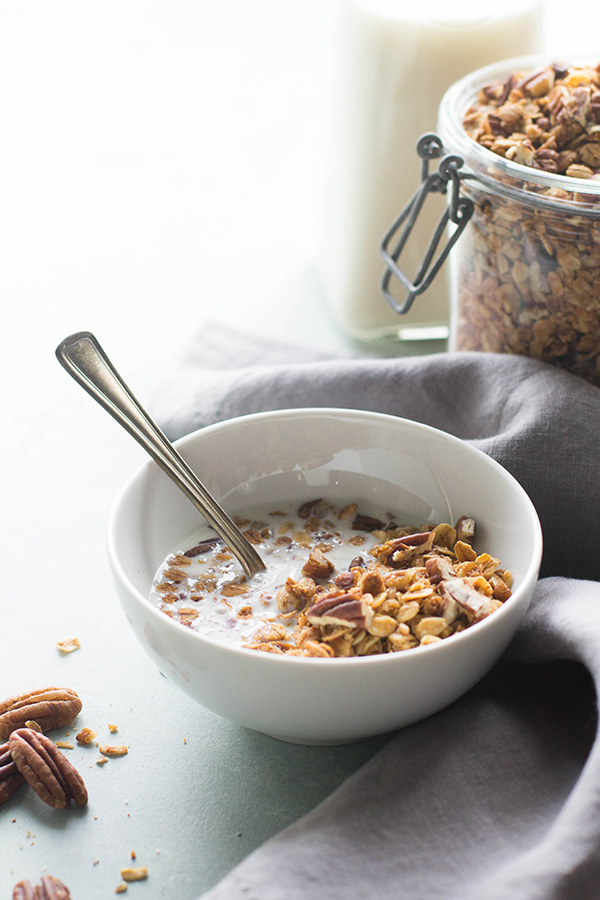 If you'd like to make it as the recipe states, here are my notes on this recipe:
• Buy certified gluten-free oats if contamination is an issue for you. I don't have to worry about machinery contamination at this point. Thank God!
• I use raw, local honey for my recipe. The benefits of raw, local honey can be found here. Since you're baking this recipe, the honey will no longer by raw, but it will still benefit you that it's local.
• I soak and dehydrate my pecans and walnuts. Here's the link to my instructions on how to do that and why.
• If you're going to buy cane sugar, it's best to choose organic. Sugar cane is sometimes desiccated with glyphosate (Roundup) before harvest. I get a large bag at Costco that's more reasonably priced than the grocery store.
Here are some products you might like too:
• Flip-top Glass Jar for storing your granola
• Half-sheet pan for making great granola
• Silpat silicone baking sheet
Honey Bunches Granola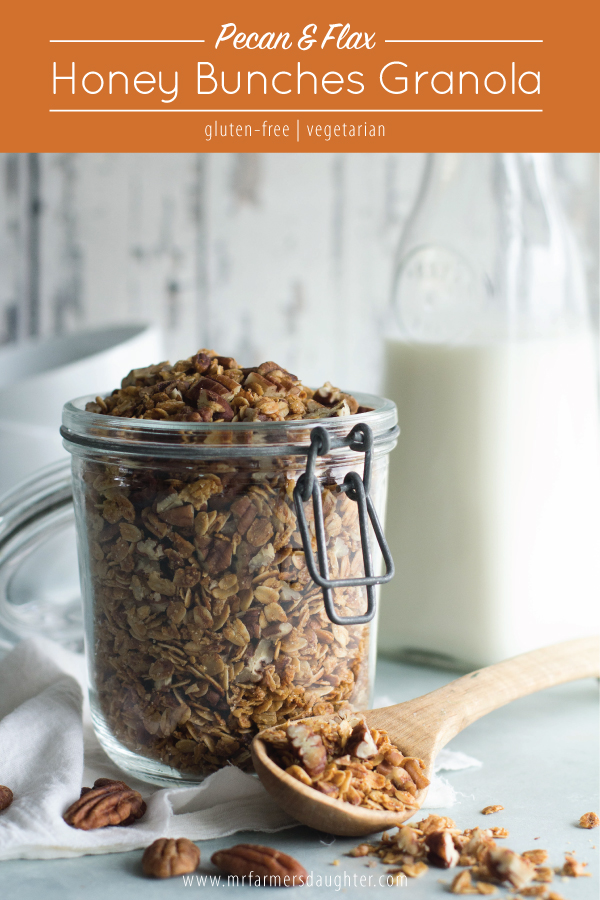 Author:
www.mrfarmersdaughter.com
Sweet, pecan-filled granola with a touch of honey. A copy-cat recipe for Honey Bunches of Oats cereal.
Ingredients
3 cups whole oats
½ cup finely chopped pecans
2 Tbls ground flax
¼ cup cane sugar
½ tsp. mineral salt
-
½ cup butter, melted
1 Tbls. Molasses
¼ cup honey
-
½ - 1 cup rough chopped pecans
Instructions
Preheat oven to 375˚.
Combine all the dry ingredients except the roughly chopped pecans.
Combine the liquid ingredients and mix well.
Pour liquids over the dry ingredients and stir well to completely coat all the pieces.
Spread granola out onto an ungreased baking sheet in an even layer.
Bake for 15 minutes.
Stir, then bake for another 5 minutes.
Stir, then bake for another 5 minutes.
At this point, the oats should be starting to brown. When it's golden browned evenly, remove from oven and allow to cool completely before storing.
Add the extra pecans if desired. They're just to give a little more nutty flavor.
Store in an air-tight container at room temperature for up to 2 weeks.
SaveSave
SaveSave