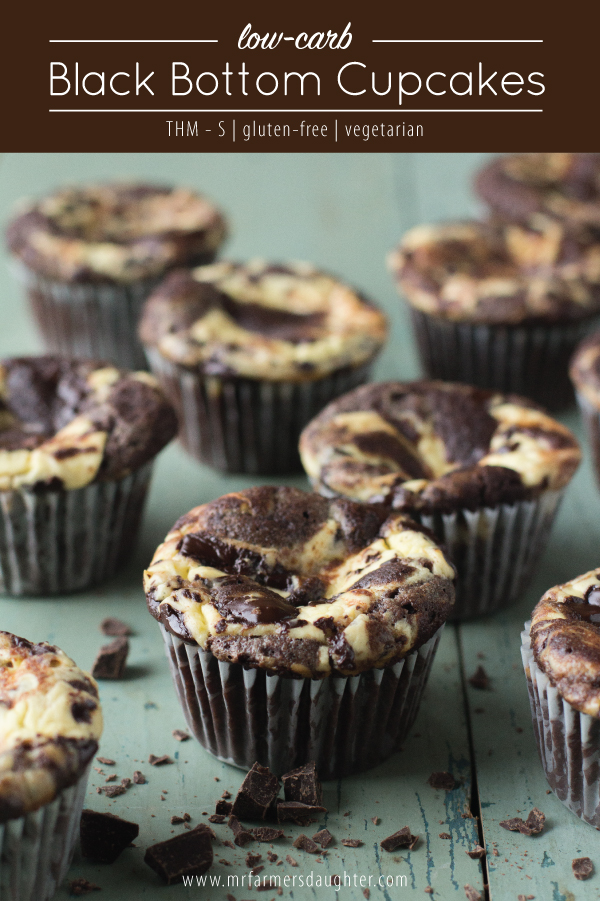 Lately I've been playing around with some recipes that would conform to the Trim Healthy Mama lifestyle and thought this classic might be a worthwhile one to recreate. I wasn't disappointed!
Everyone loves the creamy texture and bold flavors of a good black bottom cupcake! What's not to love about chocolate and cream cheese? Yeah, that's right. It's a cupcake from my children's childhood, a treat that in our house was made only a couple times a year.
Almond flour serves as the base for the low-carb cake part and a Lily's original chocolate bar replaces the traditional mini chocolate chips. Now that I'm pretty much sugar-free, I've found substitutes for many of the ingredients I used to use.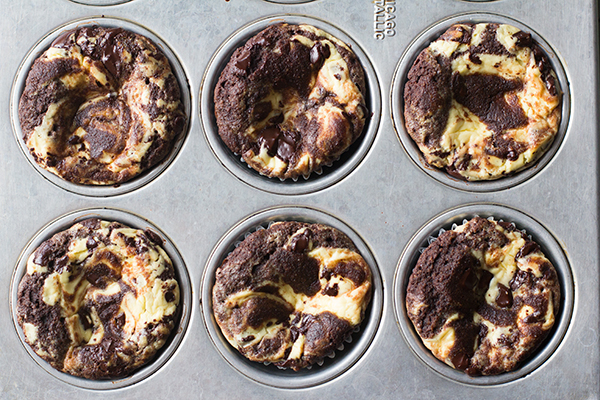 Notice in the recipe that I don't call out sugar? I prefer to say sweetener because I've noticed lots of Trim Healthy Mamas have their favorites. My favorite is Lakanto (erythritol & monkfruit) and monkfruit extract. While I can tolerate stevia in small doses, it's not my favorite but if you like it best, make adjustments where you need to.
I've also been trying to cut down on dairy so I used a milk alternative – hemp milk. It's higher in protein than other milk alternatives and in recipes you can't tell a difference at all. Coconut oil replaces butter but I'm sure if you'd like to use butter, the flavor will be a little richer … because, butter.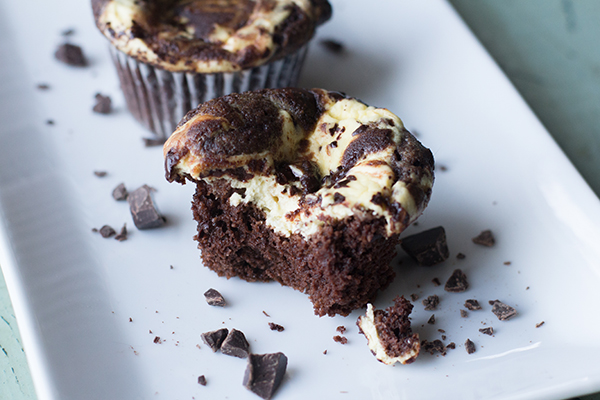 This makes 12 cupcakes. They rise nicely although because of the weight of the cream cheese, they will likely be a little sunken in the middle. This is okay. Just make sure they are cooked through before you take them out of the oven. I tested with a toothpick 2/3 of the way to the center.
Edits: Lots of questions about substituting sweeteners. If you are using another sweetener (Gentle Sweet, Swerve, etc.), I would start with 1/2 cup. If it is a "measure for measure" sweetener equal to white sugar in intensity, this would be a conservative place to begin.
I've found THMs use all different kinds of sweeteners for their tastes. I typically use Gentle Sweet or Lakanto for my recipes. Both of these are roughly "measure for measure" sweeteners equal to regular white sugar.

Low-Carb Black Bottom Cupcakes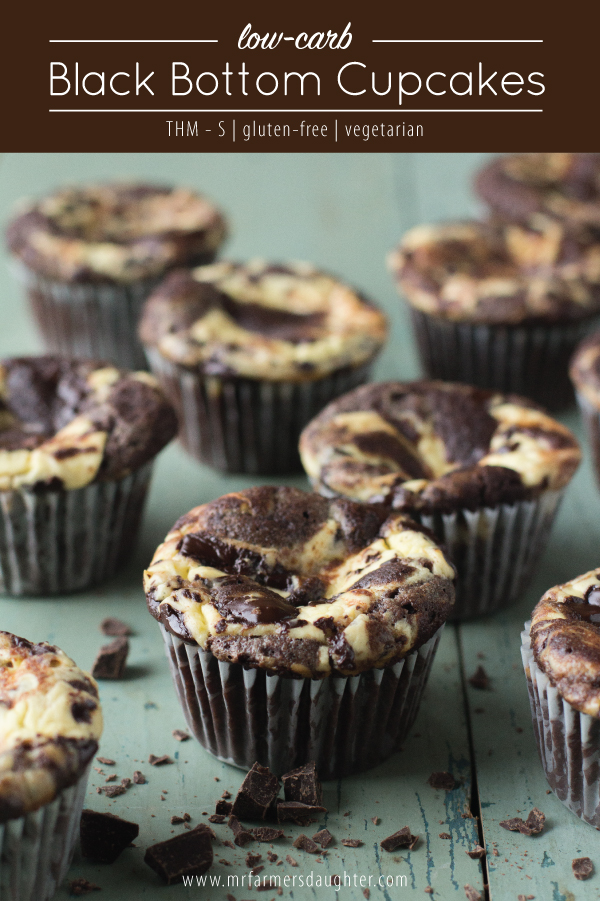 Author:
www.mrfarmersdaughter.com
Ingredients
Cake batter:
4 eggs
½ c. sweetener (I used ¼ cup Lakanto & 6 squirts of monkfruit extract)
½ c. milk or milk alternative (I used hemp milk)
1 ¼ c. + 2 Tbls almond flour
2 Tbls. coconut flour
2 tsp. baking powder
½ tsp. baking soda
4 Tbls. cocoa
4 Tbls. coconut oil, melted (refined)
1 tsp. vanilla
Filling:
8 oz. cream cheese, softened
¼ c. sweetener (I used 4 squirt of monkfruit extract)
2 Tbls. sour cream
1 egg
1 tsp. vanilla
1 Lily's original chocolate bar, finely chopped
Instructions
Preheat oven to 350˚.
For the batter:
With a mixer, beat eggs and sweetener together until eggs are well mixed.
Add milk and remaining dry ingredients.
Add coconut oil and vanilla and mix well.
Let sit for 5 minutes. It will thicken slightly.
Divide batter between 12 cupcake liners in a cupcake pan.
For the filling:
Beat cream cheese with mixer until creamy.
Add remaining ingredients and mix well.
Divide between cupcakes and sprinkle with chocolate pieces.
Gently swirl cream cheese and chocolate pieces into batter, careful not to break up cream cheese too much. You want to maintain nice big pieces!
Bake for about 25 minutes or until a toothpick comes out clean ⅔ of the way into the center of a cupcake. Do not allow to get too brown on top.
Cool completely before serving.