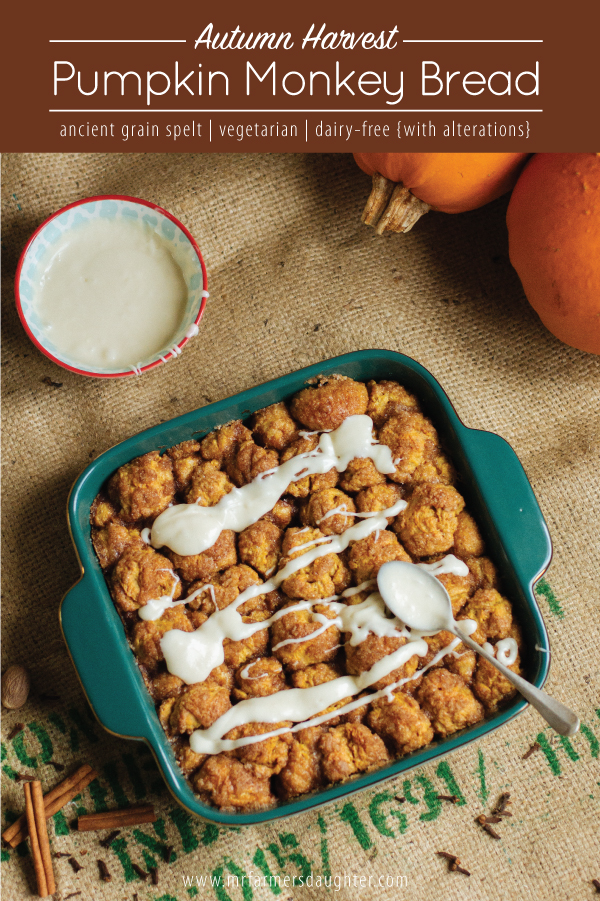 Who's not ready to let go of pumpkin spice yet? Me neither! I hang on until the buds appear back on the trees in the Spring and even then, I'm reluctant. I just love pumpkin spice SO much! So, I came up with yet another way to enjoy it. Here's my recipe for the pumpkin spice mixture.
Pumpkin Monkey Bread! Bonus: cream cheese icing to drizzle.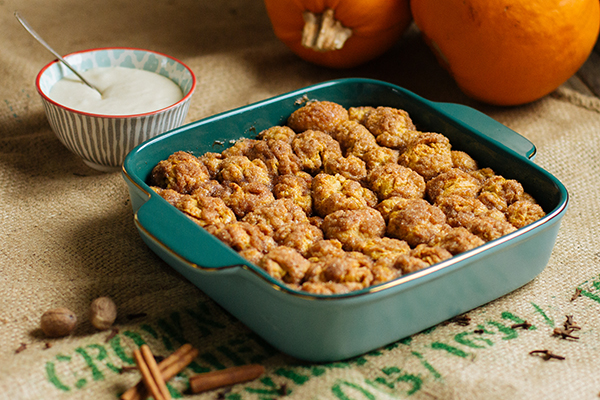 I'll be honest. This is probably one of my more involved recipes but I promise you, it's worth it in the end. These little balls of dough are tender on the inside yet crunchy on the outside. The cream cheese is great to drizzle overtop or dip into. Also perfect with coffee!
If you're dairy-free you'll have to forego the cream cheese drizzle but they're almost as good without it. As an alternative, you can whip up a simple vanilla glaze with a little 10x sugar, diary-alternative milk and vanilla extract.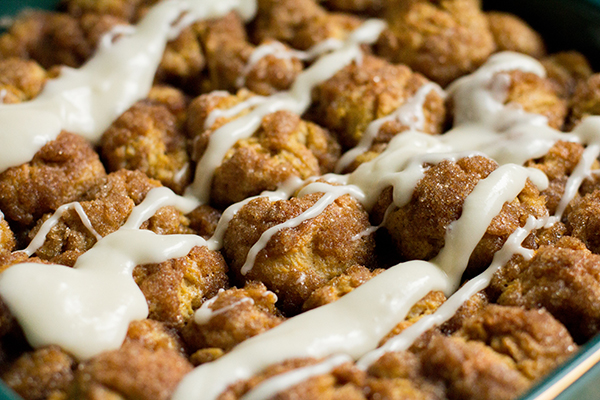 This dessert is about as decadent as it gets. I used both brown sugar and white sugar. I also used spelt (both whole grain and white), which isn't gluten-free, but can be tolerated by some who are gluten-sensitive. If you don't have or can't find the white spelt, it will work with all whole grain spelt but you may take a little less when kneading the dough. Baking with spelt is much like baking with wheat but the gluten level is lower so it's not quite as elastic. I had a lot of fun working out this recipe because I love kneading bread and being mostly gluten-free, I just don't get to do that much.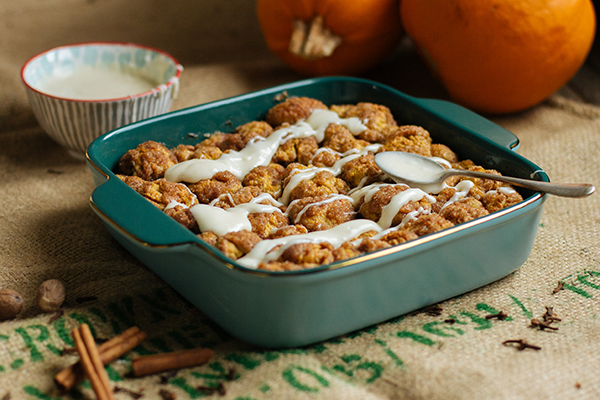 Pumpkin Monkey Bread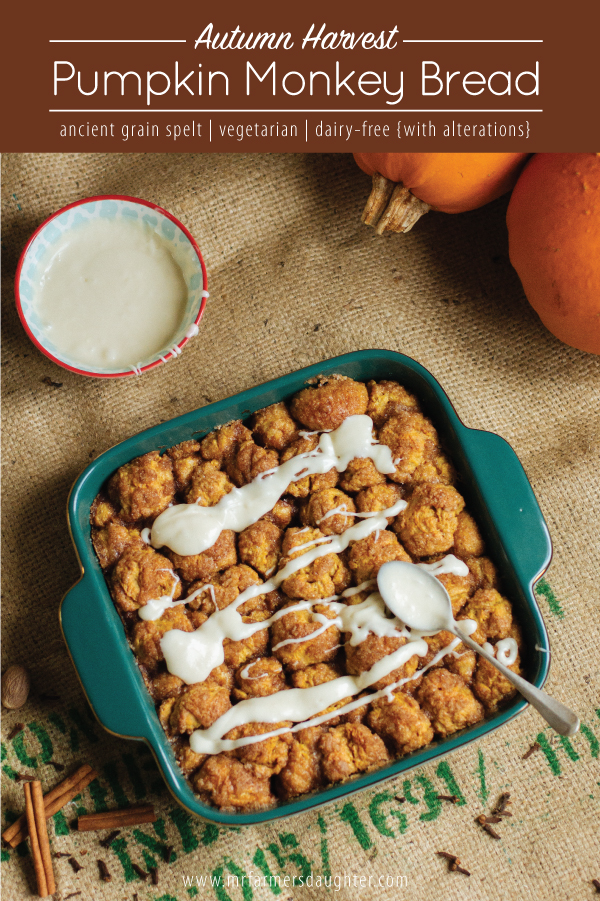 Author:
www.mrfarmersdaughter.com
Sweet and tender pull-apart bread coated with crunchy sugar and pumpkin spice. Drizzle with the cream cheese frosting if you're not dairy-free.
Ingredients
FOR THE DOUGH:
¾ cup sprouted spelt flour
2 Tbls. sugar
2 tsp. yeast
½ tsp. salt
1 tsp. pumpkin pie spice (link in blog post)
-
½ cup pumpkin puree
½ cup milk or non-dairy alternative (I used hemp milk)
2 Tbls. butter or coconut oil
1 egg, medium-sized, lightly beaten
1½ c. white spelt flour (if you'd like to use all sprouted spelt, reduce to 1¼ cup and knead until the dough is elastic and doesn't stick to your hands. It might not take all of it.)
Extra spelt flour for kneading.
-
BROWN SUGAR MIXTURE:
½ cup brown sugar
½ cup granulated sugar
2 tsp. pumpkin pie spice
-
½ cup butter, melted
-
FOR THE ICING:
2 oz. cream cheese, softened
1 Tbls. butter, softened
2 Tbls. milk or dairy alternative
½ tsp. vanilla
1 cup 10x sugar (or more if you'd like it thicker)
Instructions
TO MAKE DOUGH:
Combine the first five ingredients if using sugar in the bowl of a stand mixer.
Heat pumpkin, milk, butter in a medium saucepan just until butter is melted.
With mixer running on low, slowly pour in the hot mixture. Allow to mix thoroughly.
Add egg and mix well.
Add remainder of spelt, ½ cup at a time, until thoroughly mixed in. Beat for another 2 minutes.
Pour dough onto floured countertop and knead, adding flour as needed, until dough is elastic and no longer sticky.
Let rise, covered with a damp cloth, until double in a draft free area (about 1 hour).
-
TO PREPARE BREAD TO BAKE:
When dough has risen, punch down and prepare the sugar mixture and butter.
Prepare a 9"x9" pan by spraying with non-stick spray.
Pinch off bite-sized pieces of dough. Dip in butter and roll in sugar. Place in bread pan.
Continue with the remaining dough.
Allow to rise for about 30 minutes.
Prehead oven to 350˚.
Bake Monkey Bread for about 40 minutes, checking with a toothpick to make sure it's done in the center. Bread will be crunchy golden brown on the top.
Remove from oven and cool.
-
TO MAKE ICING:
Combine all ingredients and mix thoroughly.
Use as a dipping sauce or drizzle over bread.