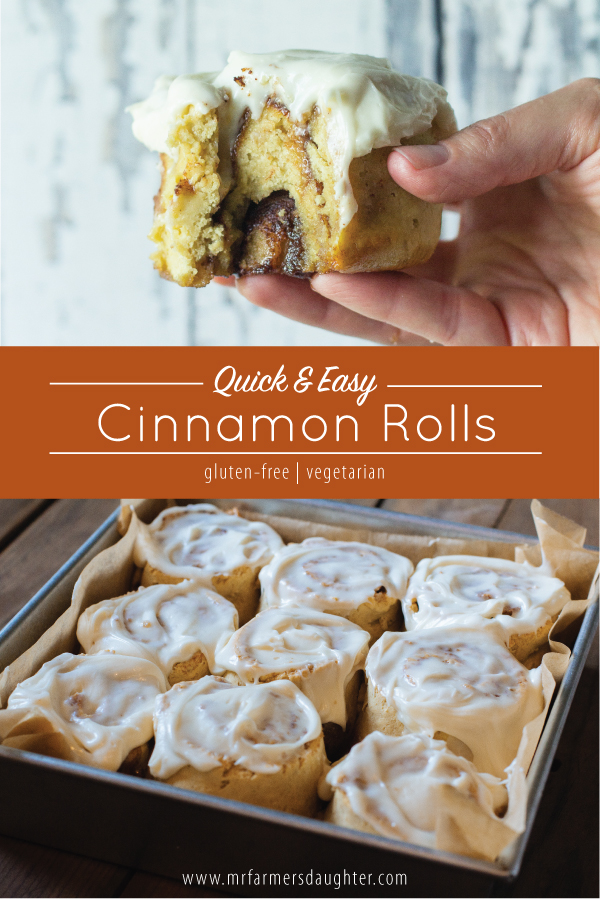 So many of my recipes come from my love of all things wheat. Back when I could indulge without consequence, I spent hours in the kitchen making things from … well, almost scratch. Things like Bisquick biscuits, yeasty cinnamon rolls from a tube, boxed cakes and cookies from mixes. It was shameful now that I think of it. I grew up in a family that loved to cook, I had just never done much of it myself.
Enter food allergies somewhere around year 35 and all life changed for me and my family. I now had to really learn how to cook and bake – special ingredients like bean flour and honey aren't nearly as forgiving as wheat flour and white sugar. While I still do use my fair share of white sugar and in this instance, brown sugar, I've given up wheat flour for good.
This recipe was born out of my longing for the quick and simple biscuit cinnamon rolls I made once upon a time. The texture isn't like a yeast dough so do yourself a favor and don't expect it to be. If there's one thing I would suggest to anyone who is just transitioning to gluten-free, it's "don't expect it to be exactly the same. I likely won't be, but it might be just as good." These rolls are a little more dry (but not too much!) and a little more firm. The tradeoff for a shorter prep time is SO worth it though. A few minutes warmed up in a toaster oven or microwave and you'll never miss that yeasty sister recipe. (Which can be found here, btw.)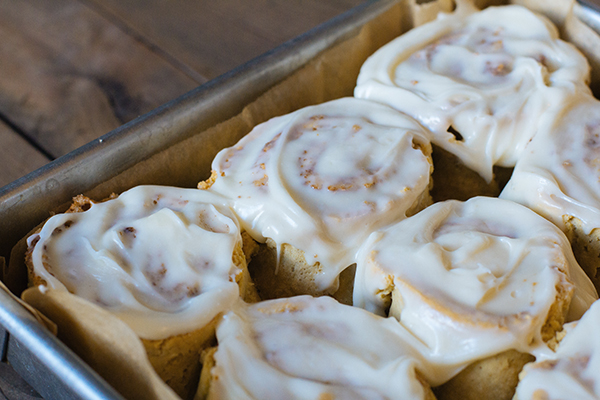 I started with a recipe for gluten-free biscuits and tweaked it from there. I filled the center with butter (Always get the real stuff. Life is too short for fake people or fake butter), organic brown sugar and good cinnamon.  The cream cheese icing, so similar to Cinnabon, tops it off. Served with a steaming cup of bold coffee, it's pretty much heaven for breakfast.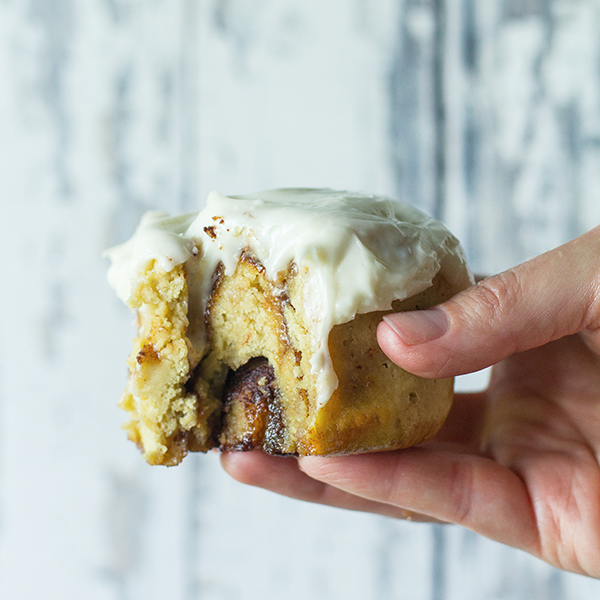 A few notes:
– This dough will need to be rolled out between plastic wrap sprayed with non-stick spray. It's much easier than it sounds.
– No need to let it rise. Just pop them in the oven.
– It's best to let them cool for about 10 minutes before icing them or the icing will run off the tops and down the sides. Unless you like that, then by all means, go for it when it's 350˚.
– These freeze great. I simply wrap each roll individually in plastic wrap then store them all in a freezer bag. Pull it out about an hour before you want to eat it to allow to thaw.

Quick & Easy Gluten-free Cinnamon Rolls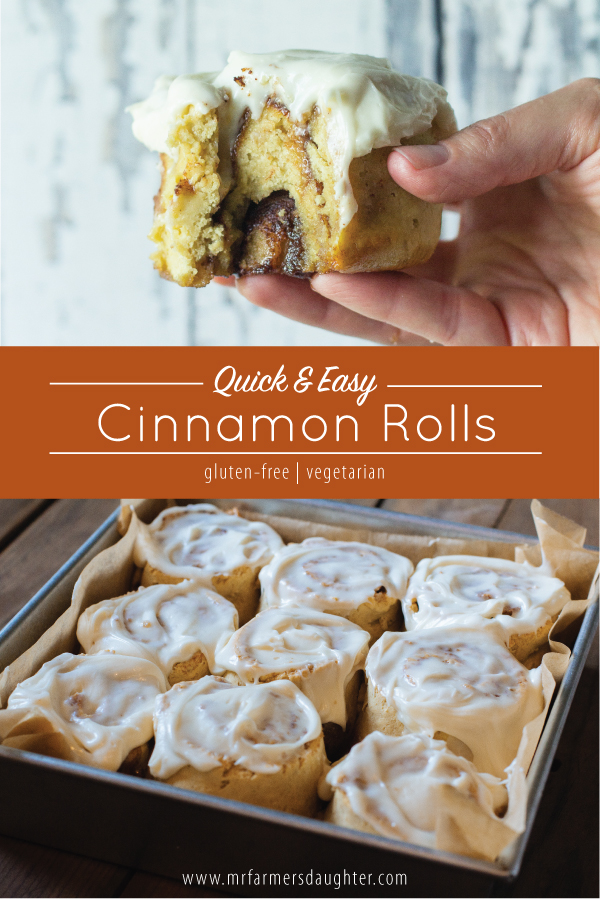 Author:
www.mrfarmersdaughter.com
Warm and gooey Cinnamon Rolls made quick and easy with a simple biscuit dough. Mix it up in your food processor to make it even easier! Start to finish, about 1 hour.
Ingredients
DOUGH:
11 oz. gluten-free flour (I used King Arthur)
4 tsp. baking powder
1 ½ tsp. psyllium husk
1 Tbls. sugar or honey
½ tsp. salt
¼ tsp. baking soda
3 Tbls. butter, chilled
⅔ c. plain yogurt
2 large eggs
3 Tbls. coconut oil
-
FILLING:
¼ c. butter, softened
¾ c. brown sugar
1 Tbls. cinnamon
-
ICING:
2 Tbls. cream cheese
1 Tbls. butter
1 c. 10x sugar
½ tsp. vanilla
Instructions
Preheat oven to 350˚.
Spray an 8" x 8" baking pan with non-stick spray or line with parchment.
DOUGH:
Combine dry ingredients and set aside.
Combine wet ingredients – yogurt, eggs and coconut oil, and set aside
In a food processor, add dry ingredients and butter.
Pulse until the butter is incorporated into the flour.
Add wet ingredients and run until the dough comes together into a ball. You may need to scrape the sides once or twice before this happens.
Using a total of four pieces of plastic wrap, lay two 15" strips overlapping on the long side by about 2". Spray with non-stick spray.
Prepare another set of plastic wrap sheets the same way, this will be for the top of the dough.
Place the ball of dough on the bottom set of plastic wrap sheets. Flatten the dough a bit and place the second set of plastic wrap sheets on top with the spayed side towards the dough.
Roll out dough between the plastic to 10" x 15".
-
FILLING:
Spread dough rectangle with softened butter.
Sprinkle evenly with brown sugar and cinnamon.
Using the edge of the plastic wrap, begin rolling the dough along the long side towards the middle. Roll into a log.
Cut into 9 equal pieces.
Place cut side down in baking dish and bake for about 30 minutes.
Remove when dough is set and lightly browned.
Allow to cool slightly before icing.
-
ICING:
Combine all ingredients until smooth.
Spread on cinnamon rolls.