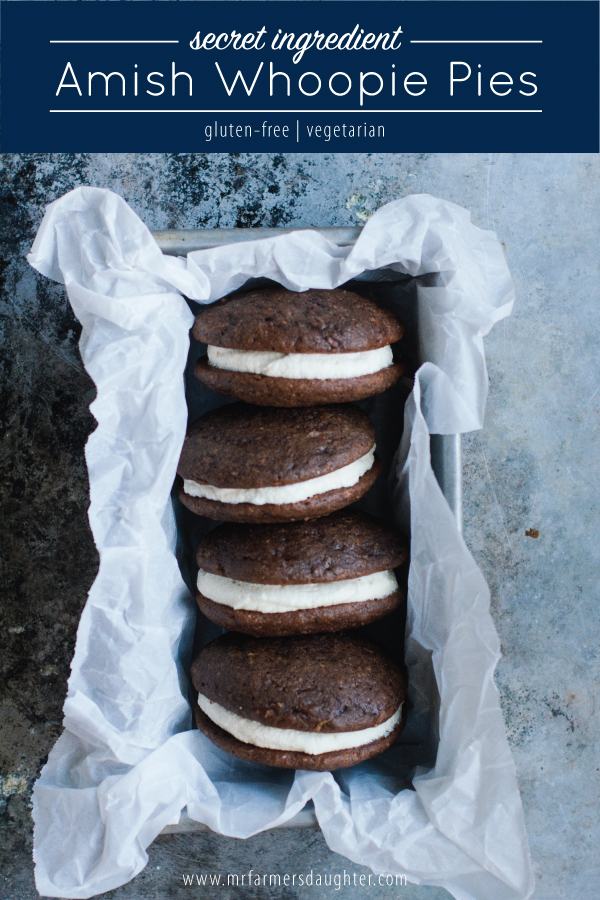 Have you ever wished that one of your favorite treats was made healthier? That's what happened with this Whoopie Pie recipe. Being from Lancaster County, PA, this is a staple recipe here. I've made Whoopie Pies more times than I can count! But, this time I wanted to make them just a little healthier. A little.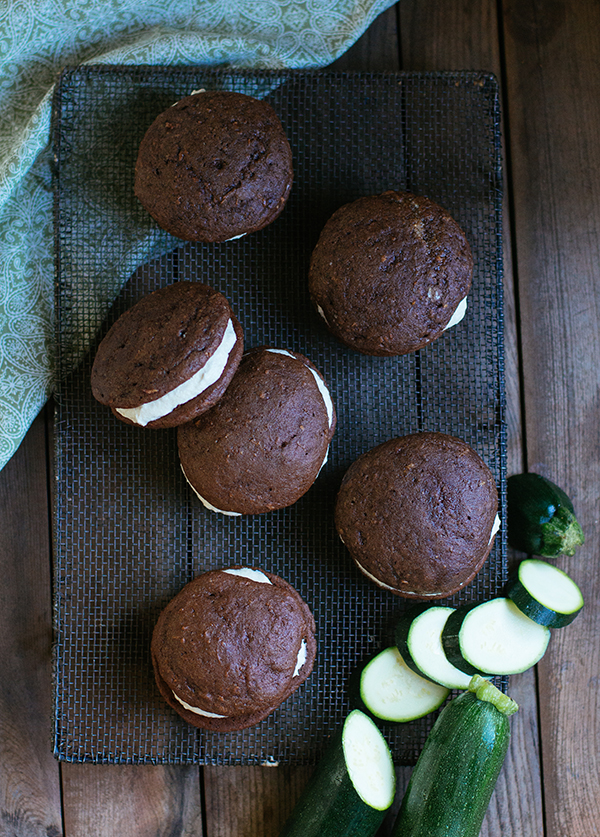 Don't get me wrong here, this probably wouldn't qualify as a healthy recipe because … sugar. Lots of it. But, if you're going to make a treat, you might as well make one that includes a vegetable and zucchini is SO easy to hide in things.
I took a little bit of a turn here so not only did I shred the zucchini but I also pulsed it in the food processor a little bit too just to make the pieces smaller so they cook down well in the batter. If you don't have a food processor, just chop it up a bit after you've shredded it. If you're making these for children, I promise you they will never know there is zucchini in them. I tested it. 😉 They didn't know.
A couple notes:
• I use King Arthur measure for measure gluten-free flour mix. It's the best I've found. I just wish it was organic. If you use something different, results may differ. You'll need to use your own judgement as to how thick the batter needs to be to not spread too much. (I usually bake just one cake first and adjust from there.)
• When preparing the zucchini, I place 2 cups of shredded/chopped zucchini in a colander lined with cheesecloth. I sprinkle it with a little bit of real salt and stir it lightly. Then I wait ten minutes before squeezing all the liquid out. I mean all. You want it to be a hard little ball of zucchini mush. From the two cups to start, I got one cup of dry pulp.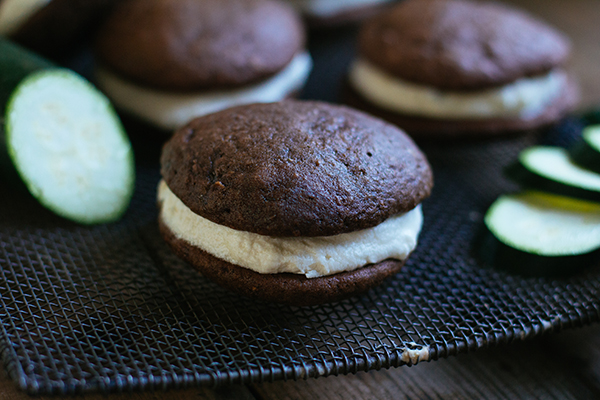 Secret Ingredient Amish Whoopie Pies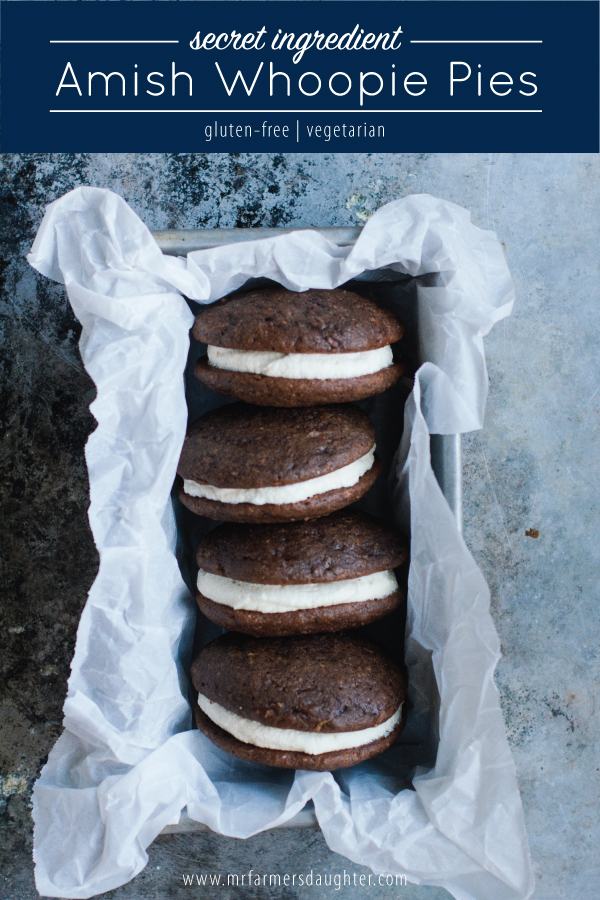 Author:
www.mrfarmersdaughter.com
Traditional Amish Whoopie Pies with an added secret ingredient – zucchini! Your kids will never know!
Ingredients
CAKE:
1 ¼ cup cane sugar
½ cup butter
2 large eggs
½ tsp. salt
2 cups gluten-free flour
1 tsp. baking soda
1 tsp. vinegar
½ cup milk
1 tsp. vanilla
½ cup cocoa powder
1 cup shredded and lightly chopped zucchini
(Prepped by sprinkling with a little salt, allowing to sit for 10 minutes then squeezing out all the liquid)
-
FILLING:
1 egg white*
1 Tbls. milk
1 tsp. vanilla
2 cups 10x sugar
½ cup butter, room temperature/softened
Instructions
FOR THE CAKES:
Preheat oven to 350˚.
Prepare 3-4 baking trays lined with parchment or silicone mat.
Cream sugar and butter.
Add eggs.
Combine remaining dry ingredients.
Combine milk, vinegar and vanilla. Let sit for a few minutes.
Add zucchini to sugar and butter mixture, mix well.
Add dry ingredients alternately with milk mixture, ending with dry ingredients and mix well.
With a cookie scoop or two large spoons, drop spoonfuls of batter onto prepared pans allowing 2" between them.
Bake for about 20 minutes and remove when cakes feel firm to the touch and no batter sticks on your finger.
Remove to cool completely.
-
FOR THE FILLING:
Whip egg white to firm peaks and set aside.
Beat butter until smooth.
Mix in milk and vanilla.
Mix in 1 cup of sugar at a time. It will be thick.
Mix in ⅓ of the egg whites.
Fold in the remaining ⅔ egg whites.
*Egg whites vary in size. If icing is too thin, you may add a little more sugar to make it spreading consistency.
-
To assemble:
Choose two cakes of similar size and fill with icing. Repeat until all cakes are filled.
-
Best stored in the refrigerator. Keeps for about a week.