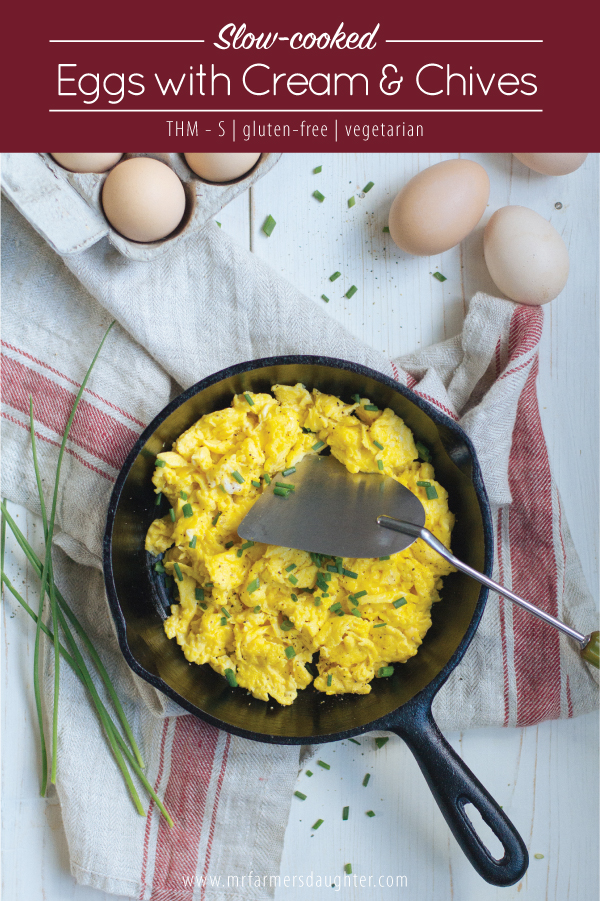 I've been reluctant to post this simple recipe, Slow Cooked Eggs with Cream and Chives, because it's just that … simple. I've been making it since I moved out of my childhood home somewhere in the late 1980's and although it's delicious, I just didn't really think of it as a "recipe," ya know? When I think of recipes I think of a list of ingredients and a certain way to put it all together.
This recipe is more like a few basic ingredients that you put together with a range of measurements and you cook it to your preference. I guess the main reason I am posting it now is because 1) I think you'll love it and 2) I've found few people that really know how to make tender, fluffy scrambled eggs with flavor.
The idea for this "recipe" came from a beloved tea book that I bought (and still have!) when I briefly worked at a kitchen supply store. Those two short months surrounded by the best kitchen equipment and accessories set me up for a future in food as much as growing up in Mr. Farmer's kitchen. Tricia Foley's Having Tea, was beautifully styled and even though I didn't know what food styling was way back then, my heart and soul loved the beauty of it all. Perhaps, in the back of my mind, that is one reason I became a food stylist in the first place.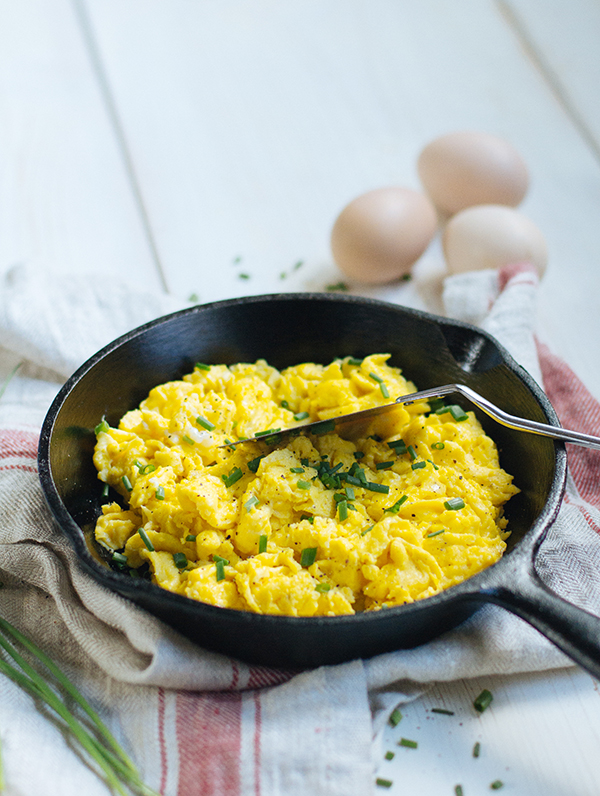 In my opinion, eggs are one of nature's most perfect foods. They're quick, simple and delicious. I'm truly sad for those that have egg allergies because so often recipes require the magic that is eggs to perform their best. I've had several times in my life where eggs were off my menu for various reasons. Life without eggs means breakfast is harder, baking is harder, life is harder.
I'm fortunate to not be in one of those periods right now so, here it is … my favorite egg recipe. It's about good ingredients and good technique. It's about not being in a hurry – eggs are fast enough that you don't have to rush cooking them. Take your time and learn to recognize that the eggs are done before they overcook.
A few notes:
• Use the best eggs you can get. They are the star of this dish so pastured, free range eggs from a farmer you know is ideal. If that's not in the budget, do the best you can.
• Let's talk cream. Heavy. Don't skimp. Half and half will not produce the same results, although they might be close. I use organic heavy cream or cream I get from a farmer. The best quality will always give the best flavor as flavor always rides on the back of fat. Not to mention, cream from pastured cows comes with nutritional benefits that conventional dairy can only dream of (or add back in in the form of synthetic vitamins.)
• Salt. If you think it's all the same, think again. You'll want to use a mineral salt, pink Himalayan salt or sea salt. Table salt comes with additives that we just don't need. Here's a quick primer of all the salty information.
• There are so many flavors you can throw into these eggs but we're going to stick with chives. Fresh, preferably. I use them as a seasoning, a little garlicy, a little oniony, but honestly, just perfect.
Use your own judgement on this "recipe." It's hard to mess it up.

Slow Cooked Creamy Eggs with Chives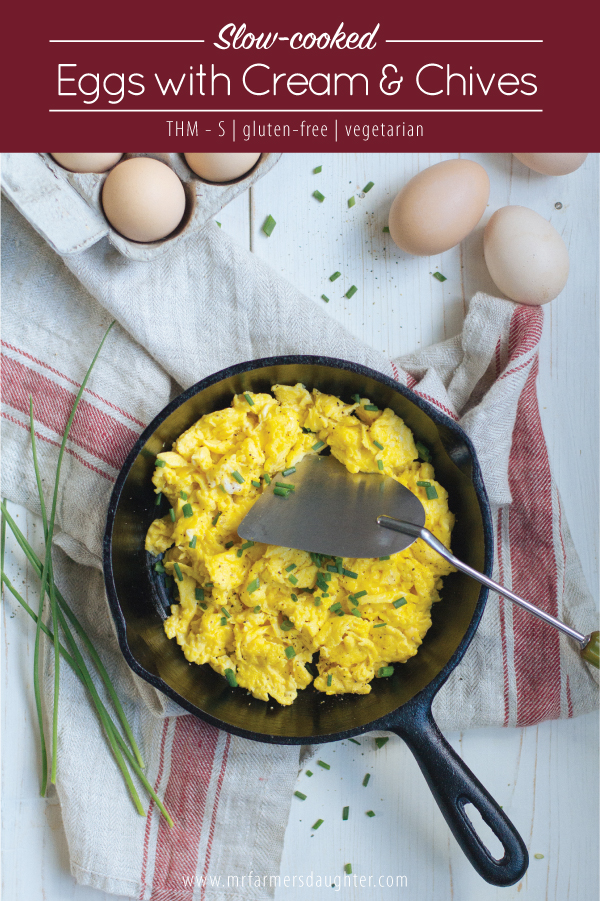 Author:
www.mrfarmersdaughter.com
Creamy, light and fluffy scrambled eggs.
Ingredients
Eggs (I use a 4 to 1 ratio) If you use four eggs, use ¼ cup of cream. If you use 8 eggs, use ½ cup, etc.
Cream (Again, use ¼ the cream compared to the eggs) A large egg is approximately ¼ cup.
Salt to taste (You can add this before you cook or after) about ½ tsp per 4 eggs, pepper to taste
Chives to sprinkle on to serve.
Fat to cook the eggs in such as butter, ghee, refined coconut oil or bacon fat
Instructions
In a small bowl, combine the eggs and cream (and salt if desired). Mix with a whisk or fork until there is a connected string of egg when you pull the fork/whisk above it by about 8". If the string breaks, it needs blended a little more.
In a non-stick pan, preferable well-seasoned cast iron, heat to low-medium on the stovetop. Add 1 Tbls. of fat to the pan and melt.
When the fat is melted, spread it around to coat the bottom of the pan.
Slowly pour in the egg mixture. With a spatula, continually scrape the bottom of the pan scraping up the slowly cooking eggs and turning them over. Continue this until the eggs are almost set.
Remove from heat and allow eggs to set.
Sprinkle with chives, salt & pepper and serve immediately.
SaveSave
SaveSave
SaveSave
SaveSave