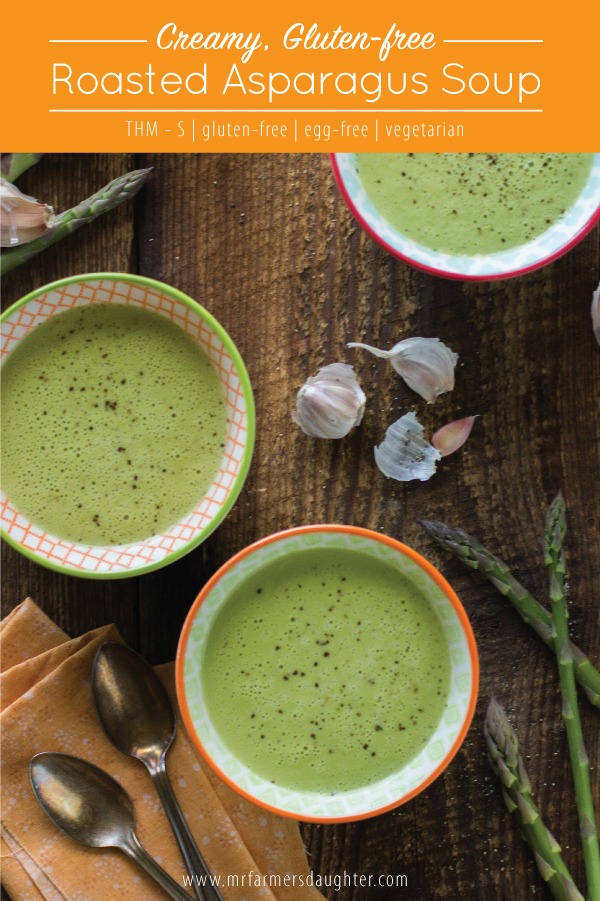 It's Spring and the asparagus crowns that I planted six years ago are coming up full force. It's difficult to keep up with them, especially because asparagus isn't my favorite vegetable. In fact, I've spent years trying to become friends with it and have only found a couple recipes in which I like it. Here's one from last year – Gluten-free Feta Asparagus Tart. This soup, however, is definitely a keeper, even for those who find asparagus stringy and, well, just really green.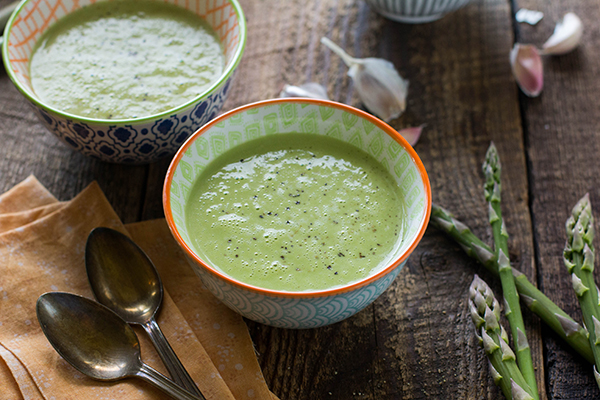 The addition of Jarlsberg or Swiss cheese really give this soup some zippy flavor. And, the heavy cream, well … heavy cream. What can I say? Who's going to turn down a rich, velvety cream soup?
The recipe starts off by roasting the spears for about 20 minutes. Now, my asparagus spears are pretty thick so if you have picked up some thin ones, it's not going to take that long to roast them – maybe 10 minutes will be enough to make them tender with just a little bit of browning. You'll need to be the judge of that. If you're really in a hurry, you can microwave the spears until tender but it's not going to have the same depth of flavor that roasting will.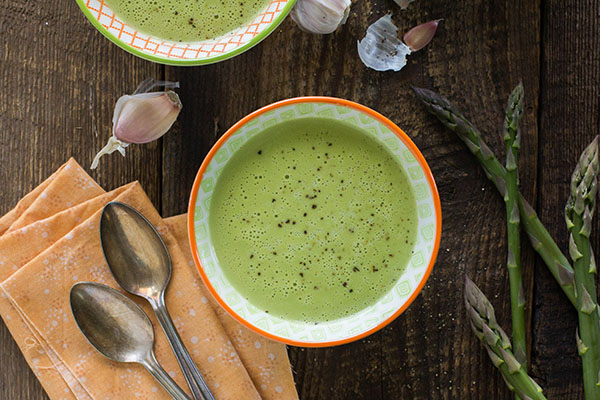 I use a high speed blender for this recipe but I've given you the option to do it on the stovetop too. You can use a stick blender to make it smooth or take out portions and blend it up in any old countertop blender.
The thing to remember though is to not add the cream until everything is tender, hot and blended. Once you add the cream and cheese, blend a little more if it's convenient and serve right away.
This also keeps well in the refrigerator for a few days.

Cream of Asparagus Soup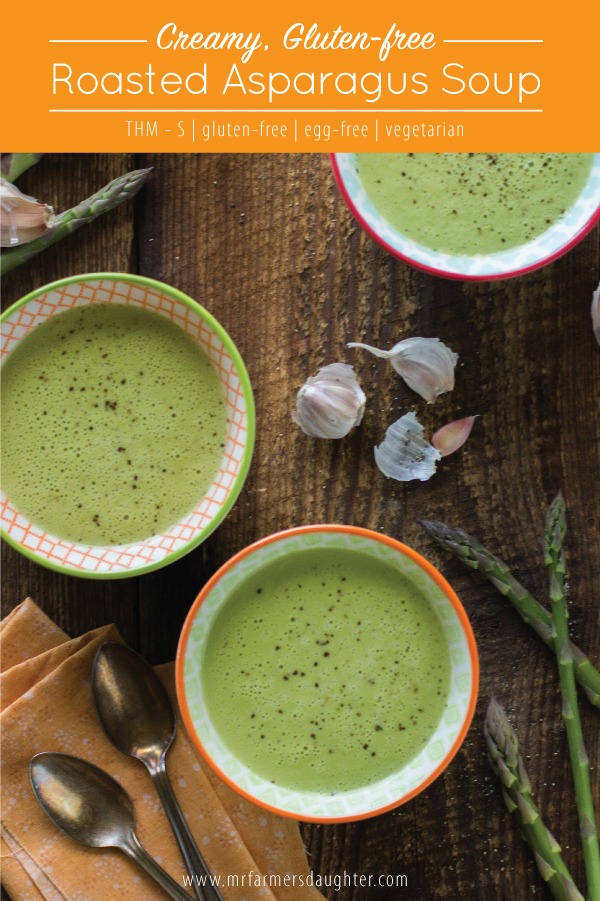 Author:
www.mrfarmersdaughter.com
Fresh, creamy, roasted asparagus soup. The perfect Spring lunch or dinner accompaniment.
Ingredients
18-25 Asparagus spears, trimmed
1 ½ c. Chicken broth (or vegetable broth for vegetarian)
¼ large, sweet onion, diced
1 tsp. garlic, minced
1 c. heavy cream
½ tsp. salt
pepper to taste
2 c. shredded Jarlsburg or Swiss cheese
Instructions
Heat oven to 400˚.
On a large sheet pan, coat asparagus spears with olive oil, salt and pepper.
Roast until tender, about 20 minutes.
Remove from oven.
IN A HIGH SPEED BLENDER
Add asparagus, broth, onion and garlic to blender.
Set to soup setting and start.
Once the blender has stopped, add cream, salt, pepper and cheese.
Blend just until smooth.
Serve immediately.
ON THE STOVE TOP
Chop asparagus into 1" pieces.
Add broth, onion and garlic to a soup pot and bring to a boil over high heat.
When onion is tender, blend with a stick blender or blend portions in your countertop blender and return to the soup pot.
With heat on medium/low add heavy cream, salt, pepper and shredded cheese.
Stir until all is melted and incorporated.
Serve immediately.