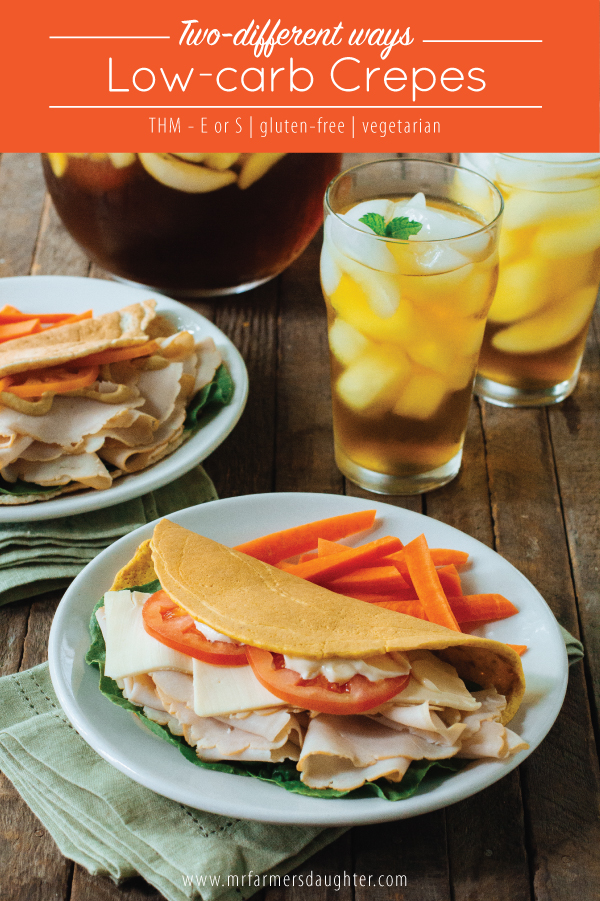 I'll let you in on a little secret … I've struggled with this Trim Healthy Mama diet. If you're not familiar with the Trim Healthy Mama plan, go here. I suppose it might be easier if I could use the Joseph's pitas or buy sprouted bread but being gluten-free limits me to what kind of sandwich I can have at lunch time. Apparently, and to my dismay, Udi's bread is not on the okay list to eat.
I get it. It's made with rice flour. And potato flour. Both are high glycemic foods and spike blood sugar but they're so darned easy. E.A.S.Y. It's hard to not have something quick that I can just throw some lunchmeat and cheese on and be done with it. And, please, don't tell me lettuce. Because we both know that if you're hankering for a sandwich lettuce never cuts it.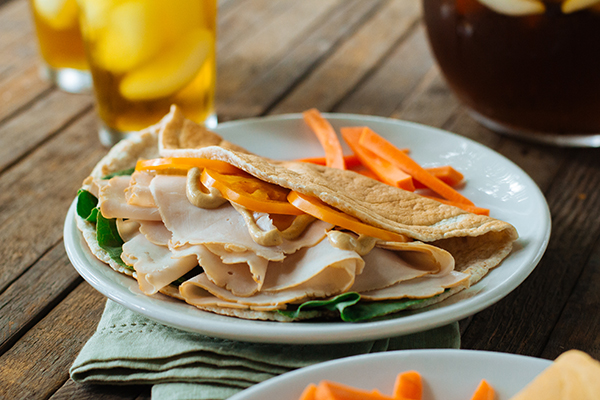 But, these? These crepes might be just what we all need to cover lunch and stay on plan. I've been making these for some time now and have played with different ways to put them together and I'm happy to report that pretty much everything has worked really, really well. So, it's almost fool proof, or as fool proof as gluten-free, low-carb can get.
If you're familiar with the plan, then you realize that your sandwich fixin's will have to match your crepe as to whether or not it's an E or an S. E foods will need to be low fat and S foods need to be low carb. That's the basics. If you want to know more, check out the info link above for more!
A couple notes:
• I make some of both versions so I can have some S-meal "bread" ready and some E-meal "bread" ready. I keep them in the fridge and label the gallon baggies I keep them in.
• They are best if you warm them up slightly before filling with your ingredients. While they will still be okay cold, they are more pliable warmed.
• I use a non-stick, anodized aluminum skillet. Well-seasoned cast iron will work but if you're making the E version, you want as little oil as possible on the pan. I wouldn't recommend stainless steel, for obvious reasons. Eggs can be tricky and realistically, this is an egg dish.
• I use two longish spatulas to flip them with as few tears as possible. Lifting with both spatulas from the far side and flipping towards you seems to work best. It may take you a few tries to master it.
• I use as off-set spatula to spread the crepe out as thinly as possible. If you can almost see through it, that is the perfect thickness because it will puff up. It relaxes as it cools.
• The texture and color will be slightly different between the whole egg and egg-white versions. You can see the difference below.
• I have also used these for personal pizzas and quesadillas. Feel free to tailor them to new recipes!
• If you have any questions, please feel free to message me!
Two-way Low-carb Crepes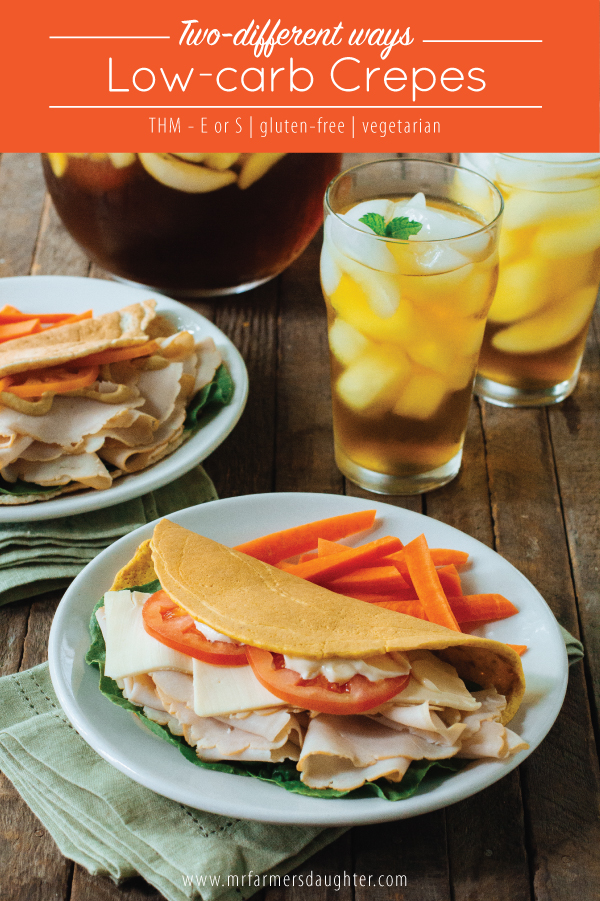 Author:
www.mrfarmersdaughter.com
Recipe type:
low-carb bread
Low-carb crepes that can be made two different ways. Trim Healthy Mama S-meal includes whole eggs and the Trim Healthy Mama E-meal includes egg-whites. The remaining ingredients are the same!
Ingredients
Ingredients for THM-S Crepe:
1 cup whole eggs
½ cup almond flour or THM Baking Blend
2 Tbls. flax, ground
1 Tbls. parmesan cheese, grated
¼ tsp. sea salt
4 Tbls. water
-
Ingredients for THM-E crepe:
1 cup egg whites
½ cup THM Baking Blend
2 Tbls. flax, ground
1 Tbls. parmesan cheese, grated
¼ tsp. sea salt
4 Tbls. water
Instructions
For either THM S or E Crepes, the instructions are the same:
Combine all ingredients in bowl and stir until well combined.
Allow to sit for 10 minutes.
Preheat large flat skillet to medium.
Pour ¼ to ⅓ amount of batter onto skillet and spread into a thin circle. (I use an offset spatula)
Once the top of the crepe looks dry, flip over and cook for about half the time as the first side.
Remove to plate and cook the remaining batter the same way.
Makes 3-4 crepes.