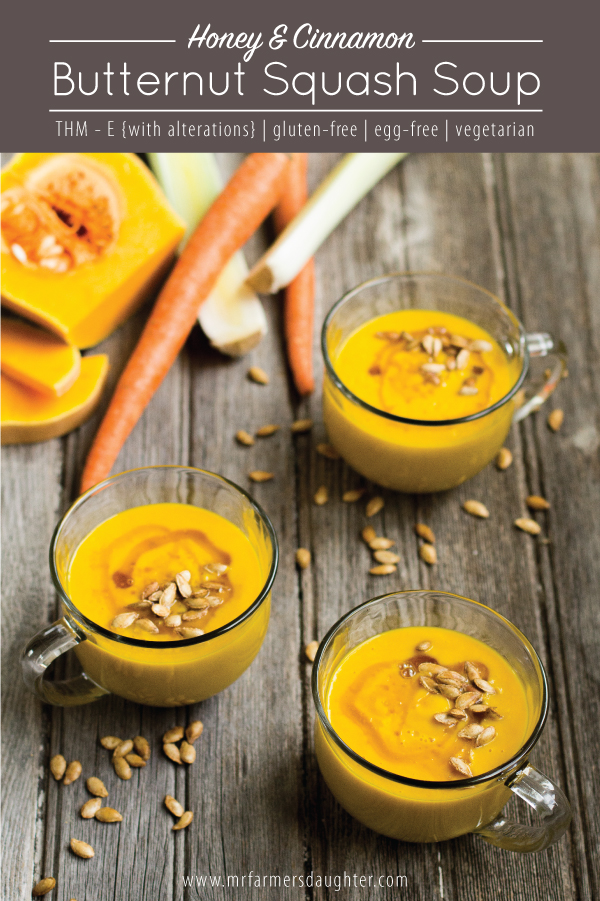 A few weeks ago my friend and I took the evening for ourselves and enjoyed the PA National Horse Show in Harrisburg, PA. It happens every October and I always know that there will be very few things for me to eat there since 1) I'm gluten-free and 2) I don't eat crap.
Imagine my surprise when a new local restaurant, Harvest, had set up a booth and was giving free samples of a Honeyed Butternut Squash Soup! I'm a huge fan of butternut squash. I love it roasted, made into pies and definitely as soup. This recipe was inspired by the two, yes two, samples I got while taking in the Grand Prix where horses fly. I'm certain it's not exactly the same, but it's a delicious rendition and uses both the flesh of the squash and the seeds.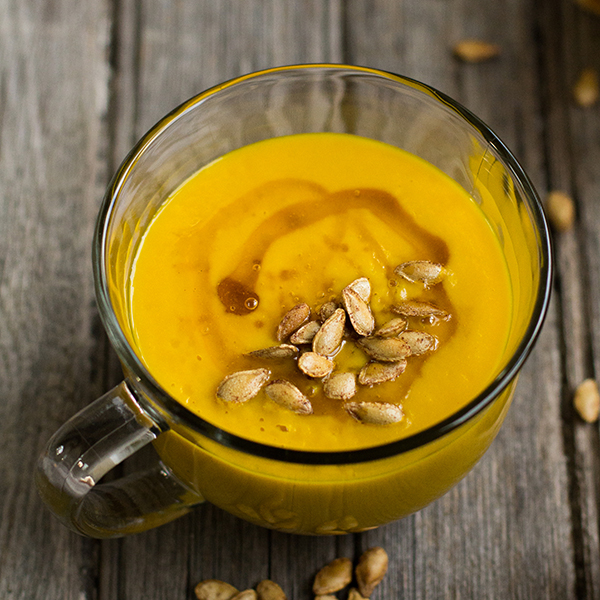 A few notes:
• I tried this with both frozen butternut squash and fresh. Each had its own flavor profile but if you're looking to save time, I would suggest the frozen route since the squash is already cooked a bit. If you're not using a fresh squash you won't have the seeds to roast but you can easily pick up some roasted pumpkin seeds at a store. A little cinnamon sprinkled on them before serving and voila!
• I'm trying to be as dairy-free as possible so I chose to use cashew milk in this. The slight sweetness of the cashews goes great with the squash, cinnamon and honey. If you don't have cashew milk, you may use dairy milk or another dairy alternative. Just know that the flavor will be a little different with each choice.
• If you're doing Trim Healthy Mama, there needs to be a few changes. No honey, for one. I used Gentle Sweet as my sweetener the first time making this and I have to say, I loved it. I didn't even miss the honey. You could even use some of the seeds since there's so little fat in the whole recipe.
• I used my Wolf Gourmet High Speed Blender for this. It has a soup mode that both blends and cooks at the same time. If you don't have a high speed blender with a soup mode, this can easily be cooked on the stovetop and blended after everything is soft. You could use either a stick blender or a countertop blender.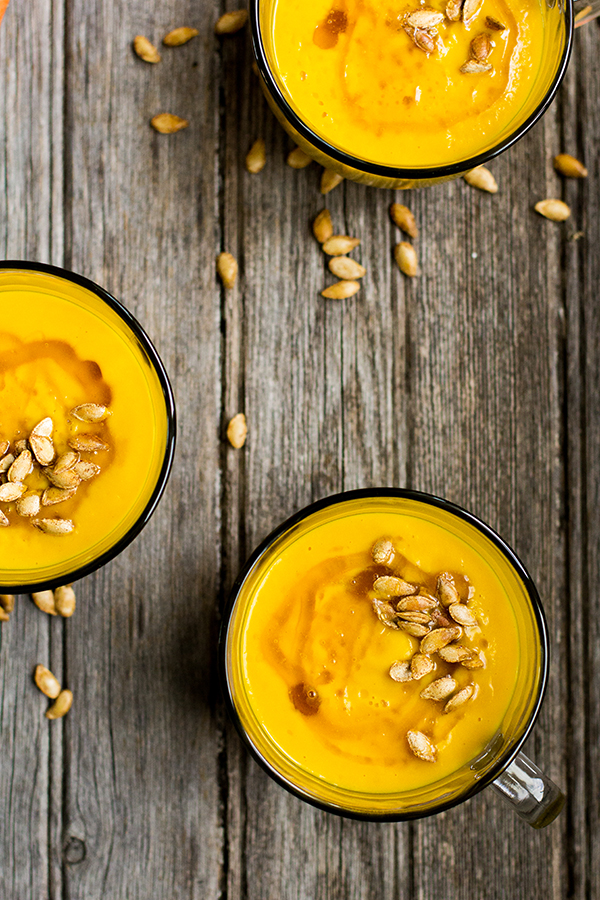 Honey & Cinnamon Butternut Squash Soup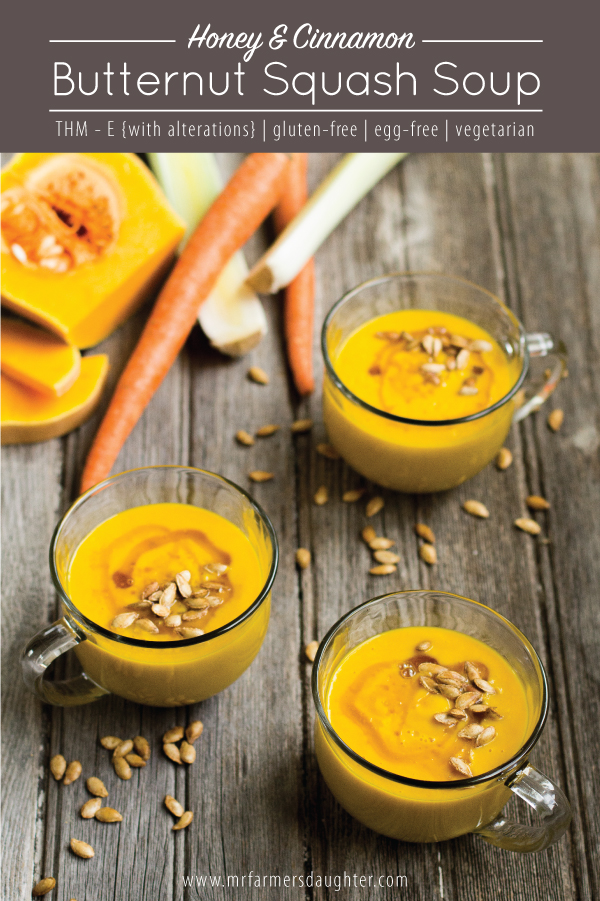 Author:
www.mrfarmersdaughter.com
Rich, creamy butternut squash soup with a hint of sweet and crunch.
Ingredients
For the soup:
1 small bag butternut squash (frozen) or 2 cups fresh butternut squash cut into cubes and blanched.
1 large carrot, cut into chunks
½ cup sliced leeks
1 cup chicken broth (or vegetable broth if vegan/vegetarian)
1 tsp. honey* or equivalent sweetener alternative
Salt & pepper
½ cup cashew milk (or milk of your choice)
honey* to drizzle, optional
Spiced pumpkin seeds for garnish, optional (see below)
-
For the Spiced Pumpkin Seeds
½ cup raw pumpkin or butternut squash seeds, washed and dried
1-2 tsp. avocado oil or ghee
¼ tsp. cinnamon
-
*omit for Trim Healthy Mama recipe
Instructions
For the soup:
Blend first 5 ingredients in a high-speed blender on soup mode OR Cook until soft on a stovetop and puree in a blender, carefully.
Add milk and blend briefly until incorporated.
-
For the Spiced Pumpkin Seeds
Drizzle seeds with oil and sprinkle with cinnamon.
Stir well to coat.
Bake in a preheated oven @ 350˚ for about 10 minutes until seeds are toasted.
Allow to cool.
-
To serve:
Pour soup into bowl.
Sprinkle with a few seeds and drizzle with honey.
Enjoy
SaveSave
SaveSave
SaveSaveSaveSaveSaveSave
SaveSave
SaveSave