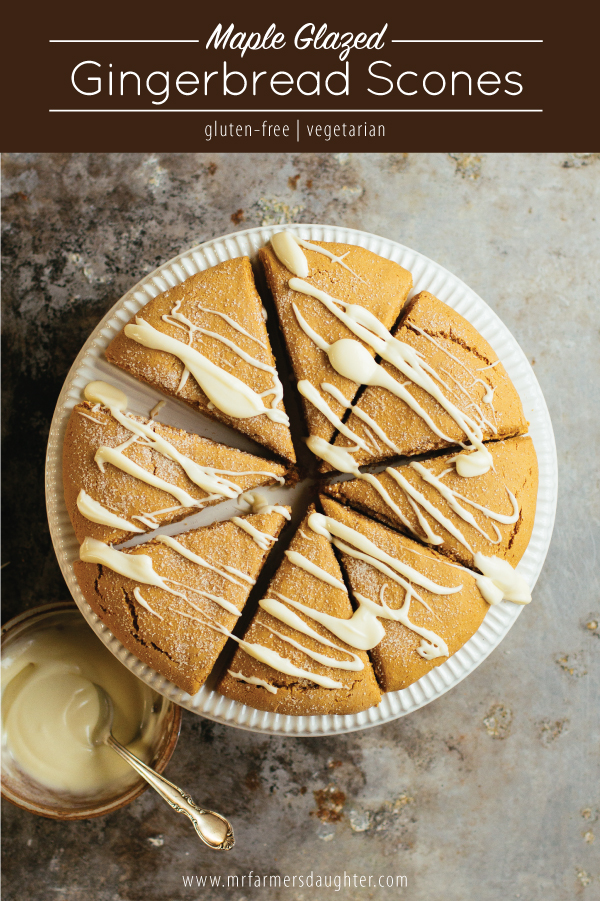 It's not the traditional gingerbread cookies, but it is a treat with all the same flavors and BONUS, icing! Soft, pillowy spiced scones go great with a strong cup of coffee or tea. Since we're all indulgent at this time of the year I elected to add a maple glaze drizzled over top but that's optional. Optional, as in, of course you're going to do that, right?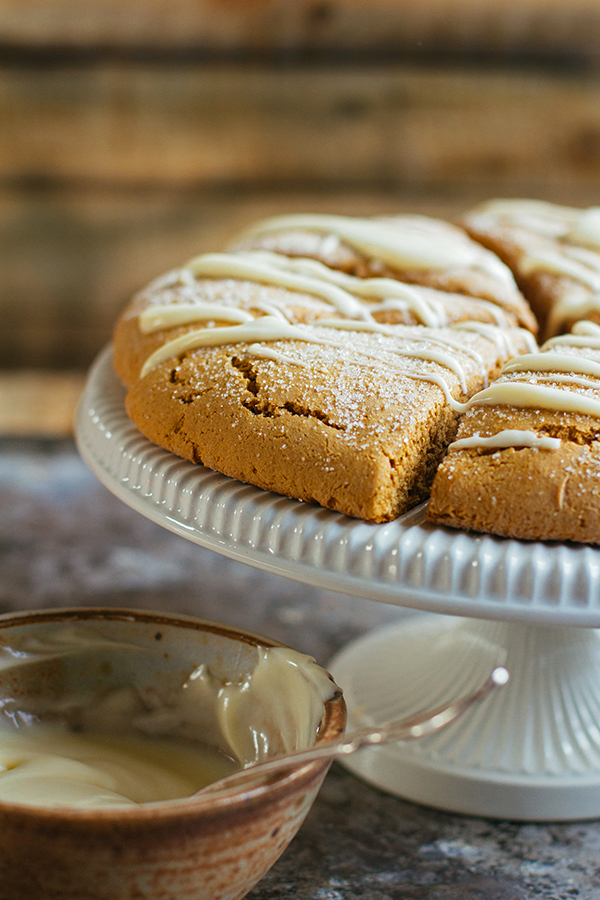 Scones are one of the quickest treats to whip up if you have a food processor. It takes me about 15 minutes to get all the ingredients out, put them together in the food processor and shape the big round scone on the pan. That's just enough time to allow the oven to get to temperature.
Once they're patted into the circle, cut them while unbaked. This makes them easy to pull apart when they're done.
I let them cool for a few minutes before drizzling the glaze. Otherwise, you take the chance that it will melt all over and not look nearly as pretty.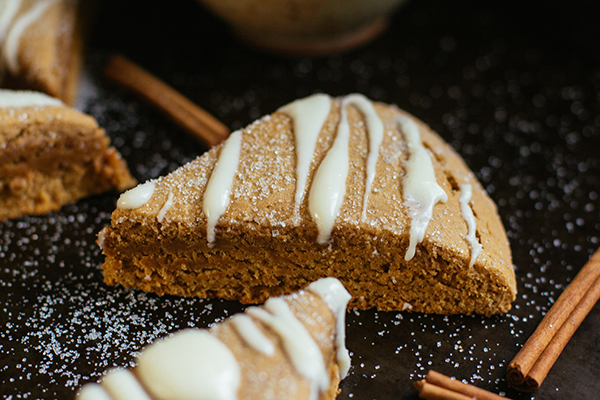 I don't have any notes for this one because it's pretty straight forward. Not too many ways it can go wrong. You'll want to test for doneness at about 15 minutes. A toothpick should come out clean and when you press the middle lightly with your finger it should be firm but not dry. When they are cooled, make sure to enjoy a piece with a hot cup of coffee or tea. It's one of the best parts about the season.

Gluten-free Gingerbread Scones with Maple Glaze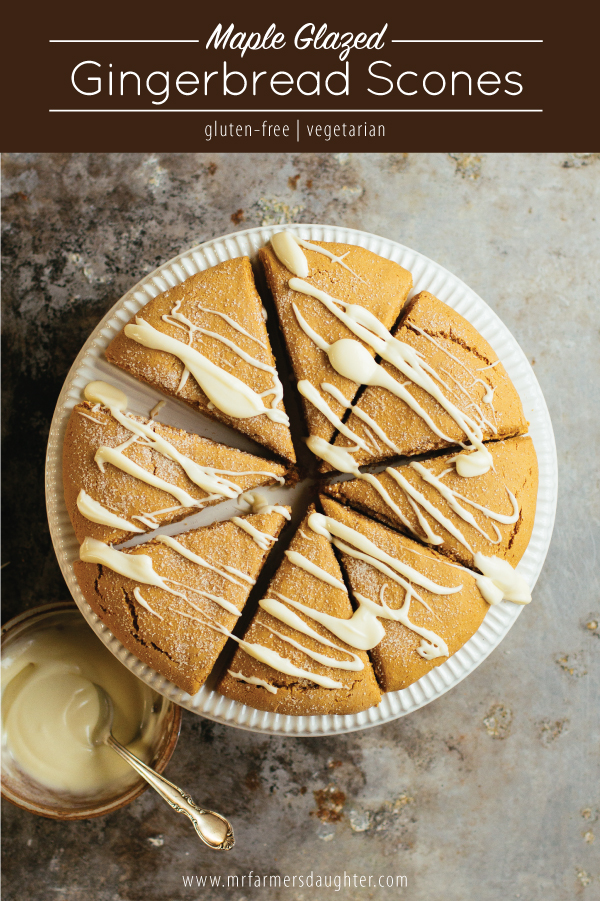 Author:
www.mrfarmersdaughter.com
Spicy, tender, gluten-free scones drizzled with a rich, maple glaze.
Ingredients
FOR THE SCONES:
2 ¾ cup gluten-free flour mix (King Arthur Measure for Measure)
⅓ cup brown sugar
¼ cup cane sugar
1 tsp. baking powder
¼ tsp. baking soda
½ tsp. mineral salt
¼ tsp. xanthan gum
1 stick butter, cold
1 whole egg
½ cup sour cream
½ cup molasses
2 tsp. cinnamon
3 tsp. ginger
FOR THE GLAZE:
1 cup 10x sugar
1 tsp. real maple flavoring
2 - 4 tsp. water or heavy cream to thin
Instructions
FOR THE SCONES:
Heat oven to 375˚.
Prepare a baking sheet with parchment paper.
In a food processor add flour, brown sugar, cane sugar, baking powder, baking soda, salt and xanthan gum. Mix until combined.
With food processor running, drop in cold butter, one tablespoon at a time until fully incorporated.
In another bowl, combine eggs, sour cream, molasses and spices.
Slowly pour that into the running food processor and allow to run until dough becomes a loose ball.
Pat dough into a large circle (about 9" round) on parchment paper.
Cut into 8 pieces.
Sprinkle with sugar.
Bake for about 15-20 minutes or until dough is set.
Remove and allow to cool while you prepare glaze.
FOR THE GLAZE:
Combine sugar and maple flavoring and 1 Tbls. liquid. Mix.
Add more liquid until glaze is consistency you like.
Drizzle on top of scones.
SaveSave
SaveSave
SaveSave