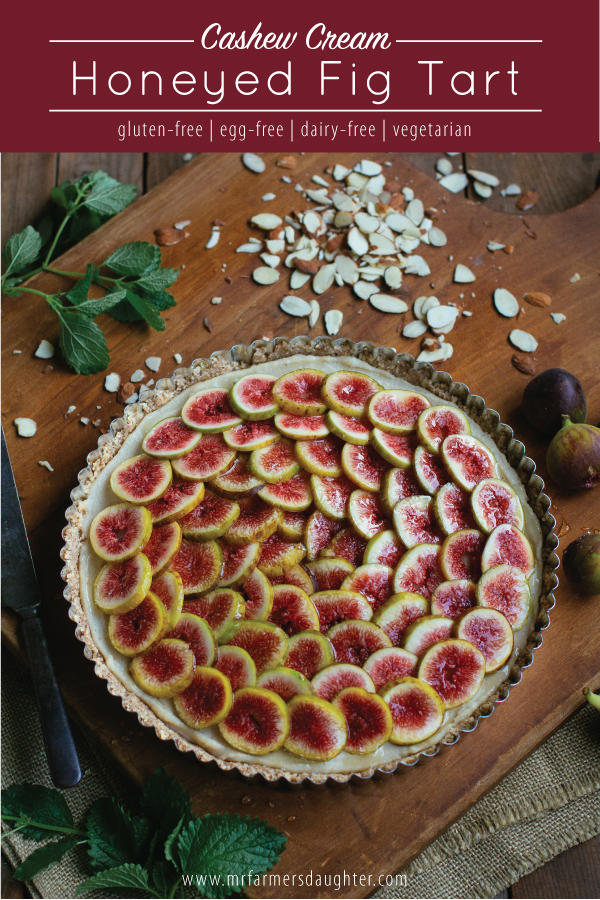 2017 is a good year for figs in southeastern PA! I had enough figs to actually make a whole dessert –  so, I chose this Cashew Cream Honeyed Fig Tart to start with.
I've been trying to cut back on dairy so I utilized my vegan "cheesecake" cream for the center of this tart and kept the crust simple with just almonds, a bit of sugar and butter. Feel free to sub coconut oil or ghee for the butter if you're vegan or can't tolerate the milk fat.
This tart, once refrigerated, is strong enough to serve a slice of it beautifully. I do recommend that you don't top it with the figs though until just before serving and if you're not going to serve the entire tart, perhaps just topping each individual slice would work best. The figs, after sitting in the refrigerator, tended to get watery and the juices affected the texture of the cream.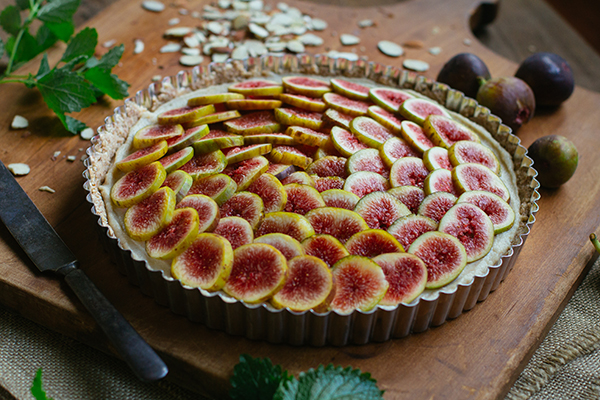 A few notes:
• I used sliced almonds and ground them in the food processor but you can start with almond flour. I liked the darker color that the skins add to the crust.
• I used raw sugar for the crust but you can use any kind of sugar you like such a Demerara, date, maple, etc. Just know that the sweetness level will be reflected by the sugar you choose so you may want to taste it before patting it into the pan.
• I have used both a food processor and a high-speed blender to mix the cashew cream. I'd say the food processor is easier because it doesn't get "clogged" if you don't have enough liquid. The blender is a little more touchy and might require a little more liquid to keep it blending. If you add more liquid, I would add 1-2 Tbls. of melted coconut oil.
• You will want to chill the tart, sans figs, for at least an hour before serving. This will help to set the cream.
• The extra honey drizzled on top is optional. I like it for the look and also to add a little sweetness if your figs aren't perfectly ripe.

Cashew Cream Honeyed Fig Tart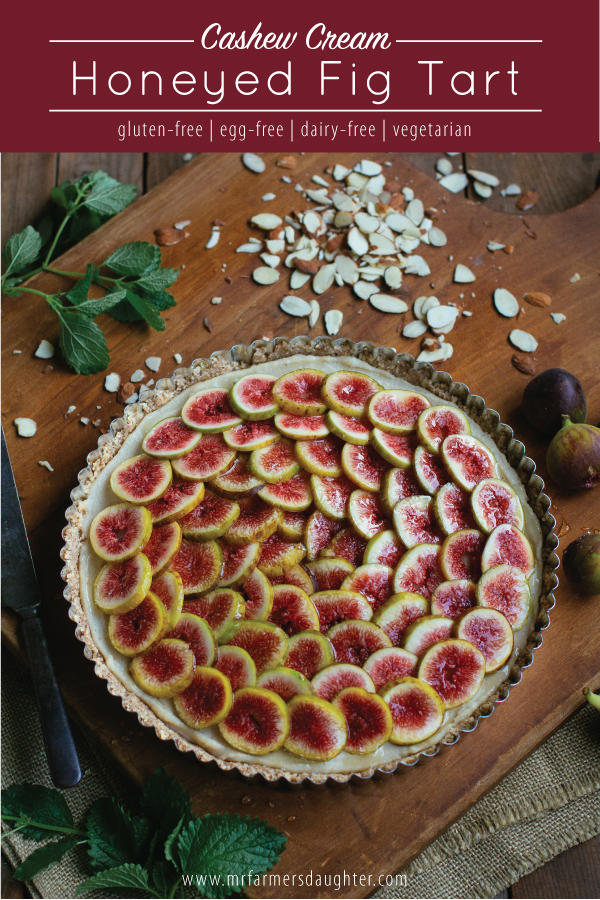 Author:
www.mrfarmersdaughter.com
A lightly refreshing fig tart perfect for the end of summer.
Ingredients
CRUST:
1 ½ c. ground almonds or almond flour
3 Tbls. raw sugar
2 Tbls. butter, melted (ghee or coconut oil may be substituted)
-
FILLING:
1 ¾ c. raw cashews, soaked for at least 6 hours
⅓ c. coconut oil, melted
⅓ c. honey
3 Tbls. lemon juice, fresh
1 tsp. vanilla
-
TOPPING:
Fresh figs, about 1 quart whole
Honey to drizzle (optional)
Instructions
FOR THE CRUST:
In a food processor, combine almonds and sugar.
Slowly, with processor running, drizzle in butter until mixture comes together.
Pat crust into a tart pan approximately 10" round with a 1 ½" side, coming up the sides about ¾ of the way. Crust should over the entire bottom evenly.
-
FOR THE FILLING:
You can make this in a food processor or in a high-speed blender
Combine liquids and set aside.
Add cashews to processor and blend until as smooth as possible, about 1 minute.
Slowly drizzle in liquids with processor running.
Blend until mixture is smooth with no grittiness or pieces of cashews present.
Spread into crust.
Chill until ready to serve.
-
When ready to serve, top with slices of figs* in any design you prefer.
Drizzle with extra honey before serving.
-
*Figs will not keep well once cut. If you are not going to consume the entire tart, feel free to top each individual slice to serve.