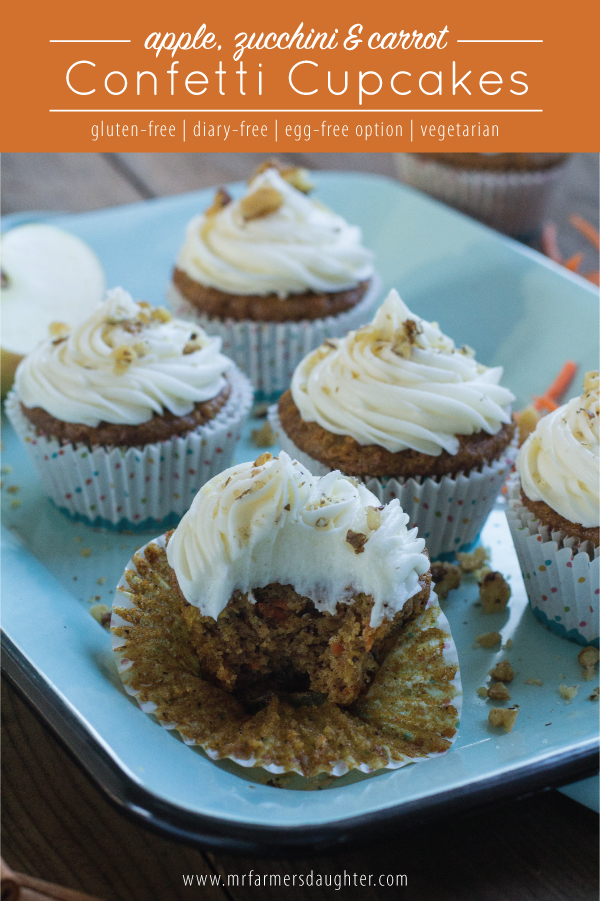 I'm not quite sure why I don't make carrot cake more often. It's full of vegetables, cinnamon, ginger and of course, is topped with cream cheese icing. It's one of my favorite cakes but then again, I've never met a cake I didn't like so there's that. I love the moistness factor of carrot cake and although it's quite delicious just the way it is, I wanted a way to add more variety to it, without affecting the integrity – enter … Confetti Cupcakes.
The recipes I've used for carrot cake have all been pretty simple. Mix the wet, mix the dry, add them together then add the shredded carrot. Perfect. I wanted to keep that simplicity with this recipe too. The only difference with this one is that we'll be using three different fruits and veggies instead of just carrots – apple, zucchini AND carrot.
Now, I know everyone's fruits and veggies are different sizes. I mean, the carrots can range from puny to gigantic in the grocery store. The ingredients for this recipe are referring to your average sized apple, zucchini and carrots. If yours vary greatly in size, the general rule is 4 cups of shredded produce for each recipe. That pretty much means you can combine them any way you want to. If you only have half an apple laying around (not quite sure what this scenario would be but anyway …) then use half the apple, and a little extra carrot or zucchini. You can mix and match with what you have. Just know that if you cut down or eliminate the apple, you may want to up the sugar a bit to keep it on the sweet side.
A couple notes:
• I used Macintosh apples. They're my all-time favorite all-purpose apple. Macintosh is pretty sweet so the more sour the apple, the more sugar you will need to add to the recipe.
• Zucchini are smaller in the winter so I used a whole one. If you're using zucchini from your garden or summer-time zucchini, maybe you only want to shred a portion of it. (And, yes, I know. Many people call the vegetable pictured yellow squash. I don't. It's a different color of zucchini and calling it squash is a symantics.)
• I like walnuts in my confetti cupcakes, but, I make sure they're soaked and dried first. #1) Because they don't burn my mouth if they're prepared correctly #2) They have a better texture after being soaked. If you'd like to know how I prepare them, go here.
• Below I am giving you the recipe I use for cream cheese icing. If you have a favorite recipe, feel free to use that.
• As far as gluten-free flour goes, I use King Arthur Measure for Measure gluten-free flour. It's the best I've ever found in terms of performance and performance is everything when it comes to gluten-free baking.
• These cupcakes stay moist for several days so I would suggest you keep them covered and refrigerated.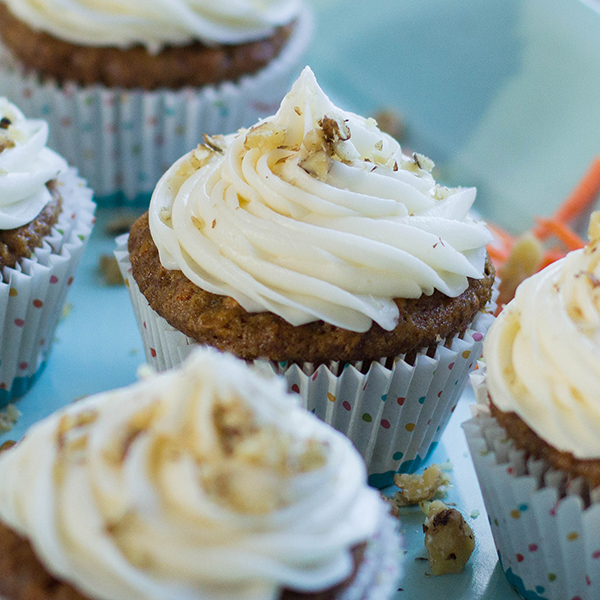 Confetti Cupcakes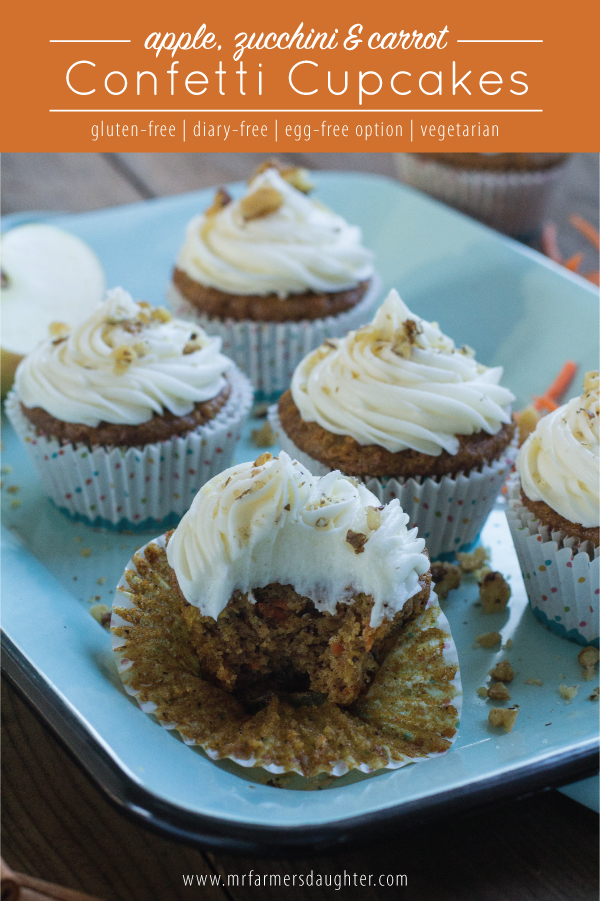 Author:
www.mrfarmersdaughter.com
Moist and tender confetti cupcakes include apple, zucchini and carrots along with walnuts and topped with sweet cream cheese icing.
Ingredients
FOR THE CONFETTI CUPCAKES
1 ½ cups sugar (a little more if you're using tart apples or have replaced some of the apple with zucchini)
2 large eggs (flax eggs will work in this too!)
½ cup neutral flavored oil (melted refined coconut oil, avocado oil or non-gmo oil)
1 ¾ cup gluten-free flour
¼ tsp. xanthan gum (if your mix doesn't contain it)
1 ½ tsp. cinnamon
1 tsp. ginger
¼ tsp. cloves
1 tsp. salt
2 tsp. baking soda
1 cup chopped walnuts + more to garnish
1 multi-purpose sweet apple, shredded
1 small-medium zucchini, shredded
1-2 medium carrots, shredded
(Shredded ingredients need to be about 4 cups)
.
FOR THE CREAM CHEESE ICING (omit this if dairy-free)
4 oz. cream cheese, softened
1 stick (8 oz.) butter, softened
3 ½ cups 10x sugar
1 tsp. vanilla
2 Tbls. Milk, to thin if necessary
Instructions
FOR THE CONFETTI CUPCAKES:
Preheat oven to 350˚.
Line cupcake pans with paper liners (24).
Measure out all the ingredients.
In a stand mixer, cream sugar and eggs together. Add oil and combine.
Mix in flour, spices and baking soda.
Mix in shredded ingredients and walnuts with a wooden spoon.
Divide the batter between the 24 cupcakes.
Bake for about 30 minutes or until set and toothpick comes out clean.
Allow to cool completely before icing.
FOR THE CREAM CHEESE ICING:
Mix all ingredients together until smooth.
Pipe onto cupcakes.