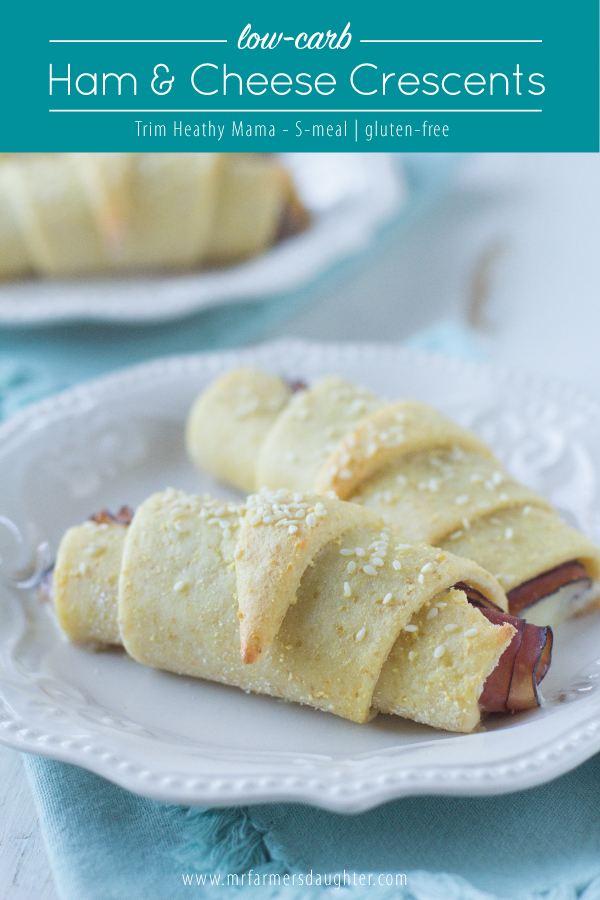 The idea for this "recipe," which really isn't much of a recipe because it's so simple, came from me making these amazing Everything Bagel Dogs so often. I just love it, so thank you to The Primitive Palate. After making them for the fifth time I found myself wanting some sort of variation. This is the result.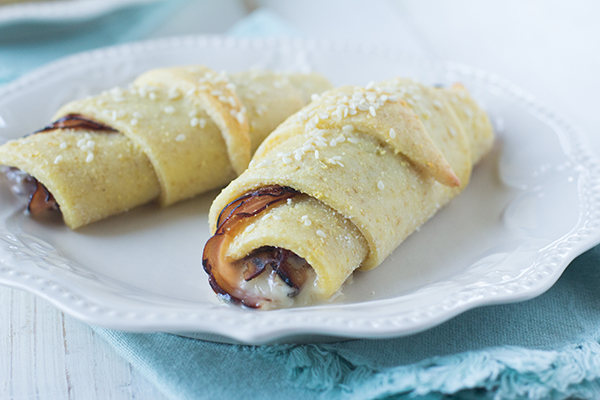 I've adapted the recipe to use some Trim Healthy Mama Baking Blend but you can use it as written originally with just almond flour. I've done it both ways. I like adding the baking blend because it adds a few more ingredients that are low carb, like oat fiber, flax meal and coconut flour, and I think the texture is a little lighter.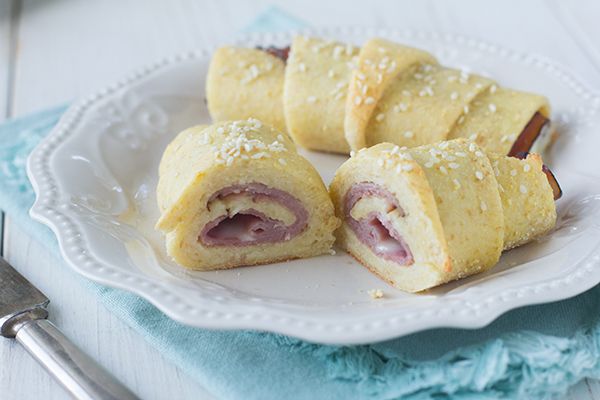 These crescents have proved to be great finger food to keep individually wrapped in the fridge for days when I don't feel like cooking something for lunch or days that I work and have to pack my meal. They heat up in just 30-45 seconds in the microwave. (Yes, I still use one of those.) A side salad with a nice creamy dressing rounds out a good low-carb, Trim Healthy Mama S-meal.
If you're not familiar with the Trim Healthy Mama program, you can check it out here.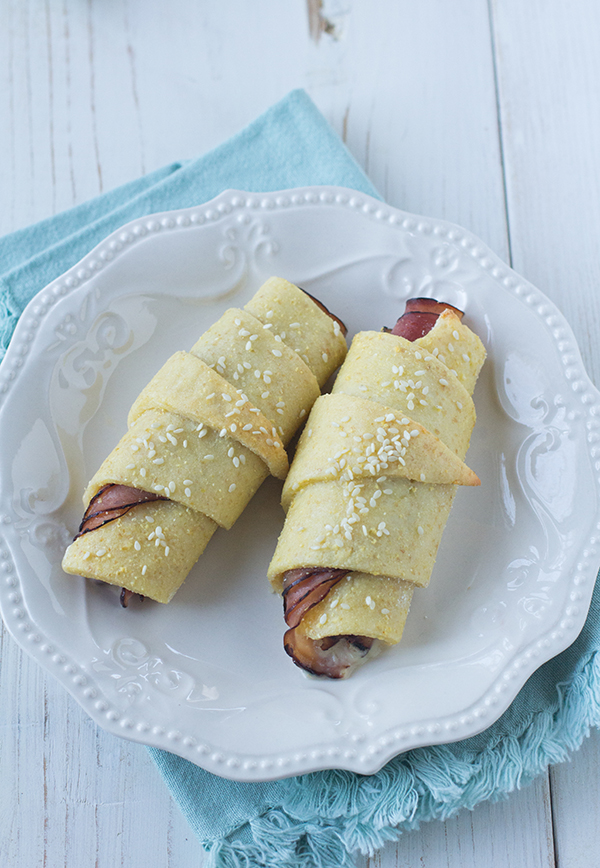 I tried to explain how to cut the dough in the recipe but I thought maybe a diagram would be helpful. If you've never cut crescents before, you will cut long triangles. You may have to dig deep to your geometry days in school. This may be the only place that you ever use that knowledge. You're welcome. lol  The dough takes a little time to learn to work with it, but it's worth it. It fills that dough void in your low-carb life. That's invaluable!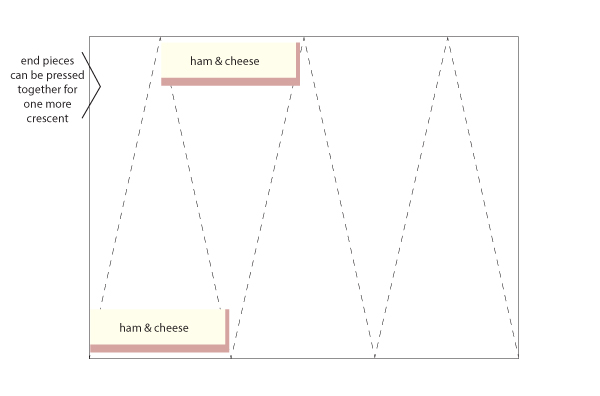 Low-Carb Ham & Cheese Crescents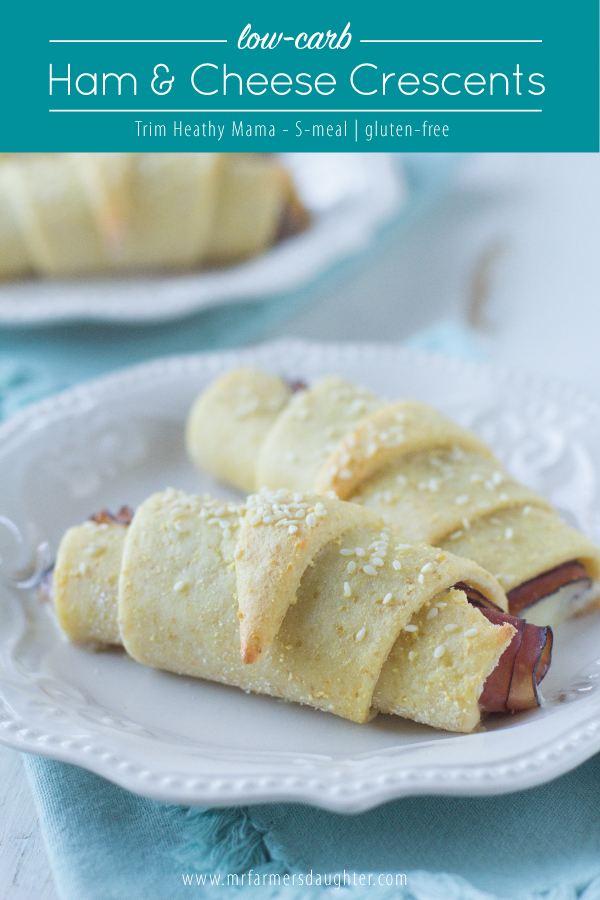 Author:
www.mrfarmersdaughter.com
Ingredients
1 ½ cups shredded mozzarella cheese
2 Tbls. cream cheese
1 egg, slightly beaten
½ cup THM baking blend
¼ cup almond flour
sesame seeds
Black Forest Ham lunchmeat (or your favorite)
American Cheese (or your favorite)
Instructions
Heat oven to 400˚.
Place cheeses in a microwave-safe bowl.
Heat in the microwave, stirring every 30 seconds until it is smooth and creamy.
In a food processor, combine cheeses, flours and egg, pulsing until the mixture comes together.
You will probably need to knead this mixture briefly on the counter to finish it. Keeping your hands wet will help to keep it from sticking.
Between pieces of plastic wrap, sprayed with non-stick cooking spray, roll out the dough into a 12" x 9" rectangle.
Cut 9" high x 4" wide (at the bottom) triangles out of the dough with a pizza cutter.
Beginning at the wide end, place ham and cheese pieces. The ham and cheese should be roughly the width of the widest part of the triangle. Roll up to point and place on parchment-lined baking sheet.
Continue with remaining pieces.