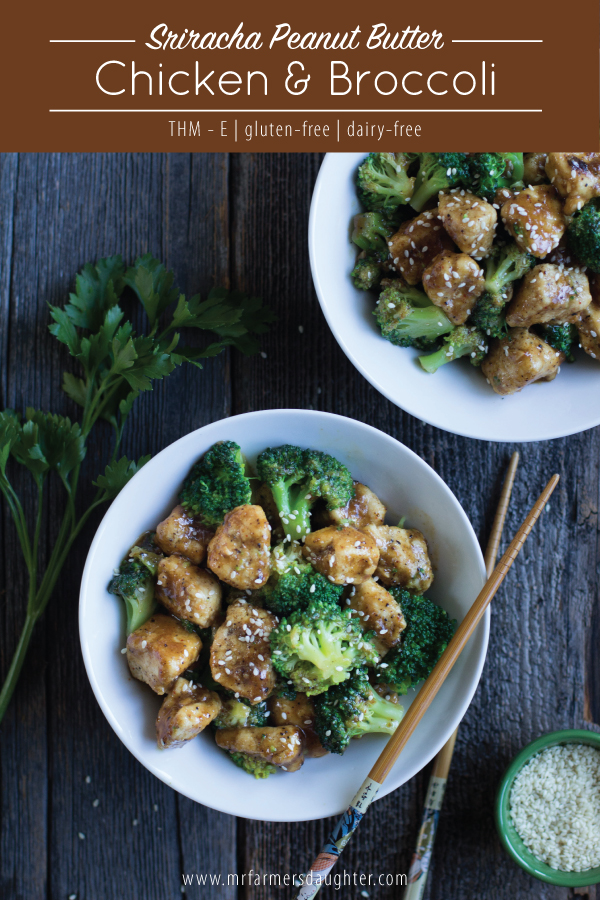 This recipe is one of the first I created using the Trim Healthy Mama eating plan. I threw it together one night for dinner and posted a cell-phone pic of it on the THM Facebook page. It went somewhat viral and received over 1.4 thousand likes! It was crazy watching all the response to the photo. I posted the recipe there too because so many people had requested it. I can't believe a year later I'm just now posting it on my blog. It's shameful how long it took me to do it properly.
Anyway, I hadn't made this recipe for a while because you know, Asian cooking is always kind of intimidating and time-consuming. I mean the recipes have all these parts and pieces, and about a billion ingredients. Well, sorry to say, this recipe isn't that much different but what I can tell you is it's worth it.
I made this for dinner the other night and I was once again surprised by how delicious it is! I experiment with a lot of recipes and sometimes they get lost in the long list of things I want to make and I forget just how good they are. So, what I'm trying to say is make this. I think you're whole family will love it!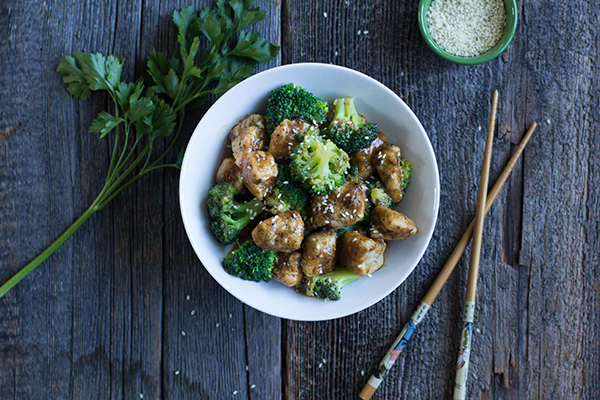 • If you're not familiar with the Trim Healthy Mama plan, you can check out the book here or go here to get more information.
• There are a couple ingredients that may not be familiar to you. You can follow these links to buy peanut butter powder, THM Baking Blend, Liquid Aminos or Gluccie.
• When you are cooking the chicken in the skillet, it may start to smoke. Just keep moving it around and browning the outside. Once it's browned, it will finish cooking in the oven. Also, turn on your kitchen fan!

Sriracha Peanut Butter Chicken & Broccoli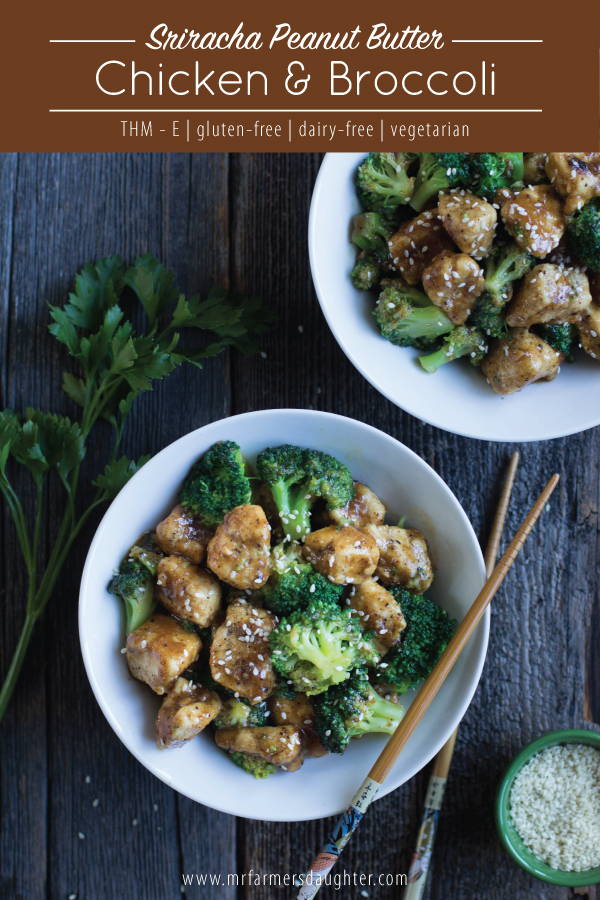 Author:
www.mrfarmersdaughter.com
Low fat, protein-rich Asian-inspired chickens and broccoli with a Sriracha peanut butter sauce. Serve over rice or with extra veggies.
Ingredients
FOR THE CHICKEN:
3 large chicken breasts – cubed
½ cup egg whites
1 cup THM baking mix
4 cups broccoli florets, steamed and set aside
-
4 cups broccoli, steamed and set aside (more if you LOVE broccoli!)
-
FOR THE SAUCE:
6 Tbls. Bragg's liquid aminos
3 Tbls. peanut powder
1 Tbls. molasses
3 Tbls. rice vinegar
2 tsp. minced garlic
2 tsp. sesame oil
2 tsp. siracha
¼ tsp. black pepper
⅓ cup +/- sweetener of choice (I used Lakanto monkfruit sweetener)
½ cup water
½ tsp. gluccie or a little more if you want it thicker
Instructions
FOR THE CHICKEN:
Place cubed chicken in a bowl and pour egg whites overtop.
Stir around until all are coated.
In a large ziplock bag, put half the baking mix.
Add ½ the chicken cubes and shake, shake, shake until all are coated.
Remove to a large baking sheet, single layer
Do the same with the rest of the chicken.
Heat oven to 400˚.
In a large skillet or wok, heat 2 tsp. sesame oil and stir fry half the chicken until almost done. They will be rather dry. This is okay.
Remove the first half to a different baking sheet and set aside.
Stir fry the remaining chicken the same way and add to the baking sheet.
Bake at 400˚ until cooked the rest of the way through. (about 15 minutes)
Meanwhile, combine the sauce ingredients.
-
FOR THE SAUCE:
Combine all the ingredients and stir well. It may take some stirring to incorporate the peanut powder.
Pour into hot wok (or into a saucepan) and stir, heating until thickened slightly.
Dump in chicken and steamed broccoli and stir.
Serve over brown rice or with extra veggies.