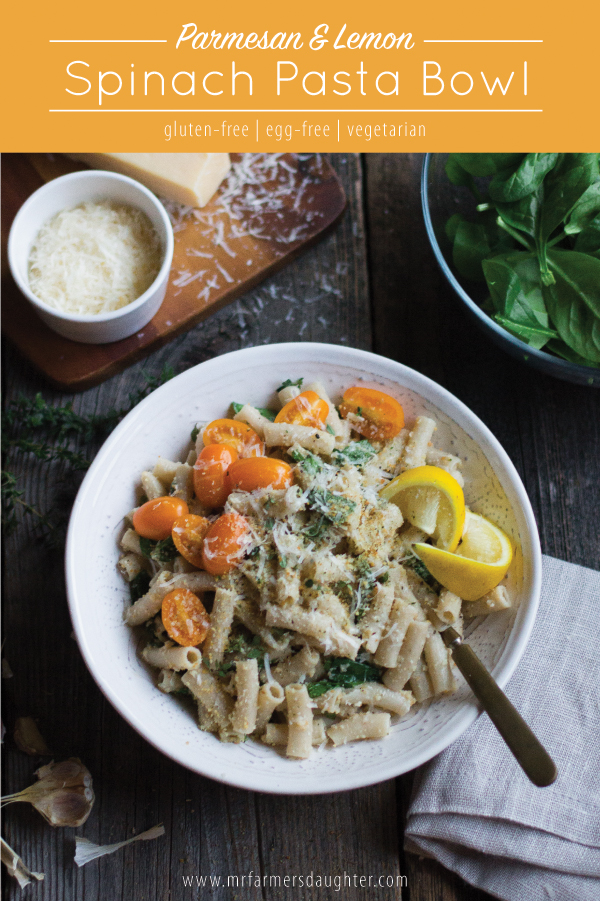 Who doesn't love pasta for dinner?! I made a similar recipe to this Parmesan & Lemon Spinach Pasta Bowl years ago when money was tight and a pasta meal made everyone happy. It's been on our family menu ever since.
As I first read over the recipe I was reluctant to add bread crumbs to an already carb-heavy meal but I trusted it and I'm so glad I did. The bread crumbs really add a nice texture to the noodles, especially when sprinkled on top as it's served. They also offer the added benefit of stretching the somewhat expensive cheese.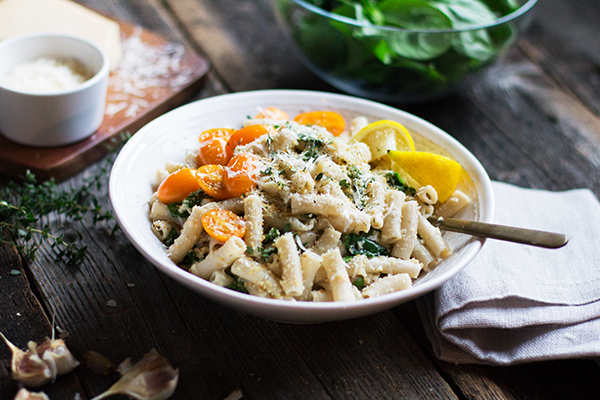 As far as gluten-free pasta goes, I typically use Tinkyada brand. (I'm sorry for the design of the website. Ugh.) No, I'm not a partner with them. I just like them. It's a brown rice pasta that most people, if cooked correctly (this is absolutely the key!), can't tell from wheat pasta. I don't follow the package directions because it says to cook it for 15 minutes. That's WAY too long, in my opinion. I start checking it at about 9 minutes and it's usually al dente at about 10 minutes. The correct cooking time will depend on how long it takes your water to return to a boil after adding the pasta. Always test it before draining.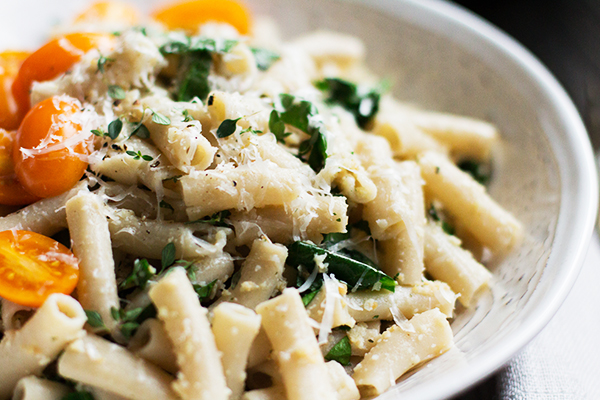 A few more notes:
• I like to use fresh spinach in this dish but you can use frozen if it's what you like. Personally, I like spinach with a little shape so I add it at the very end and let the residual heat wilt it slightly.
• Fresh parmesan and fresh lemon will always give you better flavor but this also works with the green cap Parmesan and bottled lemon juice.
• Gluten-free bread crumbs are available from a few brands. If you're making them yourself, make sure they are dried and not fresh. I like to use the Italian seasoned crumbs for this as it goes well with the pasta and lemon flavors.
• If you don't want to use tomatoes, this dish is also great served with a salad and/or grilled chicken on top.

Parmesan & Lemon Spinach Pasta Bowl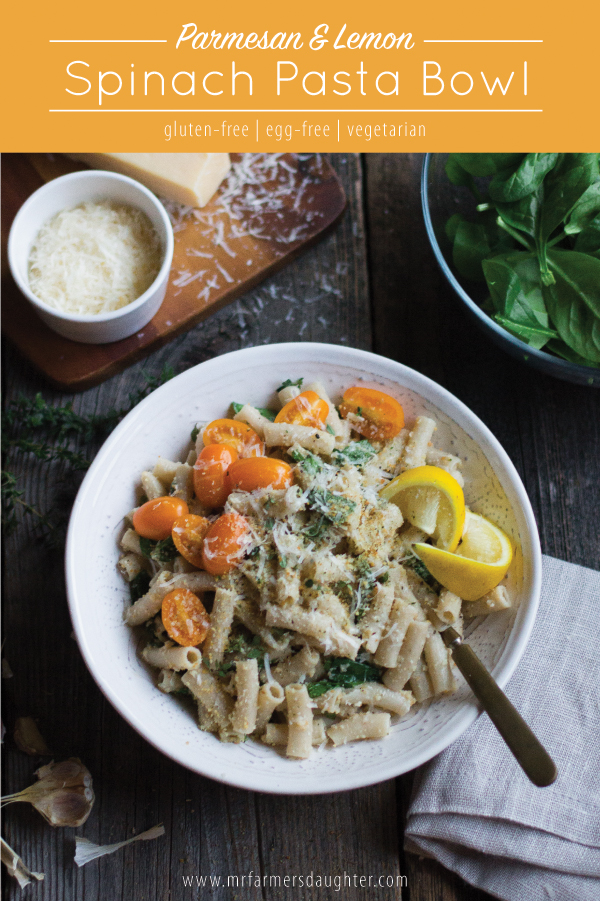 Author:
www.mrfarmersdaughter.com
Refreshing one-dish pasta meal with a punchy lemon flavor and great texture from parmesan cheese and bread crumbs. Add some grilled chicken for extra protein.
Ingredients
1 Tbls. garlic, minced
ghee or avocado oil to cook garlic
2 cups broth (chicken or vegetable)
¼ cup lemon juice, fresh squeezed
½ cup Parmesan cheese, grated
½ cup gluten-free bread crumbs
1 lb. gluten-free pasta, cooked and drained
1 tsp. fresh thyme
salt & pepper to taste
fresh tomatoes to garnish, optional
Instructions
In a large skillet, heat oil and cook garlic to light brown and fragrant.
Add broth and lemon juice and simmer for about 3-5 minutes.
Add cooked pasta, thyme, ¼ cup parmesan cheese and ¼ cup bread crumbs to skillet and stir to incorporate.
Add salt & pepper to taste.
To serve, place pasta in a serving bowl and sprinkle with remaining parmesan cheese and bread crumbs. Garnish with extra thyme and fresh tomatoes if desired.
SaveSave
SaveSave